This Was Anthony Bourdain's Favorite City In The World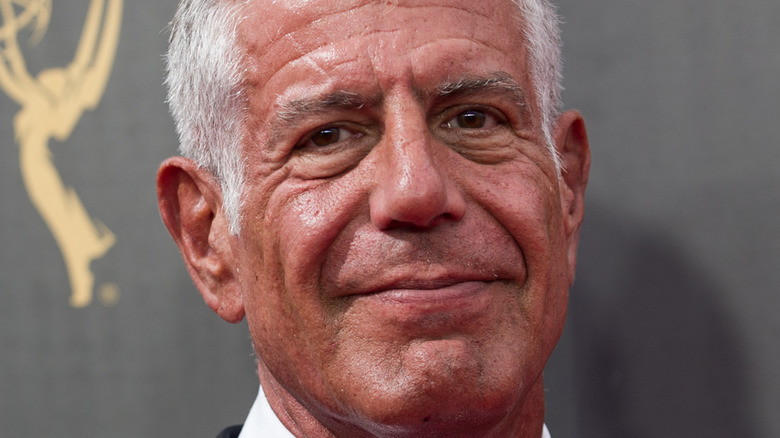 Emma Mcintyre/Getty Images
Before his 2018 death, Anthony Bourdain lived a life that most would envy. The New York native began his culinary career in 1978 and eventually worked in various New York establishments before making an impressive career change (via Biography). The admired chef later became a beloved TV host and a best-selling author. In fact, it was his career as a chef that led him to write an article for The New Yorker in 1997. This launched Bourdain's literary career and later, his TV career. Like his incredibly popular "No Reservations" and "Parts Unknown," his first show, "A Cook's Tour," saw Bourdain travel to different countries to experience a variety of cultures and cuisines.
According to Showbiz Cheatsheet, he traveled to 68 different countries specifically for "No Reservations." Although it's likely that the number of countries he visited in his lifetime is much higher (R-bloggers estimates it to be 93), where did Bourdain like visiting the most? According to an interview with Forbes Travel Guide, Bourdain stated his favorite cities were Hanoi, Barcelona, Rome, and especially Tokyo.
In 2017, he told Maxim that if he had to pick somewhere to live forever, it would be Tokyo. He had previously told BootsnAll that if he could be anywhere at that moment, it'd once again be Tokyo. As he put it, "I'm in the mood for some sushi — and Tokyo is so fabulously confusing, challenging, exciting." Bourdain later reiterated this sentiment on a blog for his show "Parts Unknown" (via Explore Parts Unknown).
Why Anthony Bourdain loved Tokyo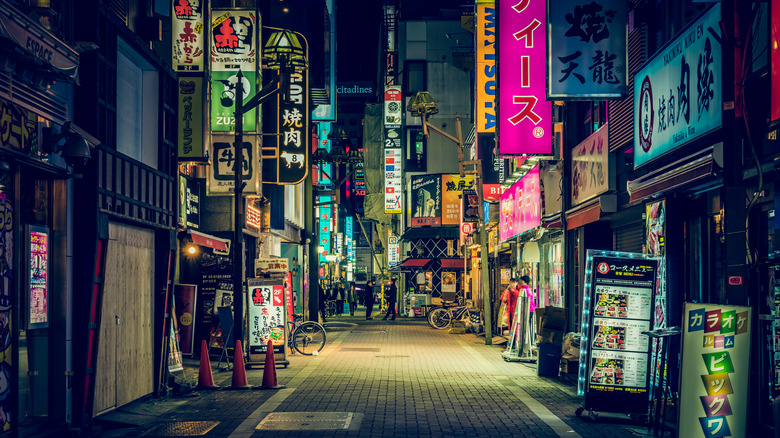 marchello74/Shutterstock
According to Explore Parts Unknown, Bourdain expressed that if he had to eat in only one city for the rest of his life, it would be Tokyo. Why the deep love? Reader's Digest reports that Bourdain was fascinated with the Japanese city because of its flavors and customs. In addition, he felt that he could never truly understand or know everything about Tokyo. Even if he lived there for the rest of his life, he felt like he would "still die happily ignorant." In an interview with Forbes Travel Guide, Bourdain discussed that there would always be more to learn about both Japan and Tokyo.
As he put it, Tokyo was all about fantasy (via Bourdain's blog). Part of the enchantment came from how different the city was from the culture he grew up in. Bourdain compared his first visit to taking his first acid trip (per Maxim). Time and time again, he praised both the city and country for their culture and beauty. He later said that he had barely "scratched the surface" of Japan.
Bourdain appreciated it so much that he practiced Japanese martial arts, including jiu-jitsu, and later wrote a graphic novel about a sushi chef titled "Get Jiro!" Per The Manual, Bourdain also had a traditional Japanese Tebori tattoo. Unlike average tattoos, these are created using a method that hammers a needle into the skin with a rod. Looking for some Tokyo tips from Bourdain? Some of his favorite things to do included visiting the Robot Restaurant, eating at department stores, and dining at an izakaya (via Money).
Anthony Bourdain's other favorites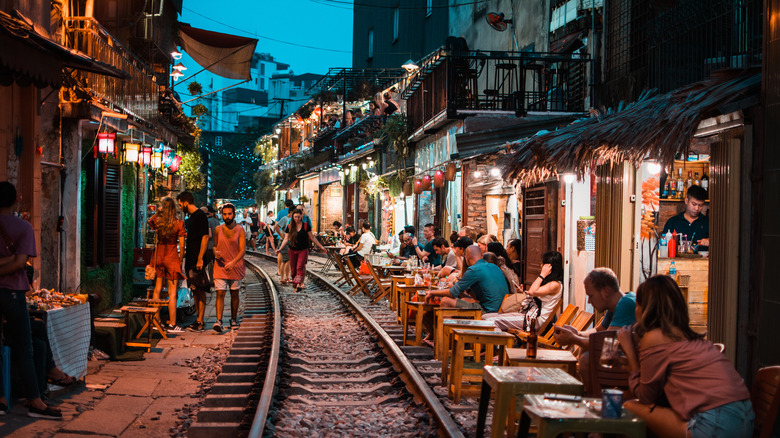 Avinash Gatreddi/Shutterstock
According to Continents & Condiments, Vietnam was another one of Bourdain's cherished destinations. The Vietnam Coracle writes that throughout his television career, he filmed eight different episodes that centered on the country. Some of his destinations included Hanoi (seen above), Saigon, and the Central Highlands. In an interview with Condé Nast Traveler, Bourdain stated that visiting Vietnam was a life-changing moment. He explained that the food and culture were everything to him. Bourdain expressed that "It just seemed like another planet; a delicious one that sort of sucked me in and never let go."
Per VnExpress, one of his favorite places to eat in Vietnam was Kim Chau Restaurant in Dong Ba Market in the city of Hue. In 2016, Bourdain went as far as inviting then-President Barack Obama to a meal in Hanoi (via The Daily Beast). Other countries he enjoyed in Southeast Asia include Malaysia and Indonesia. Beyond this, Bourdain is said to have loved Beirut, Lebanon, Lyon, France and San Sebastian in Spain (per Continents & Condiments). BootsnAll reports that he believed Medellin, Cartagena, and Montevideo were all cities that were undervalued.
As for places Bourdain didn't travel to or didn't enjoy, there were quite a few. He told Condé Nast Traveler that traveling to Romania was a let-down due to government restrictions. The Travel explains that Bourdain never visited Switzerland, Wales, and a number of African countries. Although it's unknown if he ever visited these places on his own, Eat Like Bourdain states that he never featured Athens, Greece, Norway, or Poland on any of his shows.