This Was Anthony Bourdain's Favorite City In The World
Emma Mcintyre/Getty Images
Before his 2018 death, Anthony Bourdain lived a life that most would envy. Besides being a beloved TV host, he was a chef and a best-selling author (via Biography). In fact, it was his career as a chef that led him to write an article for The New Yorker that launched Bourdain's literary career and later, his TV career. Like his incredibly popular "No Reservations," and "Parts Unknown," his first show, "A Cook's Tour," saw Bourdain travel to different countries to experience a variety of cultures and cuisines.
According to Showbiz Cheatsheet, he traveled to 68 different countries specifically for "No Reservations." Although it's likely that the number of countries he visited in his lifetime is much higher (R-bloggers estimates it to be 93). Where did Bourdain like visiting the most? According to an interview with Forbes Travel Guide, Bourdain stated his favorite cities were Hanoi, Barcelona, Rome, and Tokyo. In fact, he told Maxim in 2017 that if he had to pick somewhere to live forever, it would be Tokyo. Bourdain later reiterated this sentiment on a blog for his show "Parts Unknown" (via Explore Parts Unknown).
Why Anthony Bourdain loved Tokyo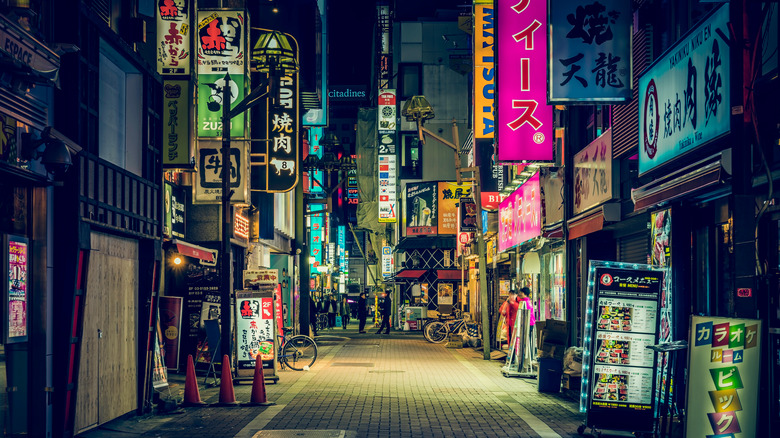 marchello74/Shutterstock
According to Explore Parts Unknown, Bourdain expressed that if he had to eat in only one city for the rest of his life, it would be Tokyo. Why the deep love? Reader's Digest reports that Bourdain was fascinated with the Japanese city because of its flavors and customs. In addition, he felt that he could never truly understand or know everything about Tokyo. Even if he lived there for the rest of his life, he felt like he would "still die happily ignorant." In an interview with Forbes Travel Guide, Bourdain discussed that there would always be more to learn about both Japan and Tokyo.
As he put it, Tokyo was all about fantasy (via Mashed). Part of the enchantment came from how different the city was from the culture he grew up in and Bourdain compared his first trip to taking his first acid trip (per Maxim). Time and time again, he praised both the city and country for their culture and beauty. Bourdain appreciated it so much that he practiced Japanese martial arts and later wrote a graphic novel about a sushi chef. Per The Manual, Bourdain also had a traditional Japanese Tebori tattoo. Looking for some Tokyo tips from Bourdain? Some of his favorite things to do included visiting the Robot Restaurant, eating at department stores, and dining at an izakaya (via Money).