The Verdict In The Murder Of Ahmaud Arbery Explained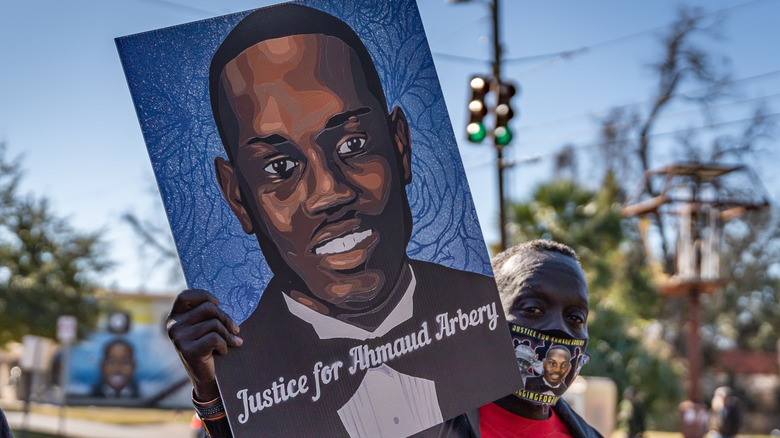 Michael Scott Milner/Shutterstock
In early 2020, Ahmaud Arbery was tragically killed in Georgia by three white men who were reportedly suspicious that he was a burglar in their neighborhood, rather than a young black man simply out for a jog. Along with several other controversial killings taking place all over the country, the death of Arbery caught the attention of the media, and the nation watched closely as father and son George and Travis McMichael, as well as their neighbor William Bryan, were brought to trial for the killing in late 2021.
According to the defense, each man accused in the case was innocent, simply on the grounds that they were defending themselves. The defense also claimed it was reasonable for the three men to be pursuing Arbery, and that it was legal for them to attempt to detain the young man, performing what's called a citizen's arrest, which are legal in the state of Georgia, per The New York Times. After lengthy deliberation, the jury in the case asked to see videos again of the shooting, and to hear the 911 call made after the attack, according to The Hill. At that time, a verdict felt imminent.
All three were found guilty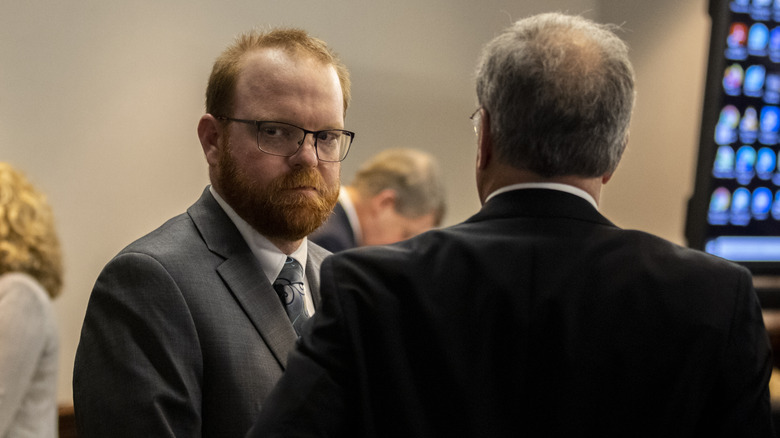 Pool/Getty Images
Shortly before Thanksgiving in November 2021, all three men accused of killing Ahmaud Arbery were found guilty of murder and now await sentencing, bringing the possibility of life behind bars, according to CNN. Travis McMichael (above), who fired the gun that killed Arbery, was found guilty of all charges brought against him, while his father, Travis McMichael, was found guilty on four counts of felony murder, but not of the first count, malice murder, defined as the intention to kill, according to The Sun.
Following that, the third defendant in the case, William Bryan Jr., was found guilty of six of nine charges brought against him (per CNN). He, too, was ruled not guilty of malice murder, not guilty on one felony murder charge, and not guilty of aggravated assault with a firearm. Also according to CNN, Linda Dunikoski, a lead prosecutor in the case, spoke out about the ruling: "The verdict today was based on the facts, based on the evidence, and that was our goal — was to bring that to that jury so they could do the right thing. Because the jury system works in this country. And when you present the truth to people and they can see it, they will do the right thing. And that's what this jury did today, in getting justice for Ahmaud Arbery."