The Character Betty White Originally Auditioned For On The Golden Girls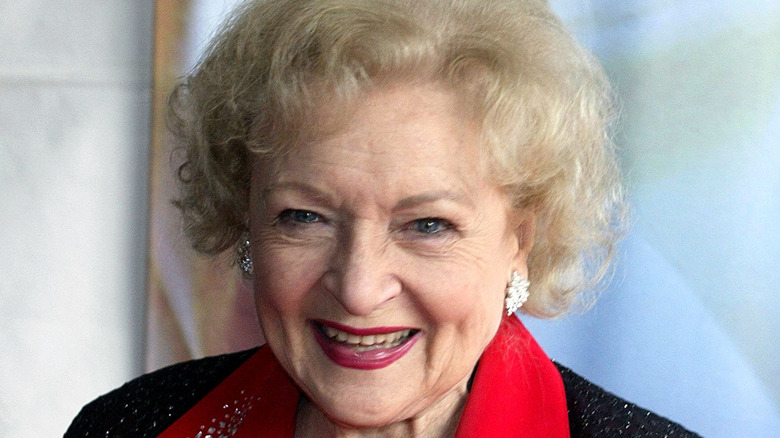 Everett Collection/Shutterstock
When it comes to the classic sitcom "The Golden Girls" — which continues to delight and inspire fans nearly 30 years after its last episode aired — part of the appeal is the perfect casting. It's hard to imagine anyone but Betty White playing sweet, naive Midwestern former farm girl Rose Nylund just like it's hard to imagine anyone but Rue McClanahan playing the sultry, outgoing former Southern belle Blanche Devereaux. However, as reported by Ask, White and McClanahan played very different characters in the past as sitcom actresses, and typecasting very nearly caused a different "Golden Girls" casting decision. 
White began her long career in comedic sitcoms in 1953 when she produced and starred in the show "Life With Elizabeth" as a wacky newlywed who got into all sorts of scrapes, earning her first Emmy nomination. After "The Golden Girls," she's perhaps best known for her role on "The Mary Tyler Moore Show" as Sue Ann Nivens, the perky, secretly man-crazy host of "The Happy Homemaker." In a 2010 question and answer session with TV Tango, White had fond memories of playing Sue Ann, saying, "And of course I love Sue Ann. She was so rotten. The neighborhood nymphomaniac. I would love to bring her back for a minute, but I don't know if that would be legally possible."
Interestingly, White was originally meant to play Blanche on "The Golden Girls," making it the second time she was to be cast as a comedically sex-obsessed character.
Betty White very nearly played Blanche Devereaux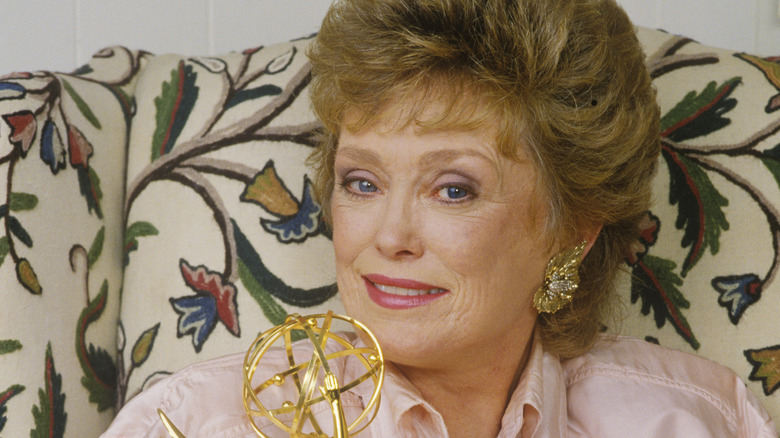 George Rose/Getty Images
To top it all off, before "The Golden Girls," actress Rue McClanahan (shown above) was perhaps best known for two sitcom roles. She played uptight spinster Fran on the sitcom "Mama's Family," occasionally co-starring with Betty White, who sporadically appeared as Fran's niece — the snobbish, social-climbing Ellen. McClanahan then went on to appear with yet another future "Golden Girls" co-star when she played ditsy Vivian Harmon on "Maude," which starred Bea Arthur as the staunchly liberal, outspoken title character. As Betty White was set to play Blanche, Rue McClanahan was set to carry on the tradition of being cast as naive, slightly befuddled characters and play Rose. According to Ask, when it came time to start filming "The Golden Girls" in 1985, producer Jay Sandrich suggested that the character of Blanche Devereaux was too close to that of Sue Ann Nevins on "The Mary Tyler Moore Show" and asked White and McClanahan to switch roles. 
This was obviously an inspired idea on Sandrich's part. Not only did this casting decision convince Bea Arthur to join the cast as dryly wisecracking former New Yorker Dorothy Zbornak, but both White and McClanahan also went on to win Emmys for their portrayals of Rose and Blanche. Specifically, White won Outstanding Lead Actress in a Comedy Series in 1986, and McClanahan won the same award one year later. Betty White was the oldest member of the main cast of "The Golden Girls" but outlived McClanahan, Arthur, and Estelle Getty, who played Sophia Petrillo. In 2010, White became the oldest person to host "Saturday Night Live" at 88, winning yet another Emmy, this time for Outstanding Guest Actress in a Comedy Series.