The Real Story Behind The Movie Monster
In 2004, actress Charlize Theron (above) won the Academy Award for best actress for her portrayal of serial killer Aileen Wuornos in the 2003 film "Monster" (via Entertainment Weekly). Who was Wuornos? Biography states that she was born in 1956 into a chaotic life. Her father was a convicted child molester who died in prison, and her mother abandoned both her and her brother. This left the young Wuornos to be raised by her abusive grandparents in Michigan. She was repeatedly assaulted and at 14, she gave birth to a son that she gave up for adoption (per Investigation Discovery).
Wuornos left her grandparents' home and became a sex worker to support herself. Per All That's Interesting, she settled in Florida and met Lewis Fell, a wealthy older man. They married but their union was annulled weeks later when Fell claimed that Wuornos abused him. After this, she went back to sex work and petty crime. It's around this time that Wuornos met Tyria Moore, her lover and eventual accomplice. According to WFLA, in November 1989, Wuornos met Richard Mallory while functioning as a sex worker along Florida's Interstate 75. She shot and killed him, making Mallory Wuornos' first victim.
Aileen Wuornos went from sex work to serial killer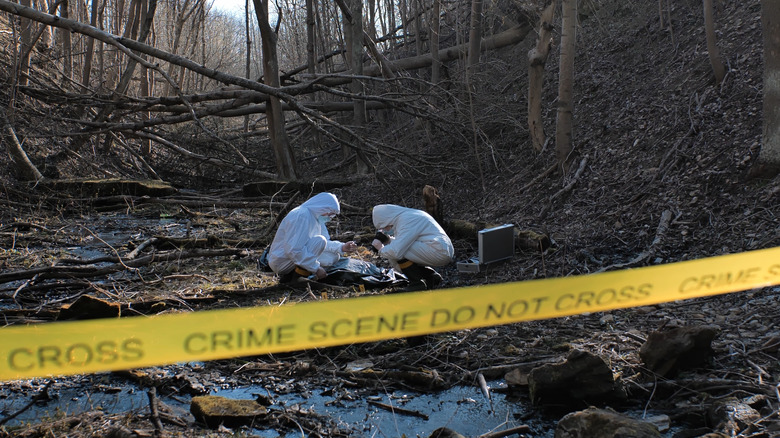 Maksim Shmeljov/Shutterstock
Per All That's Interesting, Wuornos went on a killing spree that ended with at least seven men dead between 1989 and 1990. While engaging in sex work on Florida highways, she would lure them before robbing and shooting them to death (via WFLA). She later claimed that this was all in self defense (per Investigation Discovery). When a crashed vehicle of a missing man revealed fingerprints from Wuornos, police knew they had their suspect. Later, eyewitnesses claimed that they had seen two women who matched descriptions of both Wuornos and Moore, driving the car. Unbeknownst to them, the lovers had split, but police were able to track down Moore in Pennsylvania.
Knowing she was in big trouble, she decided to cooperate with police to avoid prosecution. According to Biography, Moore was able to obtain a phone confession from Wuornos, who admitted to the murders and took full responsibility for them. In 1992, she was convicted of Mallory's murder. More convictions followed for the rest of the murders. Wuornos was sentenced to death, and on October 9, 2002, she was executed by lethal injection. CNN states that her last words were,"I'd just like to say I'm sailing with the rock and I'll be back like 'Independence Day' with Jesus, June 6, like the movie, big mother ship and all. I'll be back."