This Was Jack Dorsey's First Tweet Ever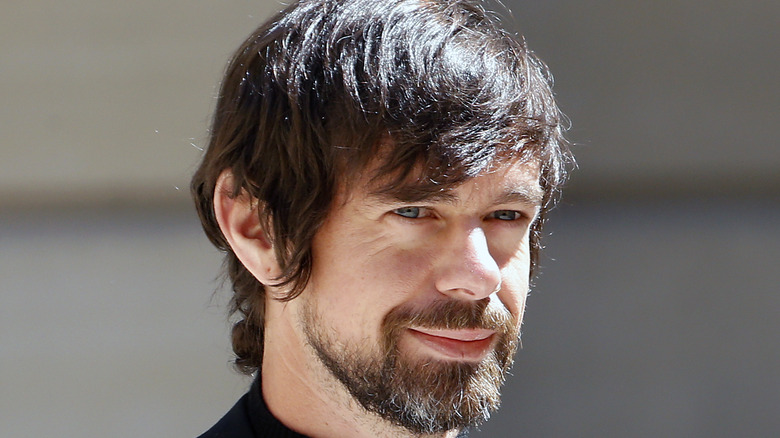 Chesnot/Getty Images
Back on March 21, 2006, when Twitter co-founder Jack Dorsey sat down to compose his very first tweet, it must've felt like a monumental task. It would be one of the first tweets in the world for the company, which was still spelled "Twttr" at the time. What should he say? What tone should he take? What message did he want to send? Should it be light and cheerful, or a serious note to set the tone for the startup? It did set the tone for how users would follow, but it was much more mundane than most of us would remember. That afternoon, Dorsey put just 24 characters into the world — "just setting up my twttr" — at a time when the company only allowed 140 per tweet, per CNBC. After 12 minutes, he added a second: "inviting coworkers." And with that, Dorsey launched a microblogging service that would be rebranded as Twitter with 192 million daily active users, according to Business Insider.
Dorsey's original tweet may have seemed like a throwaway, but it sold as an NFT for nearly $3 million dollars in March 2021. After spending a little more than two weeks on the market, Dorsey sold his first tweet as an NFT for an oddly specific amount at $2,915,835.47, as The Verge noted. The winning bidder was Sina Estavi, who had held the high bid once he pledged $2.5 million. At the last minute — and for unknown reasons — he upped his bid to that odd number.
Jack Dorsey's first tweet raised money for charity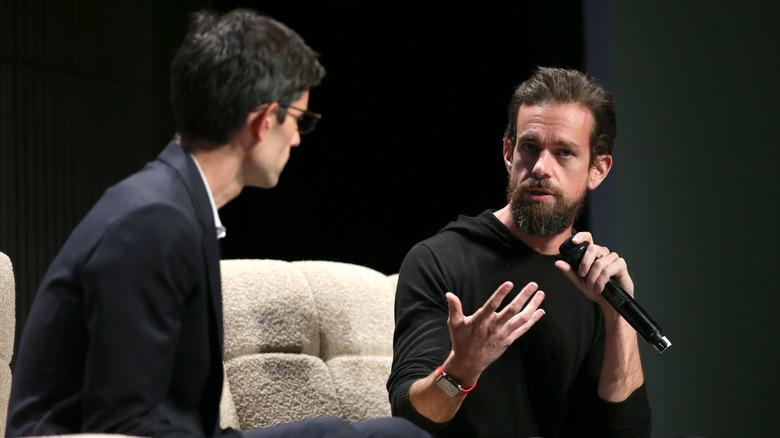 Phillip Faraone/Getty Images
Jack Dorsey put the tweet up for auction as an NFT on March 5, 2021, with considerable attention (via The Verge). The bidding rapidly escalated, and Dorsey said he would close the auction on the tweet's 15th anniversary, March 21, 2021. Sina Estavi, CEO of the blockchain company Bridge Oracle, increased his final bid with the odd number just moments before the auction came to an end. He told Reuters that he was "thankful" to have won the auction. 
Estavi later took to Twitter to share his elation and correct the record as to why he would spend such a massive amount of money for a simple tweet. "This is not just a tweet!" Estavi posted on Twitter, per The Wall Street Journal. "I think years later people will realize the true value of this tweet, like the Mona Lisa painting." Cathy Hackl, founder of technology consultancy Futures Intelligence Group, told the BBC that fans think of NFTs as owning any other kind of memorabilia, saying, "We live in an age where celebrities, musicians, and influencers have more than fans, they have stans, and they will want to own a piece of their favorite stars."
For his part, Dorsey said that the proceeds from his NFT sale would be converted to bitcoin and donated to GiveDirectly, a charity that is known for giving cash directly to people living in poverty. Dorsey's gift was specifically earmarked for the organization's COVID-19 response in Africa.