The Untold Truth Of Lee Elder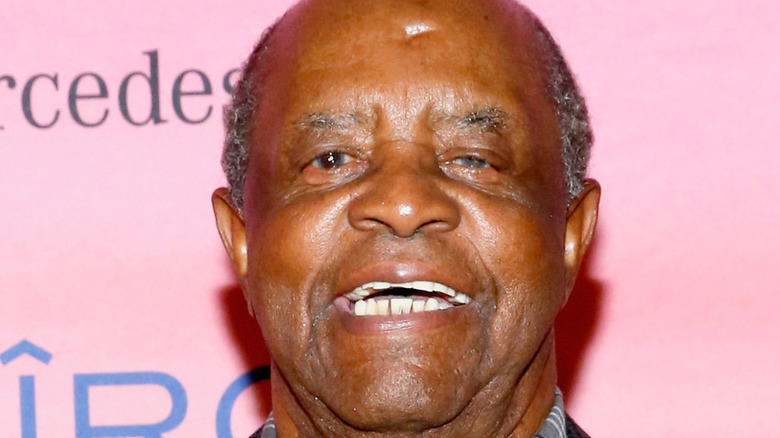 Robin Marchant/Getty Images
More than 20 years before Tiger Woods became the first Black golfer to win the Masters Tournament, Lee Elder broke through the race barrier at Augusta in 1975 and became the first African-American to play the prestigious major championship. Though Elder entered the PGA late in his golf career — the tour was explicitly segregated until 1961 when the organization removed its "Caucasian only" rule after Charlie Sifford competed in 1959 (via CNN) — he won four PGA Tour events for $1,020,514 in total earnings (via PGA Tour).
Elder died in November 2021 at the age of 87, with 448 PGA Tour events under his belt. But the statistics around Elder don't tell the whole story of his boundary-breaking career. Here is why the golfer made such a lasting impact and why Tiger once called him "the one I looked up to" (as quoted in The New York Times).
A Black answer to the PGA Tour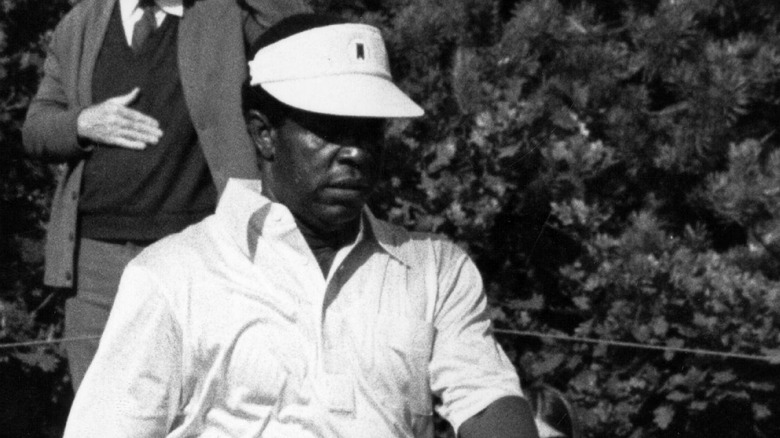 Frank Tewkesbury/Getty Images
Lee Elder began playing golf while working as a caddie — his first 18-hole round wasn't until the age of 16, according to the PGA Tour. But despite his late start, Elder became skilled enough that he was able to make money hustling other golfers. He would sometimes pretend to be another golfer's caddie, an appealing target for an eager gambler who was unaware that the Black man holding someone else's golf clubs was an elite-level player.
When Elder turned pro in 1959, the PGA still did not allow Black athletes. Instead, he joined the United Golfers Association, an organization specifically for Black golfers, where he became a dominant force (via The New York Times). In 1966, he won 18 of 22 starts, and in 1967, he signed up for the PGA Tour qualifying school and became one of thirty golfers — out of 111 — to make the cut for the 1968 season.
Threats and a legacy-making performance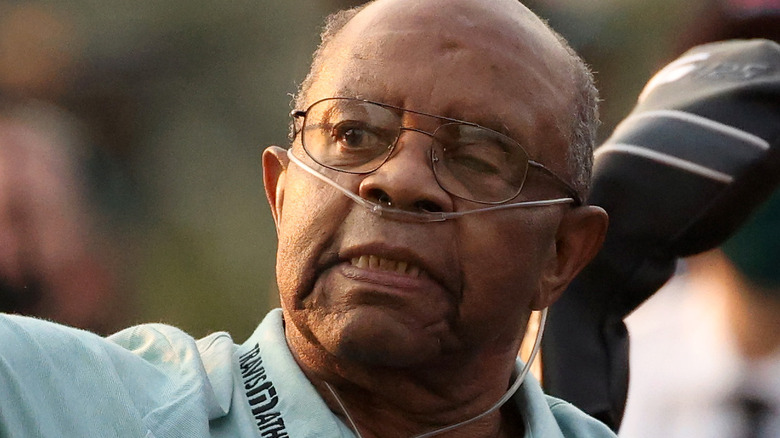 Kevin C. Cox/Getty Images
Lee Elder endured plenty of discrimination in his time on the tour. Notably, at some segregated golf clubs, he wasn't even allowed to change clothes inside. But the worst treatment came after he qualified for the 1975 Masters Tournament by winning the Monsanto Open at Pensacola the previous year, according to the BBC. After he accepted the invitation to compete (a decision he wrestled with), Elder began receiving death threats. For grimly practical reasons, he rented two houses near the course in Georgia. "It was frightening. You try to eliminate the possibility of anything happening," he told CNN. "That was part of the reason for renting two houses during the Masters week. The logic behind that was the fact we did not want the people to know where I was staying."
Though he was wracked with nerves (Elder, a smoker, wryly told reporters he "tried to light a pencil" during this fraught time), Elder played the tournament. And though he missed the cut, he would later make five more Masters appearances, including two top-20 finishes (via PGA Tour). "I don't want to go down in history just for this," Elder said the week before that first Masters hole. "I want to be remembered, if I'm remembered at all, because I was a good golfer."