The History Of Ugly Christmas Sweaters Explained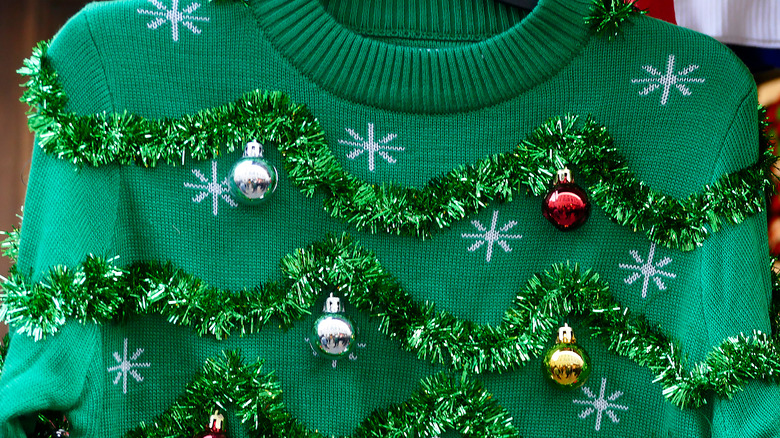 Zoltan Tarlacz/Shutterstock
When the Christmas season arrives, lots of people jump at the chance to get out their eggnog recipe, line their house with colorful lights, and decorate their Christmas tree. But for others, the priority is reaching into the back of their closet to dig out their ugly Christmas sweater. After all, they'll need it for National Ugly Christmas Sweater Day — the third Friday of December, according to the eponymous website, which encourages you to ditch everything for the ugly Christmas sweater in your life: "So this National Ugly Christmas Sweater Day, leave the school uniform at home, keep the preppy office blouse in your closet, and whatever you do, don't even think about taking your suit to work." This year, it's December 17.
What qualifies as an ugly Christmas sweater, you ask? There are no hard and fast rules, but they are often fuzzy pullovers (although cardigans certainly qualify), have so many shades in one sweater that describing it as "multicolored" doesn't do it justice, and likely made of multiple fabrics that are typically synthetic and may or may not be comfortable. It has to have at least one holiday motif featured on it, like a Santa Claus, a snowman, a Christmas tree, candy canes, or a reindeer. And you score bonus points for theme mashups (think: Star Wars meets Christmas [via Just Geek]), interactive features (like an ugly Christmas sweater that doubles as a drinking game [via Faire]), or 3D elements like jingle bells or Santa's furry beard.
Ugly Christmas sweaters date back to the 1950s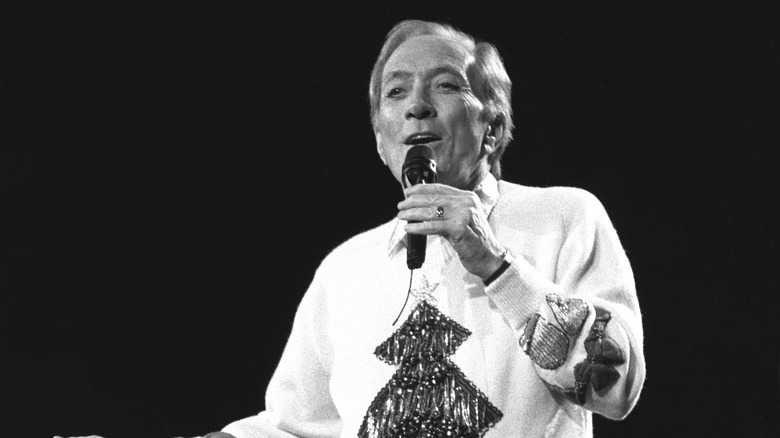 John Atashian/Getty Images
Winter and Christmas-themed clothing — including sweaters — started being mass-produced in the 1950s, perhaps a nod to the post-war commercialization of the holiday. The sweaters were initially called "jingle bell sweaters" by retailers, but they were not the intentionally campy pullovers they are today. While some considered the festive sweaters to be art, they weren't exactly big sellers. Still, some of television's biggest personalities of the era could be found wearing them, including crooner Andy Williams (pictured above) while he sang Christmas carols on camera, per ABC7 News.
However, it wasn't until the 1980s that Christmas sweaters exploded in popularity thanks to their appearances in television and film on some of our favorite characters of all time. Chevy Chase's Christmas-obsessed Clark Griswold turned an ugly Christmas sweater into an endearing display of holiday cheer in "National Lampoon's Christmas Vacation," per Style Girlfriend. Soon after, Christmas sweaters were worn at office parties to have a similar laugh at ourselves during what can be for many a stressful moment in time. Nearly as quickly as the ugly Christmas sweater resurgence arrived, it disappeared again and the sweaters faded in popularity over the course of the 1990s. If you were caught wearing one by the turn of the millennium, it was considered a serious fashion faux pas.
How the ugly Christmas sweater became a reason to party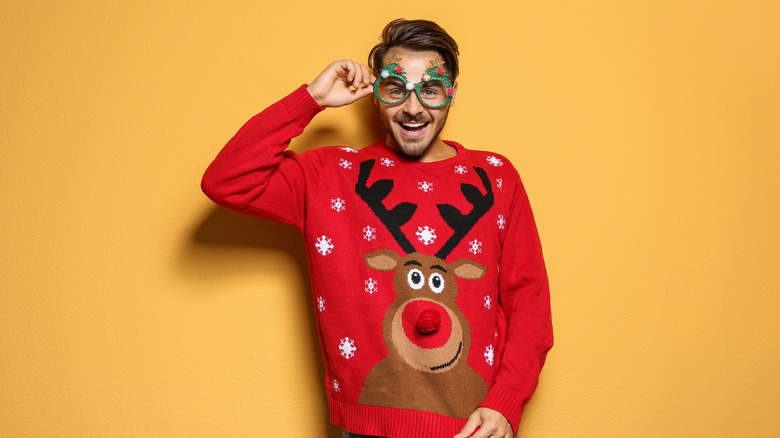 New Africa/Shutterstock
When "Bridget Jones's Diary" came out in 2001, the ugly Christmas sweater was back into pop culture when main character Bridget Jones (played by Renée Zellweger) spots a potential suitor, Mr. Darcy (played by Colin Firth). But when he turns around, he reveals himself to be wearing a tacky moose Christmas sweater — a total turnoff for Jones. Although it might be nearly impossible to pick just one sweater today, at the time of shooting the film, the staff had a hard time locating a good option. "We sent out the knitting challenge to approximately 20 or 30 knitters," the film's director, Sharon Maguire, told Entertainment Weekly. "At first, none of the designs worked. They were lovely, but they just weren't funny."
Around the same time, a Canadian by the name of Chris Boyd was working at a retirement home in the Vancouver area when he noticed the residents who wore the Christmas sweaters around the holidays. "I would compliment them: 'Wow, that's an amazing sweater.' In the back of my mind, I was thinking, 'Wouldn't it be kind of fun to track one of these down?'" he told HuffPost. In 2002, he and his friends hosted their first ugly Christmas sweater party to have "the most cheesy, most feel-good party imaginable." Boyd and his friends have since turned the event — and a book titled "Ugly Christmas Sweater Party Book" — into a fundraiser to support charities.