Tony Bennett's Relationship With Amy Winehouse Explained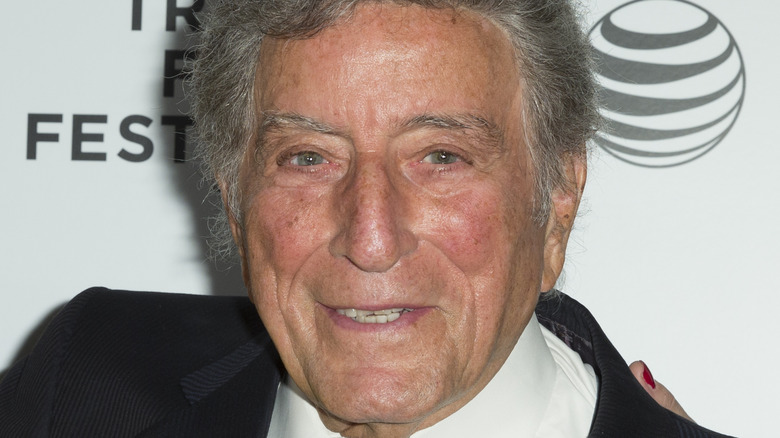 lev radin/Shutterstock
From the moment Tony Bennett met Amy Winehouse, he knew she was special. In 2010, the 26-year-old attended one of Bennett's concerts at the Royal Albert Hall in London, per Hello magazine, and met the famous then-83-year-old crooner after the show. "She was a big fan of mine, and I was really surprised, because she [was] so young," Bennett later told the Philadelphia Inquirer. After their meeting, Bennett said he spent time listening to her music and the appreciation became mutual. "She just had the gift of knowing how to sing as good, and was influenced by Billie Holiday, Jackie Washington, Ella Fitzgerald. Her dream was to become very, very famous doing that."
Less than a year later, Bennett invited Winehouse to the Abbey Road Studios to collaborate on "Body and Soul," a song for his "Duets II" album. Bennett later said that Winehouse was overwhelmed by recording with him, so he made an extra effort to put her mind at ease. "She was very nervous to perform, but I said, 'You know, it sounds like you're influenced by Dinah Washington.' And all of the sudden, her whole life changed," Bennett recalled to Entertainment Weekly. "She did some Dinah Washington licks, and from that moment on, she just relaxed. And it came out wonderful. She was like, 'Tony understands me, you know?'"
It would be her final recording. Winehouse died on July 23, 2011, at the age of 27 — two months before the release of their song.
Tony Bennett had regrets about Amy Winehouse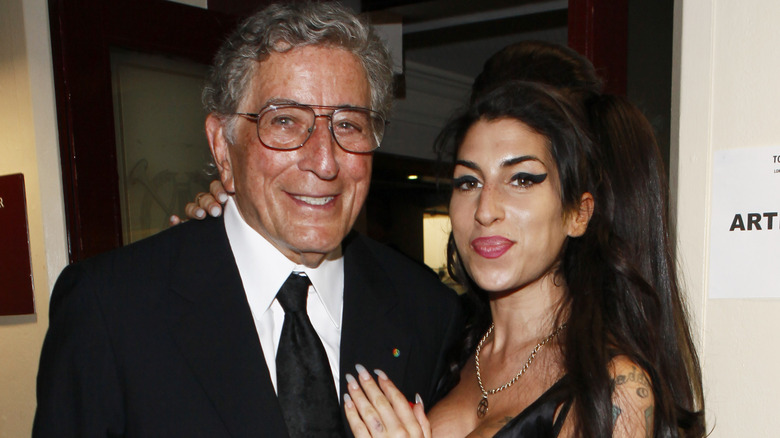 Dave M. Benett/Getty Images
Tony Bennett had an immense appreciation for Winehouse because of her willingness to embrace jazz at a time when so many were walking away from it. "Some people think that anyone could sing jazz, but they can't. It's a gift of learning how to syncopate, but it's also a spirit that you're either born with or you're not. And Amy was born with that spirit," he told Entertainment Weekly.
In his 2016 book, "Just Getting Started," Bennett recalled the day the two spent in the Abbey Road Studios, noting that he chose the song while being aware of Winehouse's reported addictions. Bennett has said he regrets not saying something to her about her struggles — a "decision that weighs on him heavily." Bennett wondered if it would have helped if he had let her know that he had "contended a little bit" with drugs and alcohol, but also knew "that you could bring yourself back," Bennett wrote [via People]. "Would it have made a difference if someone she considered an idol had said to her something like, 'You're my idol. You are a once-in-a-lifetime talent. Please don't take that from the world.'" However, Bennett laments that he "said nothing on the day."
Their duet, "Body and Soul," reached the Billboard Hot 100 and won a Grammy in 2012. Sales from the song were donated to the Amy Winehouse Foundation, a charity that helps young people struggling with alcohol and drug addiction.