What Happens When You Leave The Hells Angels?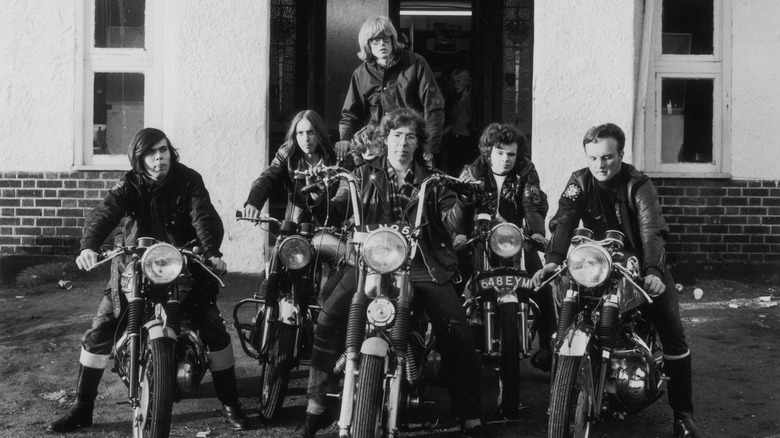 Evening Standard/Getty Images
We may receive a commission on purchases made from links.
Being part of the Hells Angels motorcycle club is a lifelong commitment, and according to the organization, there is no such thing as a retired member. There are instances, however, when a member is kicked out for breaking rules, or in some cases, a member chooses to leave on his own accord. One former Hells Angels member, George Christie, shared his experience after leaving the motorcycle club that he had been a part of for decades.
Christie always wanted to be part of the Hells Angels, and he finally got his wish in the '70s. In an interview with Vice, the former member shared what it was like to be part of the club. "I felt there was really a code of honor despite what society at-large would think. These were guys I could trust. I knew if I confided in them or told them something, they wouldn't take it and use it against me," he said. Christie said that being part of the elite motorcycle club made him feel special, and everyone accepted him with open arms.
After almost four decades of being with the Hells Angels — 35 years being the leader of the Ventura chapter — Christie decided to officially leave the club in 2011. His personal views no longer aligned with the club's activities, so he parted ways with them. "I felt we became the people we rebelled against, and that's exactly what I told them at a meeting when I left," he stated. As he told KNPR, fights with other motorcycle clubs were about egos, and his efforts toward attaining peace with rivals were met with resistance.
The repercussions of leaving the Hells Angels
George Christie went through the steps in order to formally leave the motorcycle club. He talked to the members, provided his reasons for quitting, gave up his patch, and it seemed that members understood where he was coming from. By all accounts, it seemed that he left the club in good standing and the members were fine with him leaving. Just weeks later, however, Christie received a call that notified him that he was "out bad" with the club, as there were talks about him being an informant, which he says is not true (via Vice).
Being "out bad" was difficult for Christie. It meant that members — who he considered friends and family — could no longer interact with him. He compared leaving the club to a divorce. "At first, everyone wanted to be amiable. They weren't happy about my decision, but they understood it. As things progressed, it became aggressive, and it was hard to take," Christie stated. In 2016, Christie released a book titled "Exile on Front Street: My Life as a Hells Angel ... and Beyond." In it, the former Hells Angels member recounts the story of how he — a former Marine — became part of the biggest motorcycle club and the events that happened during his time with the Hells Angels and what happened in his life after he left the club. He was called a coward, rumors circulated about him, and he even served prison time for a conspiracy charge, per Gangsters Inc.
Leaving the Hells Angels in good standing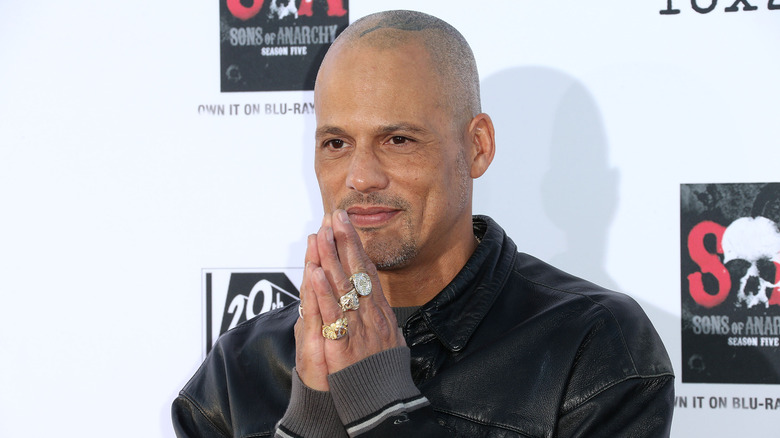 Frederick M. Brown/Getty Images
Not all who leave the Hells Angels have the same experience as George Christie, though. As previously mentioned, there are those who can leave the club in good standing. One of them is David Labrava, who became famous for his role as Happy Lowman in the crime-drama series "Sons of Anarchy." Being a member of Hells Angels, Labrava was initially brought on to the show as a technical advisor for an accurate depiction of a motorcycle club, as reported by One Percenter Bikers. After meeting with the show's creator, however, he was given a role.
Labrava was a member of the Oakland chapter of Hells Angels. In 2008, he was arrested for misdemeanor and drug possession charges. After years with the club, he decided to leave in 2019 and announced his departure in an Instagram post. "I want to say I am no longer a member of the largest motorcycle club in the world, The HELLS ANGELS M.C. The only club I am a member of now, is the Human Race," he wrote. Labrava went on to say that he left in good standing, and it was his own decision. "I am no longer a patch holder. I am no longer in the patch holding set. I am now what is considered to be a civilian." Labrava thanked the Hells Angels for his time with them, and it seems that his departure was cordial.