How Many Times Did Keith Richards Have To Propose To His Wife?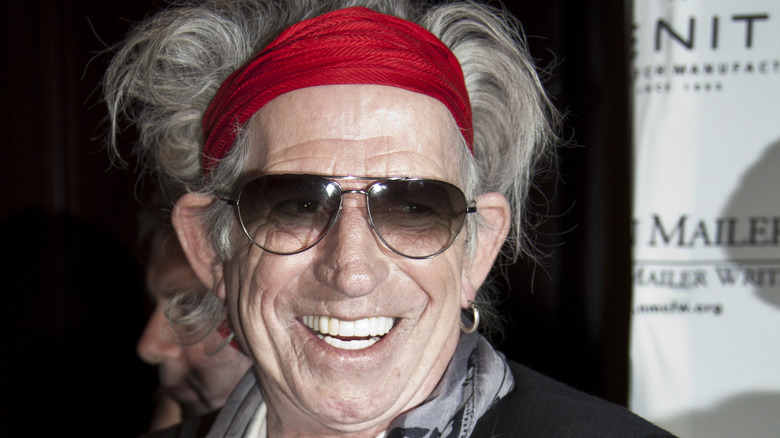 lev radin/Shutterstock
Rolling Stones guitarist Keith Richards said that meeting his wife Patti Hansen was love at first sight. The two met in 1979 at Studio 54, the nightclub famous for hosting famous clientele in the 1970s. Hansen was a successful model back then and appeared on the covers of Glamour, Harper's Bazaar, and Vogue in addition to her modeling campaigns for brands such as Versace, Calvin Klein, and Revlon. According to Richards, he was set up to meet the model, but he wasn't expecting something to come out of it — until he saw her.
"When Patti and I met it was just ... boom," Richards shared in an interview with Vanity Fair. "The moment I saw Patti, we looked at each other, and I said, 'Hello, something's happening to me.'" Hansen was celebrating her birthday that night, and she and her friends had a hard time getting champagne after the last call. Richards, being a famous rock star, was easily able to get a bottle for them. But that was all the interaction the two had that night. It wasn't until months later when they crossed paths once again, and that was when their romance started to develop (via Cheat Sheet).
Keith Richards and Patti Hansen's lasting relationship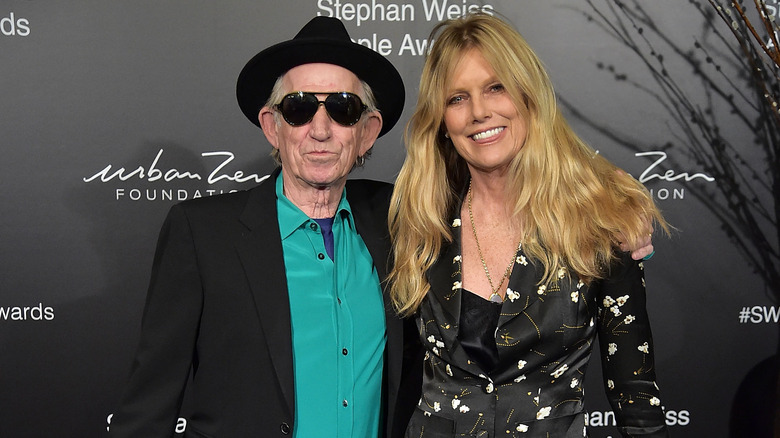 Theo Wargo/Getty Images
The couple started dating after meeting for the second time. Patti Hansen's family and friends were apprehensive about the new relationship, most likely because of Keith Richards' rock star status. However, that didn't stop Hansen from continuing to date Richards. She said that she enjoyed the lifestyle and had fun going out and partying as Richards did. According to Harper's Bazaar, Richards courted the model by recording mix tapes for her. "Keith was constantly making me mix tapes, and he would do beautiful drawings on them." The guitarist also created collages, took Polaroid photos, and wrote letters to the model notes using his own blood.
Despite the initial worry of Hansen's family regarding her relationship with the rock star, Richards was able to win their approval. "Keith promised my mom he would take care of me, and he did," Hansen said. It was in 1983 when Richards decided to propose marriage to Hansen in Mexico, and when it comes to how it happened, there are two sides to the story. According to Richards, Hansen jumped on him in happiness when he popped the question. Hansen remembers it a different way, though, and said that Richards had to propose a couple of times before she eventually agreed. Richards described his wife as the "most beautiful specimen in the world," but aside from her good looks, he also loves her mind and "her joy of life."
Richards and Hansen have been married for more than three decades — a great feat, especially in the entertainment industry. They share two daughters together — Theodora and Alexandra.