Here's Who Inherited Audrey Hepburn's Money After She Died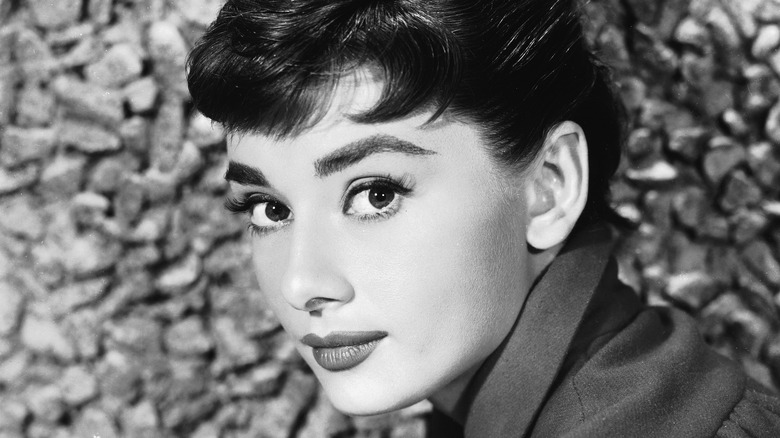 Hulton Archive/Getty Images
Born in Belgium in 1929, Audrey Hepburn survived an adolescence plagued by World War II to become one of the 20th century's most beloved actresses (via Biography). A performer at heart, Hepburn was first a ballet student before becoming an actress. According to Stacker, while living in Nazi-occupied Holland, she helped the Dutch resistance by delivering messages and giving dance performances. In fact, her famous svelte figure is a consequence of the starvation she endured during this time, as Hepburn reportedly ate tulip bulbs to survive (via People). After the war ended, she continued her dance studies and became a chorus girl and actress (per LiveAbout). Hepburn later made her Broadway debut in the show "Gigi" as the titular role and became a star.
According to History, she was cast in the 1953 film "Roman Holiday." For her performance, she won an Academy Award for best actress. Hepburn would later star in "Sabrina," "Funny Face," and the iconic film "Breakfast at Tiffany's." All told, she is one of only a few actresses in history who has won an Emmy, Tony, Grammy, and an Academy Award. 
Per AmoMama, Hepburn was also a doting wife and mother. Her first marriage was to actor Mel Ferrer in 1954, while her second was with psychiatrist Andrea Dotti in 1969. Hepburn gave birth to sons Sean Hepburn Ferrer and Luca Dotti, respectively. The Guardian reports that Hepburn always wanted to be a mother and put her career on hold to be one.
Audrey Hepburn the mother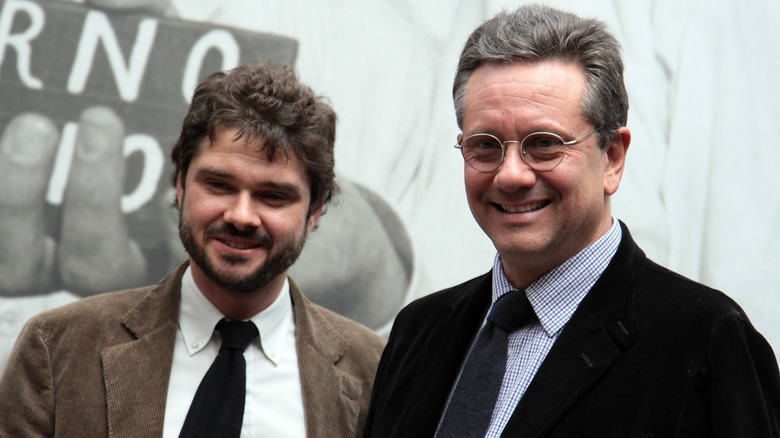 Ernesto S. Ruscio/Getty Images
Per The Guardian, when her first son Sean was born in 1960, Audrey Hepburn stopped acting for a decade. Motherhood was incredibly important to the star. Hepburn stated that she stayed home with her children because she wanted to; it was not a sacrifice, it's what made her happy. Moreover, her son Sean believes this stemmed from Hepburn's difficult childhood. Besides witnessing the horrors of war, her mother was not affectionate, and LiveAbout reports that her father, Joseph Victor Anthony Hepburn-Ruston, abandoned the family when she was a child. Sean and his brother, however, did not grow up in Hollywood. Hepburn raised her children in Switzerland and Rome. Despite their mother being an icon, they had a normal childhood.
Per Closer Weekly, her son Luca, born in 1970, didn't realize how famous his mother was as she picked him up from school and did everything an average mother would do. Moreover, Hepburn kept her life simple and lived in the Swiss countryside with her children. Sean has gone on to say that he believes their special bond is attributed to the fact that Hepburn had multiple miscarriages before finally giving birth to him (via Today). Though their mother has been gone for years, Sean has said that she left her family such an extraordinary legacy that it makes up for her not actually being here (per The Film Stage). It wasn't until her death and funeral that he realized how beloved she was by the world. Sean believes that their ordinary childhood helped prepare them for the world. According to AmoMama, the brothers later founded the Audrey Hepburn Children's Fund to raise money for charity.
Audrey Hepburn's sons battled over her estate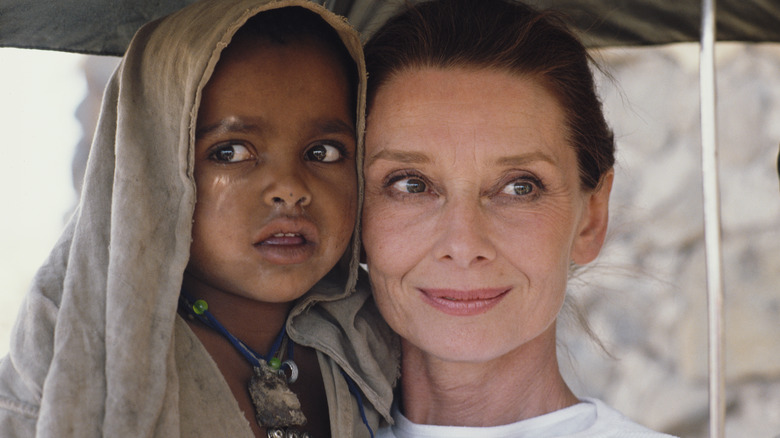 Derek Hudson/Getty Images
In her later years, Audrey Hepburn focused less on acting and more on her role as a goodwill ambassador for UNICEF (via Biography). She felt compelled to travel the world to raise awareness for children in need due to her childhood in Nazi-occupied Holland. After a trip to Somalia, Hepburn fell ill and was diagnosed with colon cancer (per LiveAbout). On January 20, 1993, 63-year-old Hepburn died from the disease. She was survived by her two sons, half brothers Sean and Luca. Celebrity Net Worth reports that Hepburn was worth $55 million at the time of her death. According to The Law Offices of DuPont & Blumenstiel, a handwritten will from Hepburn stated that her two sons would inherit 50/50 of her estate. This included a Los Angeles storage locker full of mementos and memorabilia.
However, Hepburn failed to specify who would get what. The brothers later asked a judge to help them divide the items. When they signed a deal with Christie's Auction House, a lengthy legal battle ensued when Sean sued Luca. Per the Daily Mail, they settled the matter in 2015. The brothers split the items into three categories: pieces to be given to the auction house, items they would each keep, and items they already had in their possession. Moreover, they would split the profits and any unsold items from the auction equally. The Washington Times reports that the Christie's auction made $6.2 million in 2017. Hepburn's personal script for "Breakfast at Tiffany's" alone sold for nearly $900,000.
Other issues about Hepburn's estate are reportedly still ongoing.