How The Rat Pack Got Their Name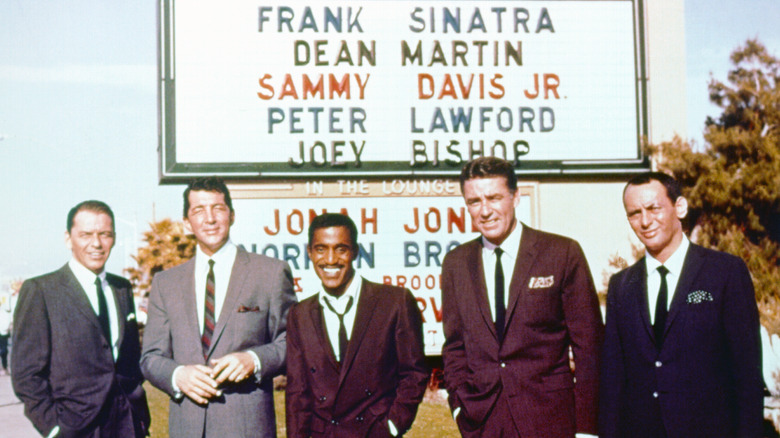 Michael Ochs Archives/Getty Images
For a time in the 1960s, the biggest names in show business were an informal collection of entertainers from various genres who came together and started performing together as a sort of collective. As Biography notes, the lineup of the "Rat Pack," as they were called, changed over the years due to death and issues of personal relationships, but the group's core could always be counted on to include Frank Sinatra, Joey Bishop, Dean Martin, Peter Lawford, and Sammy Davis, Jr. The group sold-out shows in Las Vegas with their lounge act and even made movies together.
But the Rat Pack wasn't just an entertainment act — in many ways they were the embodiment of a lifestyle. The chain-smoking, hard-partying, wise-cracking men's men represented a sort of old school definition of masculinity, particularly at a time when the era of crooners, such as Sinatra, was coming to an end and rock 'n' roll was beginning to become the dominant force in popular culture.
There are varying stories about where the name Rat Pack came from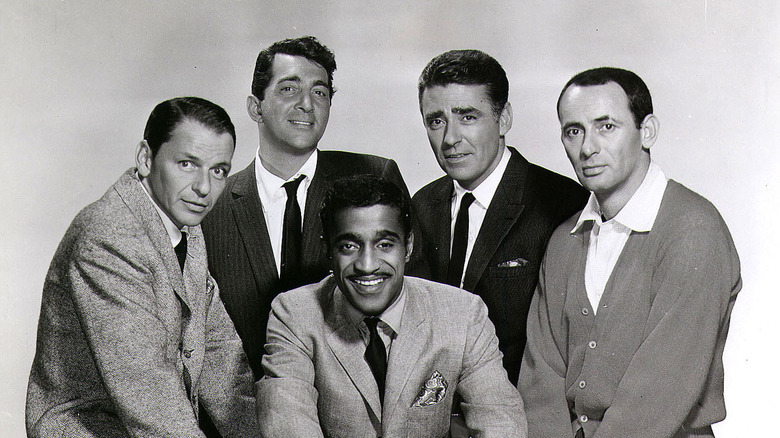 Getty Images/Getty Images
Even though the group was a force in popular culture for the better part of two different decades in mid-century America, it seems that the true origins of the name "Rat Pack" are lost to history, but there are a couple of theories. What is known for certain, according to The Las Vegas Sun, is that Sinatra and his friends enjoyed getting together for drinks with husband-and-wife Humphrey Bogart and Lauren Bacall, so much so that their drinking group was almost something of an informal fraternity. 
According to the blog of musician Joan Ellison the people who frequented Bacall and Bogart's home were known as the "Holmby Hills Rat Pack," the first two words referring to the LA neighborhood where the couple lived. The name stuck when Davis, Sinatra, Dean, and the other men started getting big collectively. 
Another explanation also stems from the connection between the men and Bacall. As Mental Floss notes, one night Bacall walked into the Vegas hotel room where her husband, Bogart, joined by Sinatra et al, were engaged in a hard night of partying, and Bacall quipped that they looked "like a goddamn rat pack."