Why Love Is Like A Butterfly Is So Important To Dolly Parton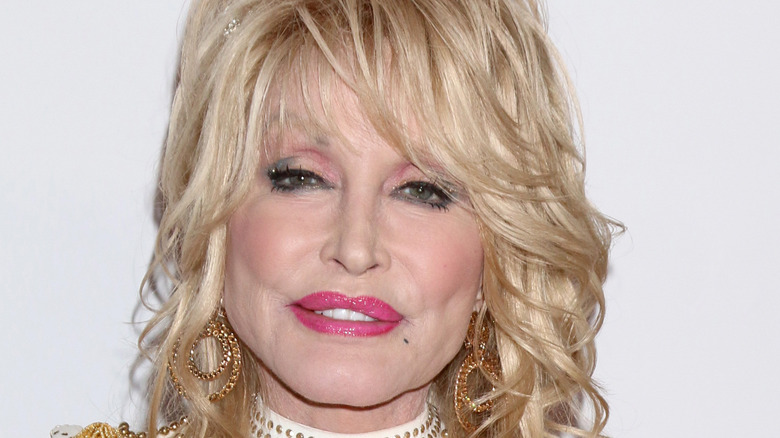 Kathy Hutchins/Shutterstock
Country music and pop culture legend Dolly Parton is well known for her affinity for butterflies. In an October 2021 interview with W magazine, Parton explained that her love for the delicate winged insects dated back to her childhood in the Smokey Mountains of Pigeon Forge, Tennessee: "I used to get in trouble with my mom, 'cause they'd have to come find me and I'd be chasing a butterfly from one bush to another." She went on to explain, "Butterflies don't sting, they don't bite, and they are so beautiful. And I just kind of related to them with my own personality. I claimed them as my little symbol." 
Not only had Parton worked butterfly designs into her famously spangled and colorful clothing and jewelry, she even has small pastel tattoos of "ribbons, bows, and butterflies," as she told People magazine in 2020, which cover up the scars left from various surgeries. 
Dolly has made butterflies an important part of her image at least since 1974 when she released her album "Love Is Like A Butterfly," the title track of which went to No. 1 on the Billboard Hot Country Songs chart in November of that year and even broke through to the mainstream, peaking at No. 38 on the Adult Contemporary chart. As reported by Showbiz Cheat Sheet, in her 2020 book "Dolly Parton, Songteller: My Life in Lyrics," Parton wrote of the song, "I think 'Love is Like a Butterfly' is a very poetic, very descriptive, very innocent, and very flowery song." 
Dolly Parton continues to use butterflies as her personal symbol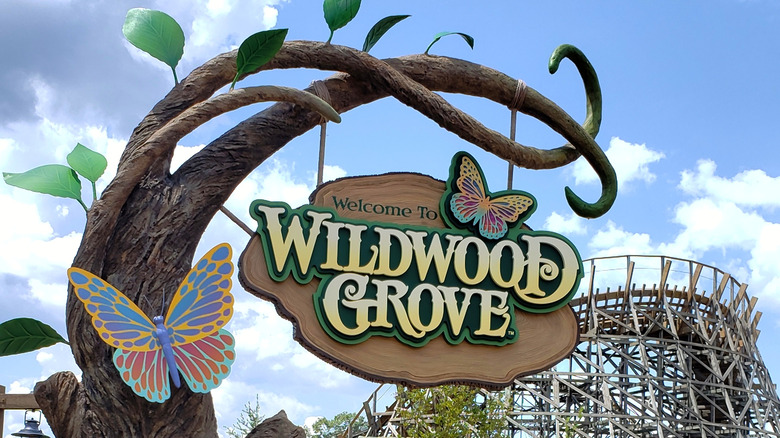 1960s Travis/Shutterstock
"Love Is Like A Butterfly" was so important to Dolly Parton that she used it as the theme song for her variety show, "Dolly," that ran in syndication from 1976 to 1977. Per Showbiz Cheat Sheet, in "Dolly Parton, Songteller: My Life in Lyrics," Parton wrote, "I would come down from above on a swing decorated with flowers and butterflies all over its ropes." There's a clip on YouTube of her singing the entire song on the show while seated atop a giant, glittering "Dolly" logo as an enormous butterfly colorfully flashes and glows in the background. When Parton opened her Tennessee theme park Dollywood in 1986, she incorporated butterflies into the design of the park, including replacing the letter "W" in the logo with a butterfly. 
According to the blog Smokey Mountain Dreams, not only are butterfly motifs found on signs and pathways throughout the park, as shown in the picture above, but visitors can also eat butterfly-shaped cookies while sitting on butterfly-shaped benches before shopping for butterfly-themed jewelry, gifts, and housewares. Furthermore, per the Dollywood Insiders blog, there are butterfly-themed murals all around the park for photo opportunities, two butterfly-costumed park ambassadors named Flit and Flutter, and even a waterslide at the Dollywood Splash Country water park named, yes, the Butterfly. At the end of the day, one can even get some rest and relaxation at Dolly's DreamMore Resort and Spa where a giant sculpture of a guitar, fiddle, and banjo bedecked with butterflies greats guests. Now that's some strong personal branding.