Lucille Ball's Friendship With Vivian Vance Explained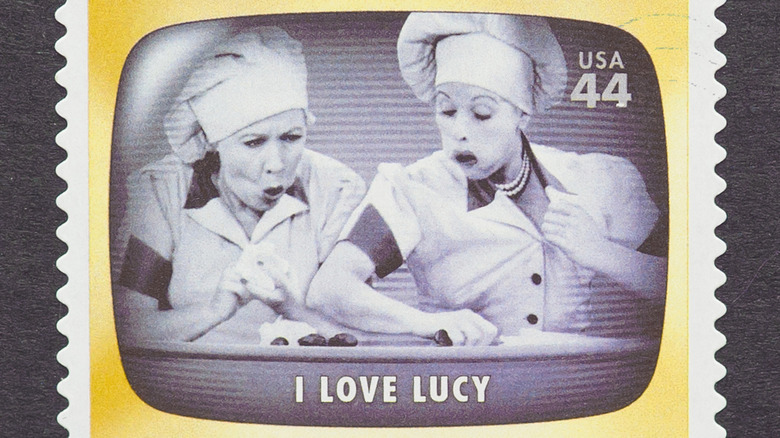 catwalker/Shutterstock
In many ways, life on the set of a TV show is not unlike life in an office or a factory. People show up there to work on a certain schedule, put in their hours, collect their paycheck, and go home. Meanwhile, workers in the TV industry have to deal with interpersonal relationships between co-workers in much the same way that workers in any other job setting will have to. That means that there will be the occasional (or, in some cases, frequent) battle of wills or hurt feelings, and indeed, some people may grow to hate each other. Similarly, the people who work together on the set may find that they've become lifelong friends.
Such was the case with Lucille Ball and Vivian Vance, according to Showbiz Cheat Sheet. The two women were best friends on the screen, and they were best friends in real life as well, up until Vance's death in 1979.
Ball and Vance were BFFs onscreen and off
When Lucille Ball and Vivian Vance arrived for their first day of work on the set of "I Love Lucy" back in 1951, Ball was a big-name TV actress while Vance was mostly known for her work on Broadway, as People reports. Ball would later write in her book that she knew from the moment she met her that she had struck gold, as Showbiz Cheat Sheet explains. "As far as I was concerned, it was Kismet. Viv and I were extraordinarily compatible," Ball wrote.
Their friendship wasn't just limited to the screen: they were best friends off-screen as well. Ball's daughter, Lucie Arnaz, would later say, via Outsider, that their friendship was for life. "I grew up with [Vivian] around a lot. My mother and Vivian were really good friends in real life ... Like sisters good friends. And they adored one another. Vivian was one of the funniest people on the planet — truly, truly funny. And when she would get together with my mother, it was lovely," she said.
Of course, all friendships have their ups and downs, and on the set of "I Love Lucy," that friendship was tested during the show's final season. Both women were in the midst of divorces at the time, and at least once, the two didn't speak to each other for a few days before making up.