What John Wayne's Son Had To Say About His Father's Tarnished Legacy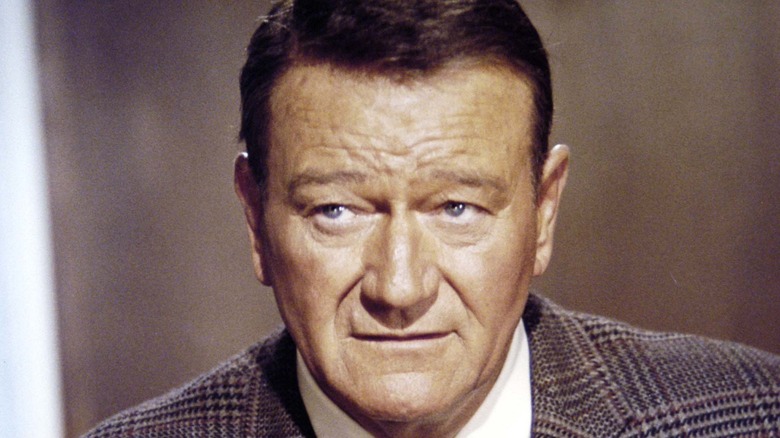 Avalon/Getty Images
Few individuals evoke images of old-school American machismo as effectively as John Wayne. The man born Marion Robert Morrison in 1907 became one of Hollywood's go-to guys for major Westerns and war movies for several decades, and when he died in 1979, he had long since compiled an enviable resume of acting roles, many of which remain beloved by film fanatics to this day. Sure, a lot of them may not have aged too well, but it's very hard to dispute Wayne's status as a film icon.
Then there's the matter of the Duke's controversial views, which notably included the matter of race and the history of racial inequality in America. Wayne discussed these topics in his now-infamous 1971 interview with Playboy, telling the publication (via The Washington Post) that he "[believes] in white supremacy" and that "we can't all of a sudden get down on our knees and turn everything over to the leadership of the blacks." He then added that he doesn't believe in "giving authority and positions of leadership and judgment to irresponsible people."
The aforementioned comments remained highly inflammatory for many in the decades that followed, and in 2020, Democratic lawmakers in California passed a resolution to change the name of the John Wayne Airport in Santa Ana to the Orange County Airport. This, as they explained, was due to the actor's "racist and bigoted statements" he made almost 50 years prior. Shortly after the resolution was passed, Wayne's youngest son, Ethan Wayne, commented on the move and shared his thoughts on a legacy that has undoubtedly been tarnished by the past controversy.
Ethan Wayne believes his father was not a bigot by nature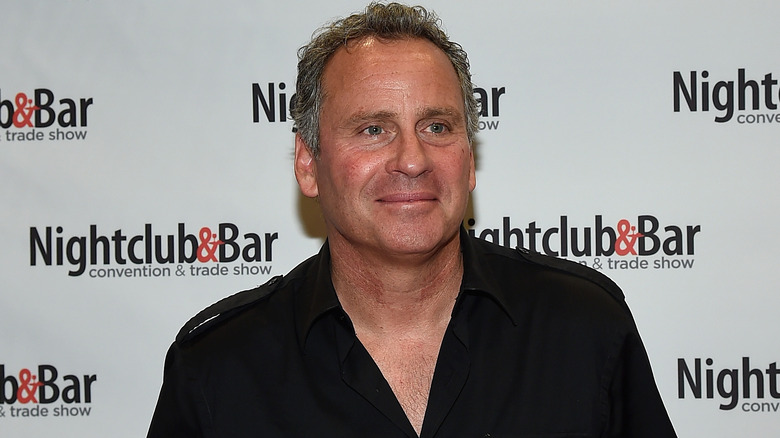 Ethan Miller/Getty Images
The above statements weren't the only ones from John Wayne's Playboy interview that could be construed as racist. Per The Washington Post, he also said he doesn't feel guilty about America's history of slavery, nor does he believe that the U.S. was in the wrong for "taking this great country away" from Native Americans.
In a statement issued to Fox News in June 2020, Ethan Wayne started out by saying that his famous father was "not a racist," though he also understands why many people feel that way. "There is no question that the words spoken by John Wayne in an interview 50 years ago have caused pain and anger," said Ethan, who currently heads John Wayne Enterprises. "They pained him as well, as he realized his true feelings were wrongly conveyed."
After explaining that his father regretted expressing his views in a way that offended people and emphasizing that he didn't really support white supremacy in any way, Ethan Wayne cited several more examples of why the Duke cannot be considered a bigot. "He called out bigotry when he saw it. He hired and worked with people of all races, creeds, and sexual orientations. John Wayne stood for the very best for all of us — a society that doesn't discriminate against anyone seeking the American dream," he said.
If he were alive today, what would John Wayne do?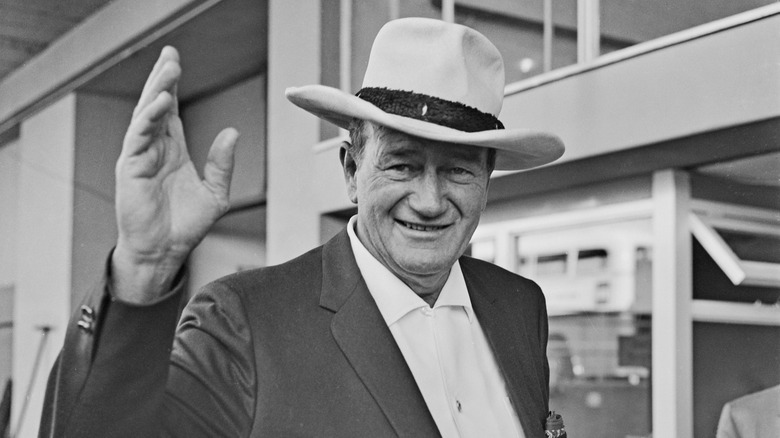 Evening Standard/Getty Images
Ethan Wayne's statement to Fox News also covered some ground on how he felt his father would have reacted to the turmoil that was gripping America at the time of the renewed controversy over his past remarks. This was especially relevant, as the push to rename the John Wayne Airport came in the aftermath of the death of George Floyd, an unarmed Black man who died after now-incarcerated Minneapolis police officer Derek Chauvin knelt on his neck for more than nine minutes. Floyd's death led to widespread protests across America, as well as renewed efforts to remove Confederate statues and imagery and other relics of the country's less tolerant past.
"One thing we know –- if John Wayne were here today, he would be in the forefront demanding fairness and justice for all people," Ethan Wayne hypothesized. "He would have pulled those officers off of George Floyd, because that was the right thing to do. He would stand for everyone's right to protest and work toward change."
As of this writing, the John Wayne Airport has yet to change its name; as Fox News pointed out, an airport spokesperson made it clear that, at the time of Ethan's statement, there were no plans to either rename the airport or remove the Duke's statue.