The Real Reason Smashing Pumpkins Broke Up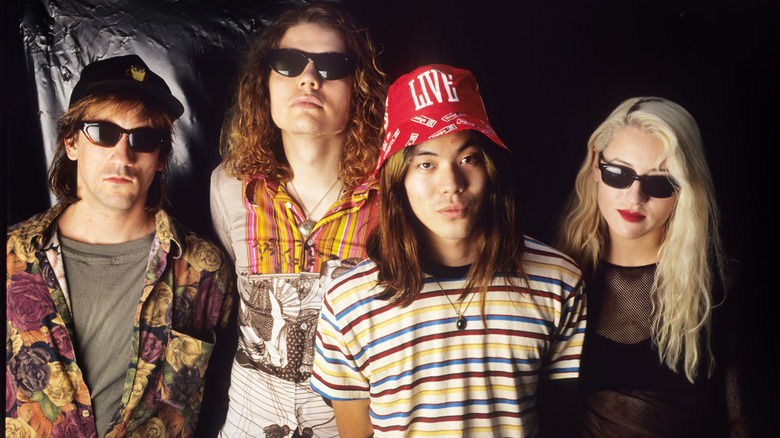 Gie Knaeps/Getty Images
Seattle may have been the epicenter of alternative rock in the '90s thanks to the grunge movement, but the Windy City was well-represented in that era where hairspray and leather made way for a whole lot of bleak nihilism. Chicago's Smashing Pumpkins were among the decade's biggest names in rock, proving to be equally capable of churning out sardonically-worded heavy rockers like "Today" and "Zero" as they were of producing quieter, more understated material such as "Disarm" and "1979." Leading the entire operation was Billy Corgan, the enigmatic, bald-headed (at least from 1995 onward) frontman whose trademark delivery has helped make him one of rock's most distinctive vocalists.
Unfortunately for fans of the band, Corgan revealed in a May 2000 interview that the Pumpkins were calling it quits (via Rolling Stone), less than three months after their most recent album at the time, "Machina/the machines of God," hit record stores. During that interview, he explained that the group would finish its U.S. tour and play a few more shows in other countries before making a few TV appearances and finally riding off into the sunset. More than two decades later, we now know that the Pumpkins eventually reformed and are still making music to this day. But why did they temporarily break up in the first place?
They were tired of competing with bubblegum pop acts like Britney Spears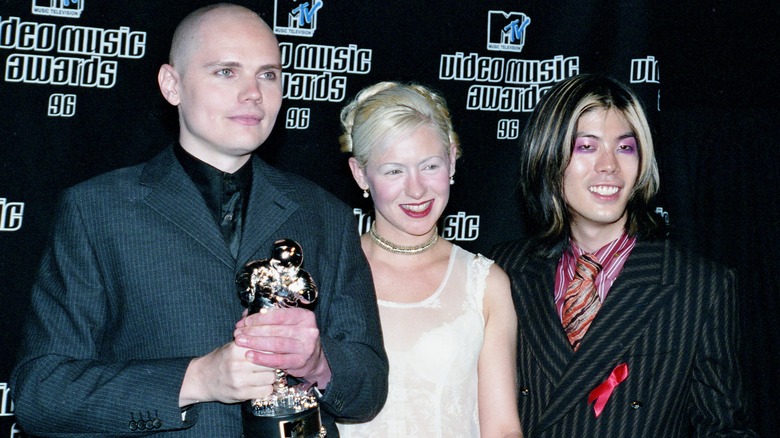 Catherine Mcgann/Getty Images
By 1999, the Smashing Pumpkins were neck-deep in band drama. Drummer Jimmy Chamberlin, who was previously ousted due to his drug use, was back in the band, but bassist D'Arcy Wretzky was out, allegedly due to Billy Corgan's controlling nature (via Rolling Stone). In her place stepped Hole bassist Melissa Auf Der Maur, who joined the Pumpkins as they continued work on their fifth studio album, "Machina/the machines of God." However, it wasn't the Pumpkins' nature as a "revolving door band" (with Corgan being the sole constant member) that led to their 2000 breakup, nor was it the substance abuse or the increasing tension behind the scenes.
To put it bluntly, it was the Smashing Pumpkins' declining relevance with the kids that drove them to quit. Nu-metal was rock's latest sub-genre du jour, and as far as the broader music scene was concerned, bubblegum pop was still reigning supreme. As Corgan expressed in his May 2000 interview with Los Angeles radio station KROQ, he and his bandmates had grown tired of "fighting the good fight against the Britneys of the world," adding that the decision to quit represented a "weight lifted off [his] shoulders." The frontman also pointed to the songs on "Machina," noting that Pumpkins fans may have already recognized through those tunes that the end of the band was nigh.
As a rock album, "Machina" was definitely successful, but just like 1998's "Adore," it wasn't as huge a hit as 1993's "Siamese Dream" or 1995's "Mellon Collie and the Infinite Sadness." This was seemingly a prevailing trend for major alternative rock bands at the start of the 21st century — try as they did, they just weren't able to keep up with the "TRL" scene.
The Pumpkins were planning to disband even before they recorded Machina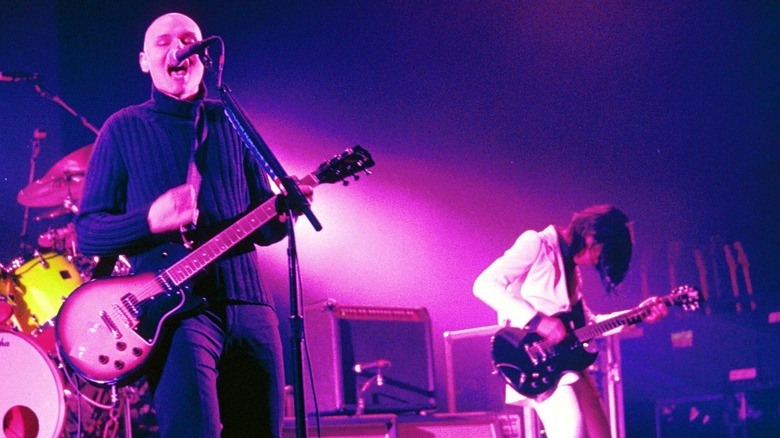 Brian Rasic/Getty Images
In addition to feeling that the Smashing Pumpkins no longer had the impact they had on listeners in the early-to-mid-'90s, Billy Corgan told KROQ (via Rolling Stone) that the band simply felt things had run their course, and had been feeling that way for quite some time. "We felt that before we even started this album, we had come to the end of our, sort of, road — emotionally, spiritually, musically," he told the station. The singer added that the Pumpkins still had an album's worth of songs that didn't make it into "Machina/the machines of God" that they hoped to work on after wrapping up most of their existing commitments.
Those songs eventually made up part of "Machina II/The Friends and Enemies of Modern Music," which was released for free on the internet in September 2000 (via The A.V. Club). On December 2, 2000, the Pumpkins played what was supposed to be their final show, a hometown concert at the Metro in Chicago, as noted by Ultimate Classic Rock. But as it turned out, that ostensible farewell show wasn't their swan (or is that Zwan?) song after all. 
After a five-year break that saw Corgan and Jimmy Chamberlin (among other alt-rock mainstays) release one album as the aforementioned supergroup Zwan, Corgan officially announced his plans to revive the Smashing Pumpkins. Their 2007 comeback album, "Zeitgeist," wasn't that well-received by fans, but the band has, at the very least, kept chugging on despite even more changes to the musical landscape ... and of course, even more changes to Billy Corgan's supporting cast.