The Heartwarming Story About Loretta Lynn's First Guitar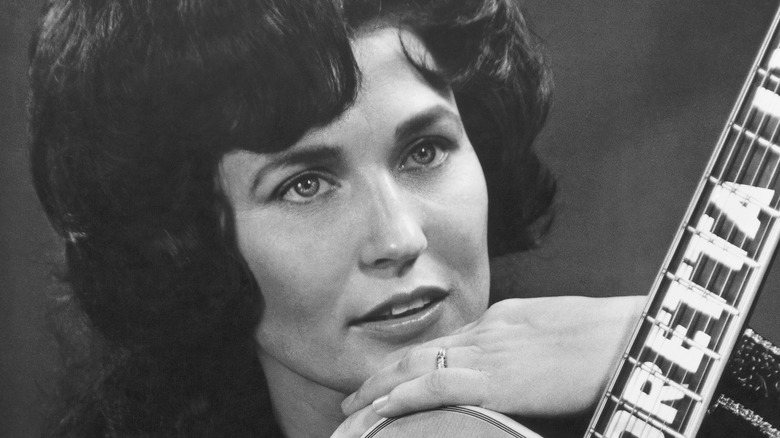 Michael Ochs Archives/Getty Images
The connection a musician has with their instrument can be hard to explain, but country music great Loretta Lynn built her career with a simple guitar and a love of songwriting. When she got her first guitar she was already married and pregnant, per Musicoholics. Lynn once claimed she was 13 when she got married, but later the Associated Press would find her birth certificate, proving she was in fact nearer to 16, per Rolling Stone – which sounds like the inspiration for a country song all on its own. 
Either way, Lynn was still a teenager when she moved across the country to Washington with her husband, Oliver Lynn, who also went by the nicknames "Mooney" and "Doolittle." Far from her native Kentucky, she was feeling terribly homesick. According to Musicoholics, Loretta's husband felt so bad for his bride that he picked up a $17 guitar from a Sears and Roebuck catalog to help her pass the time while living so far away from home.
Loretta Lynn started writing songs right away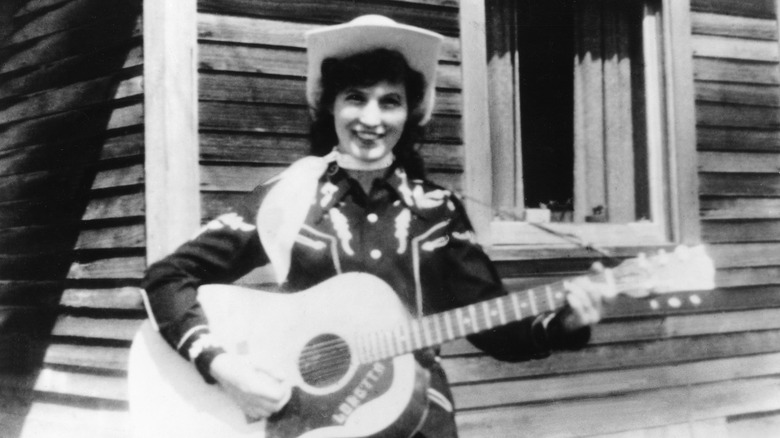 Michael Ochs Archives/Getty Images
Loretta Lynn had never played the guitar, but according to The Country Music Hall of Fame, she'd grown up listening to country music and singing. She took to the instrument quickly and soon she was writing music on her own. Her first song was "Whispering Sea" according to Musicholics. She also wrote "I'm a Honky Tonk Girl" on a paper bag while working as a strawberry picker. That song would become her first hit, per Vintage Guitar. Eventually Lynn started playing shows on her own near the couple's home in Washington, and her husband would one day become her manager. 
Loretta and Oliver Lynn were married up until his death in 1996, per Country Thang Daily, and she would go on to write more than a hundred songs throughout her career, many of which landed on the country charts. Loretta continued to write and play music on various guitars, but without that heartwarming and sweet gesture from a young husband to his new wife, the world may have never really known the coal miner's daughter.