The Truth About A Cursed Dresser That Is Now Stored In A Museum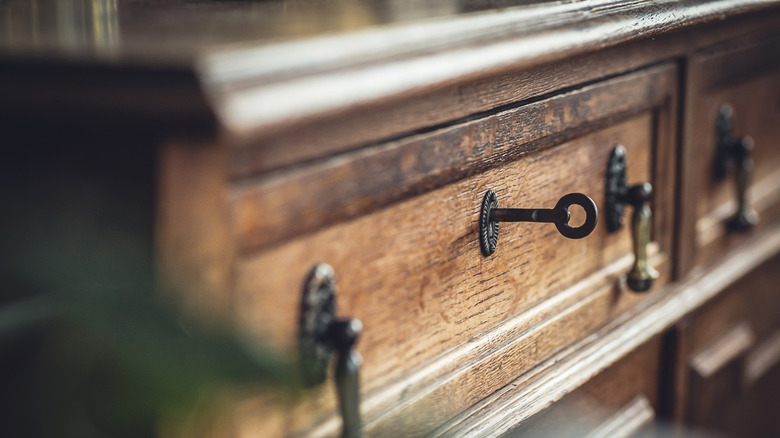 Room 76/Shutterstock
At first glance, the Empire-style mahogany chest that now resides at the Kentucky Historical Society appears to be your run-of-the-mill antique. Known as the Conjured Chest, it has four drawers, scroll work, and a menacing curse. According to Here There Be Monsters, the alleged curse has its origins in the 1830s. Possibly made in Meade County, Kentucky, the story starts with the wealthy Jeremiah Graham commissioning his slave, Remus, to create a chest for the impending arrival of his firstborn. When it was completed, Graham, for whatever reason, was not satisfied with the final product.
Per a different article from the Kentucky Historical Society, Graham beat Remus severely, killing him. Seeking revenge for his senseless death, Southern Spirit Guide writes that the other slaves sprinkled owl blood in the drawers and placed a curse on the chest. In essence, this would ensure that anyone who placed their clothes in the drawers would die or suffer great misfortune. In total, 18 deaths and tragedies are now associated with the curse of the Conjured Chest. It can be argued that Remus was in fact the first death related to the Conjured Chest, however, Jeremiah Graham's newborn, the child for whom the chest was made for, later died during infancy.
The victims of the cursed Conjured Chest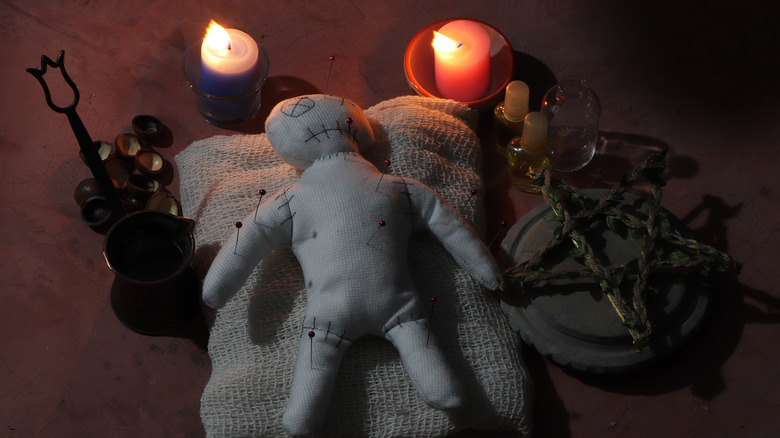 KonyannaPhotograpy/Shutterstock
After the child's death, Here There Be Monsters reports that the chest was passed down to different members of the Graham family. They, too, would fall victim to the curse. Per Southern Spirit Guide, not all the victims, however, died. Some were grievously injured or became seriously ill. After 16 calamities (including the death of a neighbor who placed their clothes in the chest), Virginia Hudson Cleveland knew something had to be done. According to the Kentucky Historical Society, Cleveland inherited the chest from her grandmother, Eliza Gregory. By then, the chest had been passed down for generations by the Grahams. Wanting to break the curse, Cleveland asked her trusted maid, Sallie, for help.
They procured a ritual involving a dead owl to do so. If it worked, either Cleveland or Sallie would die (via a different article from Kentucky Historical Society). Sallie died shortly after, and some of the owl's feathers are still in the top drawer to keep the curse at bay. Since no one has placed their clothes in the chest since, it's unknown if the curse is truly broken. Despite this, Cleveland's daughter, Virginia Cary Hudson Mayne, donated the chest to the Kentucky Historical Society in 1976. In 2015, Mayne's daughter, Beverly Mayne Kienzle, went on Zak Bagans' show "Deadly Possessions" and stated that her mother donated the chest in order to protect innocent people from using it.