Did Gerald Ford Really Model For Cosmopolitan?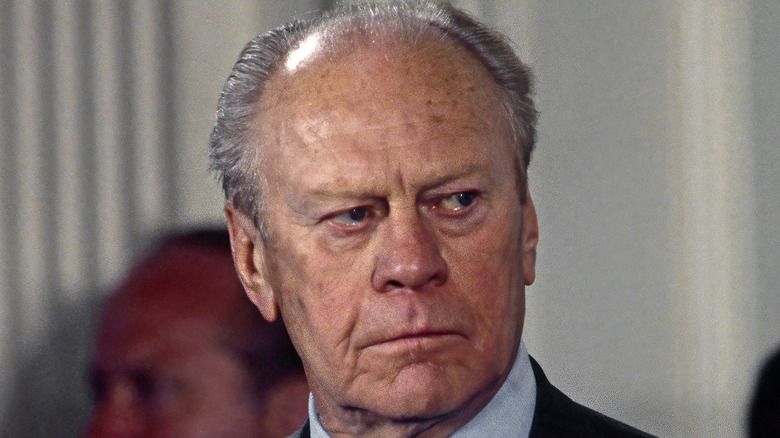 mark reinstein/Shutterstock
There are many facts about U.S. presidents that are taught in school, especially when it comes to the way they governed the country during their term, but there are some interesting facts that are left out, some of which may cause you to look at a president a different way. For instance, Grover Cleveland married his ward, Andrew Jackson had a habit of shooting those who made fun of his wife, Ulysses S. Grant was arrested for speeding on a horse, and one of John Adams' presidential dogs was named Satan (via Reader's Digest).
For one president, however, an interesting fact isn't as controversial as the ones previously mentioned, but it's just as fascinating. Gerald Ford was born in Omaha, Nebraska in 1913, but he grew up in Grand Rapids, Michigan. He attended the University of Michigan where he was an exceptional football player and was even named the MVP in his final year. He then went on to get his law degree at Yale and worked as an assistant coach for the university's football team, per History. It was around that time when Ford modeled to earn more cash.
Gerald Ford on the cover of Cosmopolitan magazine
In 1940, Gerald Ford was dating model Phyllis Brown. The couple was featured in a series of photos for Look magazine in an article titled "A New York Girl and Her Yale Boy Friend Spend a Hilarious Holiday on Skis." The photos captured Ford and Brown in various settings, including one where they played in the snow (via Symon Sez). Ford started a law practice after graduating from law school, but his law career was put on pause when Pearl Harbor was attacked by the Japanese.
Ford enlisted to join the Navy, and he rose through the ranks and became a lieutenant. Before serving overseas, however, he modeled for Cosmopolitan magazine in April 1942 with his girlfriend. The cover wasn't a photo; instead, it was an illustration that was done by famed artist Bradshaw Crandell. The patriotic cover featured Ford wearing his Navy uniform while planting a kiss on Brown, per Legends Revealed, although he was not credited. According to Crandell, Ford's hair was darkened in order to have more contrast against Brown's blonde locks. Ford served overseas afterward and received a number of medals. Sadly, his relationship with Brown didn't last, but he ended up marrying another model, Betty Ford.