The Truth About John Wayne's Relationship With Religion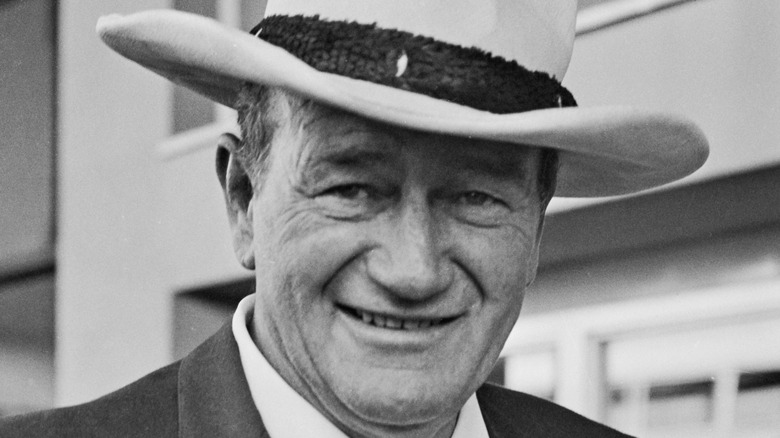 Evening Standard/Getty Images
One of the greatest icons of the Silver Screen of the 20th century was John Wayne, or Marion Morrison, as he was born (per Britannica). For decades during and after Hollywood's Golden Age, Wayne sold out theaters, usually depicting cowboys or war heroes. Off-screen, his personal life included behaviors not unlike those of a stereotypical man's man of his day, including hard drinking, chain smoking, and womanizing. Further, he was a prominent conservative, according to The Washington Post, at a time when few Hollywood leading actors would admit it, as well as a supporter of the Vietnam War and a fervent anti-communist. In 1971 he gave an interview with Playboy magazine in which he supported white supremacy, made homophobic statements, and downplayed slavery.
One thing that Wayne appears not to have talked about much while he was alive is his religion. However, the evidence seems to indicate that, inasmuch as he had any relationship with any religion, he chose Catholicism.
Wayne converted to Catholicism near the end of his life, according to his grandson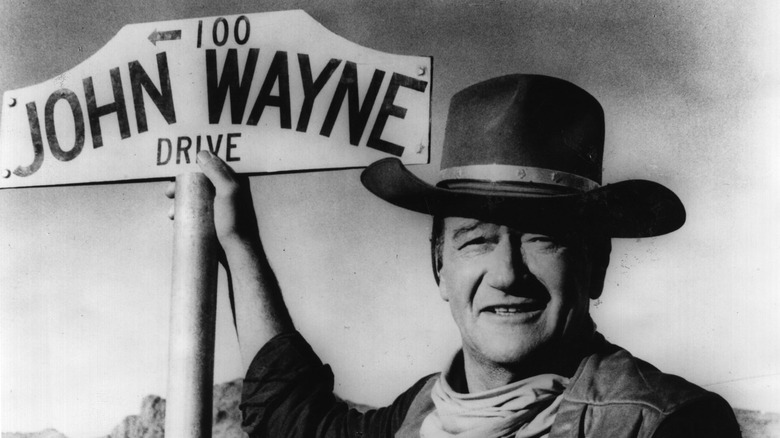 Fox Photos/Getty Images
Marion Morrison was born in Iowa to parents of Scottish descent, and was raised a Presbyterian, according to The Washington Post, although how devout he and his family were, and the degree to which religion played a role in his life, are unclear. However, by the time of his first marriage, to Josephine Alicia Saenz, Catholicism had come calling, according to Aleteia. His first wife tried valiantly to get her husband involved in church activities, and even prayed for his conversion. His next two marriages were also to Catholic women, and his children all attended Catholic schools.
By the end of his life, Wayne had fully converted to Catholicism, said his grandson, Father Matthew Muñoz, a Catholic priest. Father Muñoz pointed to Saenz's influence as planting the seeds that led to Wayne's eventual conversion to Catholicism. "My grandmother, Josephine Wayne Saenz, had a wonderful influence on his life and introduced him to the Catholic world," he said. Further, Father Muñoz said that, before Wayne died, he was baptized into the Catholic faith by Archbishop Marcos Gregorio McGrath, archbishop of Panama at the time and a friend of a friend of Wayne's.