This Billionaire Had $70 Million In Stolen Artifacts. Here Are Just A Few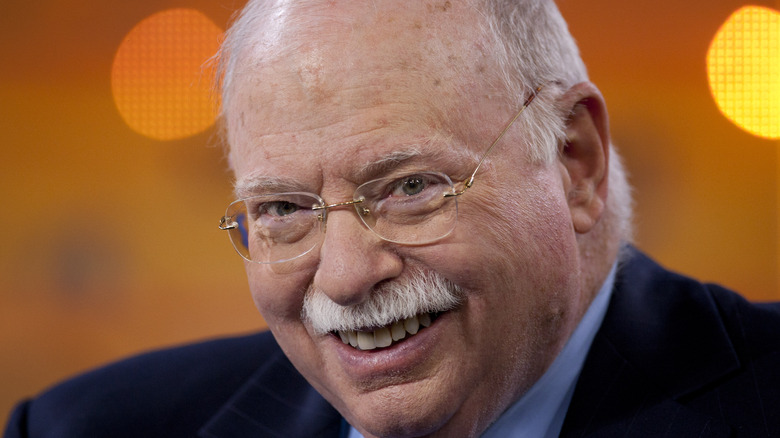 Bloomberg/Getty Images
Tomb raiding is as old as, well, tombs. But American billionaire Michael Steinhardt took it to a whole new level after surrendering 180 looted and illegally smuggled antiquities from at least 11 countries, trafficked by a dozen illicit networks, and appeared on the international art market without authentic documentation, according to The New York Times. After a multiyear investigation, New York City prosecutors determined the trove was valued at a whopping $70 million.
"For decades, Michael Steinhardt displayed a rapacious appetite for plundered artefacts without concern for the legality of his actions, the legitimacy of the pieces he bought and sold or the grievous cultural damage he wrought across the globe," said Manhattan District Attorney Cy Vance, Jr., according to The Guardian. "His pursuit of 'new' additions to showcase and sell knew no geographic or moral boundaries, as reflected in the sprawling underworld of antiquities traffickers, crime bosses, money launderers and tomb raiders he relied upon to expand his collection."
International theft of 180 items totaling $70 million must've called for a lengthy jail sentence, right? Not exactly. In a deal that was reached between Steinhardt and Vance's office, the 81-year-old hedge fund pioneer exchanged the collection for no prosecution. In addition, he was given a first-ever lifetime ban on acquiring antiquities, per CNN. Vance said that avoiding a lengthy prosecution process would allow his office to return the objects to their rightful owners sooner. So, what are these astronomically expensive collector's items, anyway?
Objects were valued in the millions -- each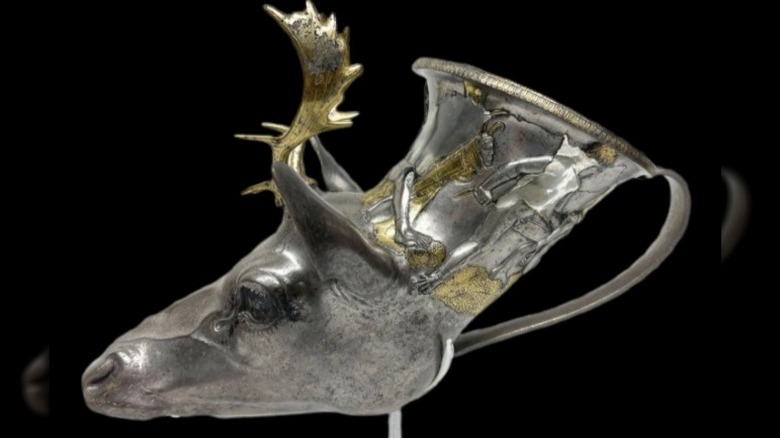 Manhattan District Attorney's Office/ Public Domain
Among the 180 items, by far the most expensive was a ceremonial vessel from Turkey in the shape of a stag's head (pictured above). It dates to 400 B.C. and came to market after rampant looting in Milas, Turkey. Steinhardt bought the cup from The Merrin Gallery in 1991 and loaned it to the Metropolitan Museum of Art in New York City, where it remained until the district attorney's office obtained a warrant to seize it. The Stag's Head Rhyton is valued at $3.5 million today.
In 1995, Steinhardt bought the Ercolano Fresco from convicted antiquities trafficker Robert Hecht and his antiquities restorer Harry Burki for $650,000. The Fresco depicted an infant Hercules strangling a snake sent by the Greek goddess Hera to slay him. The Fresco dates to 50 A.D., and was looted in 1995 from a Roman villa in the ruins of Herculaneum, which is near Naples in the shadow of Mount Vesuvius. Per CNBC, Hecht's business partner wrote a note to Steinhardt saying, a "crate being delivered to you soon" with the object inside. The Ercolano Fresco is now valued at $1 million.
"Steinhardt viewed these precious artifacts as simple commodities — things to collect and own," said Homeland Security Investigations Special Agent Ricky J. Patel, according to CNN. "He failed to respect that these treasures represent the heritage of cultures around the world from which these items were looted, often during times of strife and unrest."
Hundreds of items went under the radar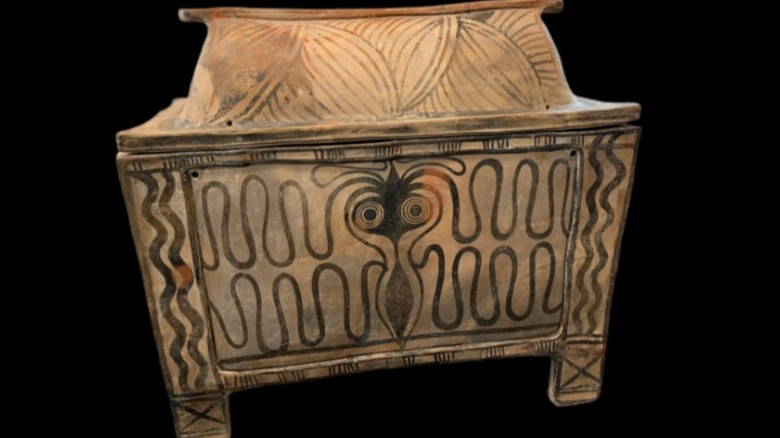 Manhattan District Attorney's Office/ Public Domain
However, not everything in Steinhardt's possession was a highly sought after relic carrying a $1 million-plus price tag. In October 2007, Steinhardt purchased three death masks from known antiquities trafficker Gil Chaya for $400,000, less than a year after they appeared on the international market. The masks, dated 6000 to 7000 BCE, originated in the foothills of the Judean mountains in what is now south-central Israel. Today, the death masks carry an estimated value of $650,000.
For his part, Steinhardt's lawyers say the sellers presented lawful titles at the time of the purchases and that he "has reserved his rights to seek recompense from the dealers involved," according to CNN. However, when it came to some pieces, Steinhardt knew there was no provenance for the pieces, and he cavalierly seemed completely fine with it. During an exchange with investigators over a subpoena related to a different antique, Steinhardt reportedly pointed to the Larnax (pictured above) — a Greek chest for human remains that he would ultimately agree to let go of in the exchange — and said (per NBC), "You see this piece? There's no provenance for it. If I see a piece and I like it, then I buy it."