How Juice WRLD Predicted His Own Death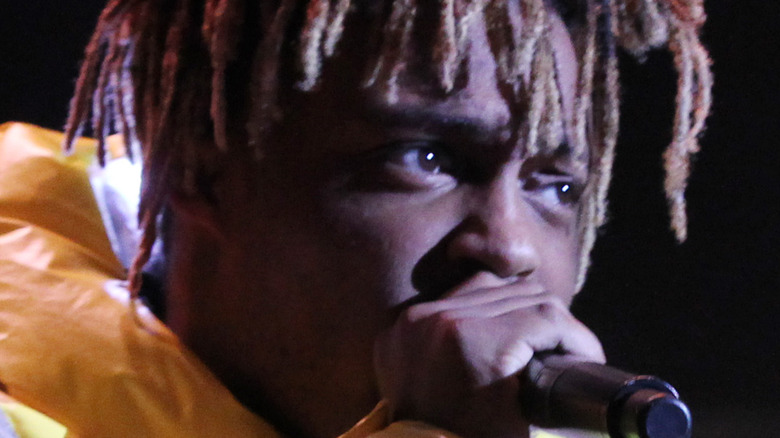 Bennett Raglin/Getty Images
Juice WRLD died in December 2019 at the tragically young age of 21, as the rapper's career was just getting started (via Pitchfork). With so much ahead of him, it's hard to imagine that the rapper would have foreseen his untimely death from an accidental overdose of Oxycodone and codeine toxicity, but soon after the obituaries began rolling in, fans realized that he seemed to have predicted his own death with startling specificity.
The prediction comes on "Legends," the first track of "Too Soon...", his 2018 EP (via Discogs). The song is about how the rapper doesn't want to be called a "legend" because legends always seem to die young. According to Genius, the song was released in tribute to Lil Peep and XXXTentacion, who both died in their early 20s, in 2017 and 2018 respectively. "This time, it was so unexpected," Juice WRLD raps, about XXXTentacion's sudden murder. "Last time, it was the drugs he was lacing," he adds, about Lil Peep's death by overdose.
In rapping about these other artists, Juice WRLD gets reflective about his own future as well, including a shocking line in which he predicts his own death — to the year.
'Dying young, uh, demon youth'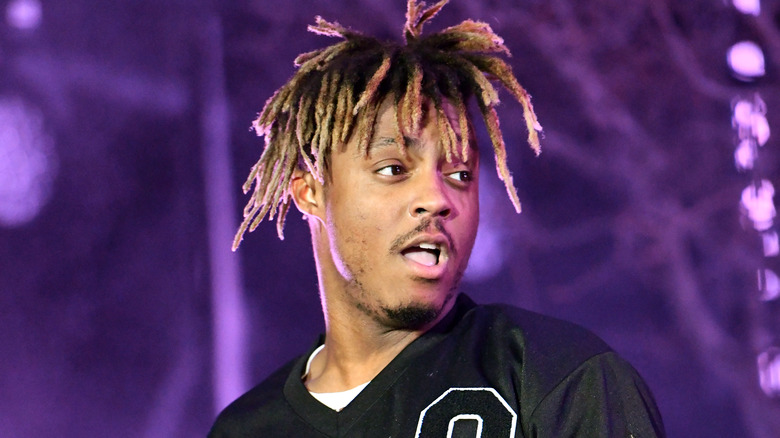 Scott Dudelson/Getty Images
Both Lil Peep and XXXTentacion died before they reached the age of 22, which perhaps was the reason behind this line in the first verse of "Legends" (via Genius): "What's the 27 Club? We ain't making it past 21."
But Juice WRLD, then just 19, clarifies throughout the verse that he's thinking of himself as well. "They tell me I'ma be a legend, I don't want that title now / 'Cause all the legends seem to die out, what the f*** is this 'bout?"
Later in the song, he further bemoans the fate of young "legends": "My mind is foggy, I'm so confused / We keep on losing our legends to / The cruel cold world, what is it coming to? / The end of the world, is it coming soon?"
True to his prediction, Juice WRLD died six days after his 21st birthday. He left behind a collection of music that never shied away from the facts of death, something which labeled the young rapper as part of an ascendant wave of emo rap.
"I talk about stuff like that because those are subjects that people are a) too scared to touch on, or b) don't do it the right way where people can learn from your mistakes," he said to The New York Times in early 2019. "I cherish every mini-second of this life."