Steven Tyler's Surprising Childhood Pet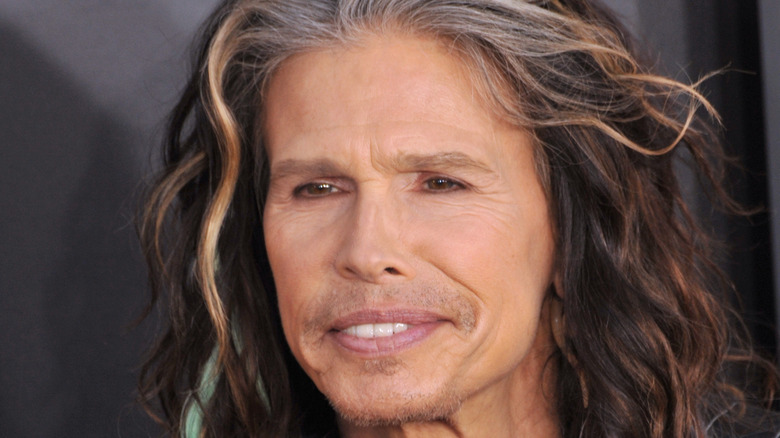 Featureflash Photo Agency/Shutterstock
Steven Tyler has always had a flamboyant and eccentric personality. Some might even call him weird. But there's no doubt that his stand-out style just adds to his stage presence. In an article by US Weekly (via Rolling Stone), Tyler revealed interesting facts about himself, such as having meditated with the Dalai Lama, hating leeches, and enjoying scuba diving. There's also that interesting fact that he shared about once owning a pet raccoon.
In his memoir titled "Does the Noise in My Head Bother You?" that was published in 2004, Tyler briefly talked about a pet raccoon that he had in his teenage years. Raccoons may be cute and cuddly, but according to experts, they can't be fully domesticated, which is why it may not be a good idea to keep them as pets, per Pet Keen. They are erratic and can be friendly one minute and aggressive the next. However, this doesn't stop some people from keeping them as their companions, including Tyler. According to the rock star, he named his raccoon Bandit and spent plenty of time with him. "I got myself a pet raccoon. I put him on my shoulder and went fishing with it every day," he told David Letterman in an interview. "If you take them in they adopt your personality," Tyler stated, per Vanity Fair.
Steven Tyler's love of animals
Steven Tyler loves animals, but it seems that he has moved on from raccoons to dogs. During an appearance on the show "Late Night With Seth Meyers," Tyler stopped the interview and whistled to his two dogs — Butch Cassidy and Sundance Kid — to join him in front of the camera, as reported by I Love Classic Rock. The two pets immediately went to him and settled down while he did his interview. He also revealed that he always traveled with his dogs. "One is a teacup I put in my pocket, And the other one I put in a sling over my shoulder, and I walk around, and it's the cutest f*****g thing on the planet" (via People).
Tyler also said he gives his dogs lots of love and often talks to them. "They sleep right next to my neck." In one Instagram post, the singer can be seen blowing into a didgeridoo, as he attempted to entertain his two dogs, who were quietly sitting on a couch.