How Historically Accurate Is The Other Boleyn Girl?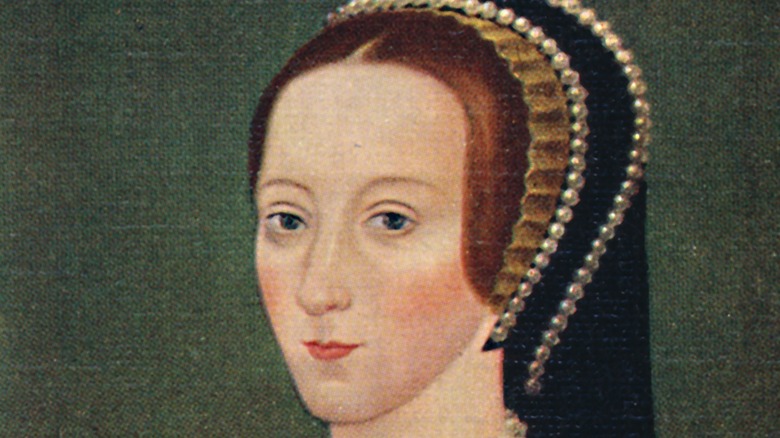 Print Collector/Getty Images
One of the most popular historical fiction authors of modern times is British historian Phillipa Gregory. Her list of published work is extensive and includes "The Red Queen," "The Kingmaker's Daughter," and "The Lady of the Rivers," which are all a part of a series called The Plantagenet and Tudor Novels. One of the novels in the series that has seen a lot of commercial success is "The Other Boleyn Girl." This 664-page book was published in 2001 and over a million copies have been published. It tells the forgotten and dramatic story of Mary Boleyn and her relationship with the infamous King Henry VIII. Because this novel is a work of fiction, readers always wonder, how much of this tale is true?
We all know the story of Henry VIII and his many wives, but arguably the most well known was Anne Boleyn, per Britannica. History knows her as Henry's second wife and mother to Queen Elizabeth I. She was convicted of multiple crimes against the crown (aka her hubby), and ultimately beheaded. Though one of the many things Henry accused Anne of was adultery, the king himself had a voracious appetite for food and women. He supposedly had numerous mistresses during his reign, which included Anne Boleyn's sister, Mary. This side of the story is what is explored in "The Other Boleyn Girl," and we are going to separate the fact from the fiction.
History intertwined with a bit of fiction
Heritage Images/Getty Images
What we know to be true is that Mary and Anne Boleyn were sisters, and that Mary was mistress to Henry VIII at some point, according to Unofficial Royalty. Mary's purported affair with the king was going one while she was married to someone else. During this time, she produced two children, whose true paternity is still a giant question mark. Per The Anne Boleyn Files, Mary turned to Henry for financial help following her husband's death, and he granted the request. Ultimately, Mary remarried, but did so without her sister's permission, which resulted in her being banished from court. That banishment save her life because she was not caught up in her family's spectacular fall from favor.
In the "Other Boleyn Girl," however, there are some things that aren't historically accurate. There is the portrayal of Mary as a completely "pure and innocent" girl, who needs to be "coached" by her sister to be able to please King Henry. Historically, it appears Mary had prior sexual experience with the king of France and then her husband, before she began her affair with Henry. In the book, Mary's relationship with Henry is also portrayed as a long, loving and passionate relationship, according to The Anne Boleyn Files. In reality, there is really no evidence to support this, though there is evidence the two had an affair. We just don't know whether their relationship was a one-night stand or something more.
Historically, the story of Mary and Anne was filled with lots of drama and came to a tragic end. While there are some dramatic flourishes added to "The Other Boleyn Girl," the actual history alone makes an incredible tale as well.