How Stevie Nicks Really Feels About Being Yelled Off Stage By Janis Joplin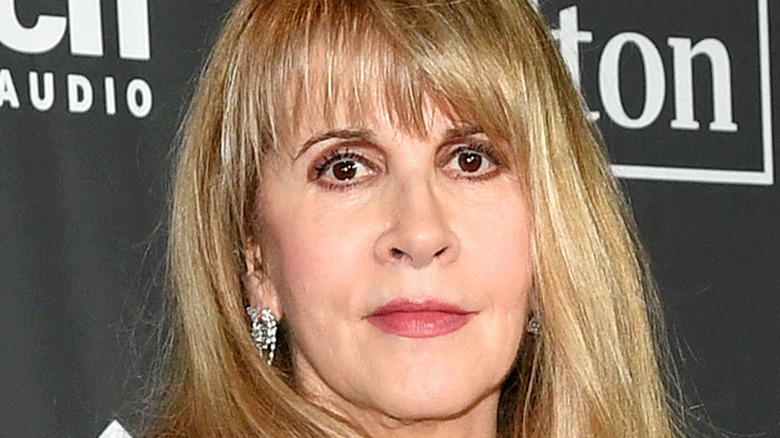 Kevin Mazur/Getty Images
Ambitious individuals often have mentors or other highly successful people they've looked up to as they've climbed the ladder in their profession. This is true for rock stars, too. So, it's no surprise that legendary songstress, musician, and producer Stevie Nicks, of Fleetwood Mac fame, also had her idols when she was a young, aspiring singer. 
After the "Bella Donna" singer graduated from high school in 1966, it's not surprising that Grace Slick of Jefferson Airplane and iconic rocker Janis Joplin, both successful singers in the 1960s, were women that Nicks admired (via Showbiz Cheatsheet). Slick and Joplin both fronted their own bands, and a young Nicks would have watched their careers as she was working on her own. Seeing the powerful women onstage inspired her as well. "I learned that to make it as a female musician in a man's world is gonna be tough, and you need to keep your head held high," she stated in an interview with the Telegraph. Nicks was in a few music groups in high school, and after graduating, she decided to enroll in college. That was short-lived, however, as she dropped out in 1968 to concentrate on music full time (via Biography). 
According to her, she admired both Slick and Joplin. Yet, an encounter with the latter in 1970 when Nicks was in a band called Fritz might have caused most people to change their minds about the "Bobby McGee" singer. At that time, Fritz had been performing for a couple of years and had a small following.
Janis Joplin tells Stevie Nicks to get off the stage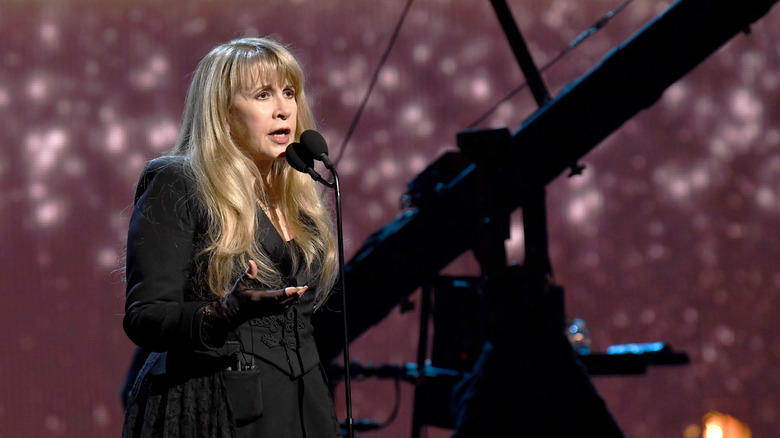 Dimitrios Kambouris/Getty Images
The story goes that in the summer of 1970, Nicks and partner Lindsey Buckingham, also in Fritz, were opening for Janis Joplin and Jimi Hendrix at a show in San Francisco (via The Associated Press). Nicks described it as a "huge show" in an interview on the "Ultimate Classic Rock Nights" radio show. "There was like 20 bands on; there was you, there was 15 more bands, and then there was Jimi Hendrix," she said. Nicks recalled seeing Joplin for the first time and described her as being "very angry." One of the other bands had gone over their time onstage, and Joplin screamed at them to get off. As Nicks said in an interview with the Telegraph, the singer "scared her to death" to the point that she hid behind the amps. "She told them to get the you-know-what off her you-know-what stage. And they wrapped it up!"
But it was the encounter with Joplin during that show that made headlines. It seems Fritz's set lasted a little longer than Joplin wanted it to, and Joplin started yelling for the band to get off the stage, just like what happened with the first band. Instead of being angry, Nicks said she instead felt a sort of pride. "Being yelled off the stage by Janis Joplin was one of the greatest honors of my life," she said (via The Associated Press).
Janis Joplin inspired Stevie Nicks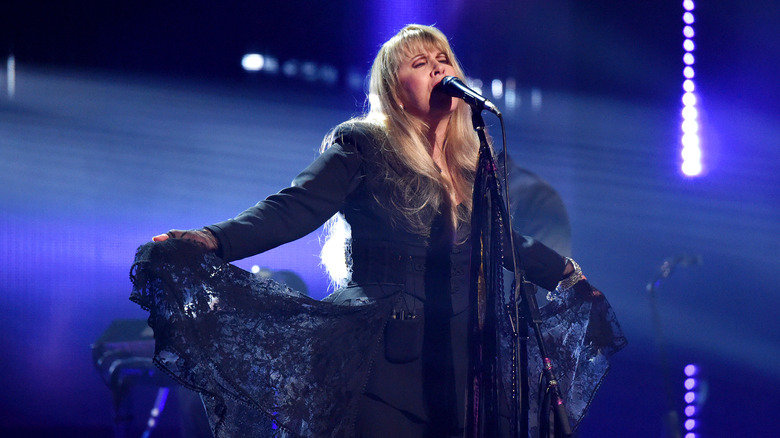 Kevin Mazur/Getty Images
Stevie Nicks recalled Janis Joplin's presence when she walked onstage. "On walks this girl in silky bell bottoms, a beautiful top, lots of gorgeous jewelry, feathers in her crazy big natural hair. Lots of attitude, arrogance, the crowd in the palm of her hand. She was not a beautiful woman, but very attractive. I was very taken with her," Nicks stated (via Telegraph). On October 4, 1970, Joplin died of a heroin overdose at just 27 years old. Although the two women were not able to share the stage, they were both icons in their own time. Today, many female musicians are inspired by Nicks' talent, just like she was inspired by Joplin as a budding artist.
Joplin was inducted into the Rock & Roll Hall of Fame in 1995. Nicks, on the other hand, made history by being the first woman to be inducted into the Rock & Roll Hall of Fame twice. She was first inducted in 1998 as part of Fleetwood Mac and then again in 2019 as a solo performer. It was a momentous occasion for the singer, as she said in an interview with CBS' "Sunday Morning," per NME. "It's 22 men that are in twice for their solo work and being in a big band and no women. Until me. So I feel that I definitely broke a big rock 'n roll glass ceiling." As of 2021, only two other women share the same prestige as Nicks — Tina Turner and Carole King.