The Sad Truth About Amy Winehouse's Marriage To Blake Fielder-Civil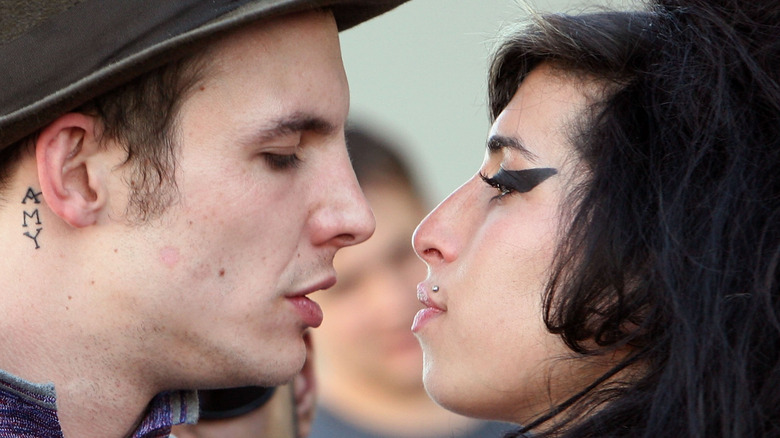 Michael Buckner/Getty Images
In the years before the tragic death of Amy Winehouse in 2011 at the age of just 27, much of the feverish tabloid coverage of the troubled singer revolved around her whirlwind relationship with Blake Fielder-Civil, a video production assistant whom Winehouse first met in a bar in Camden, London, in 2005 (via The Famous People).
Fielder-Civil was in another relationship at the time of the chance meeting but nevertheless went back to Winehouse's nearby flat to hear her sing, at which point he claims he fell instantly in love with her. The two became almost instant headline fodder for the British press, as the pair's partying lifestyle regularly saw them worse for wear on the streets of Camden, making them easy targets for the paparazzi.
Though the couple's affection for each other was never in doubt –- Winehouse had "Blake" tattooed on her chest within months of beginning their relationship, which Winehouse's mother admitted a decade after her death was "impulsive but pure" in nature (via The Independent) –- not everyone was supportive of the new couple, who married in Miami in 2007 just a month after announcing their engagement.
Amy and Blake shared addictions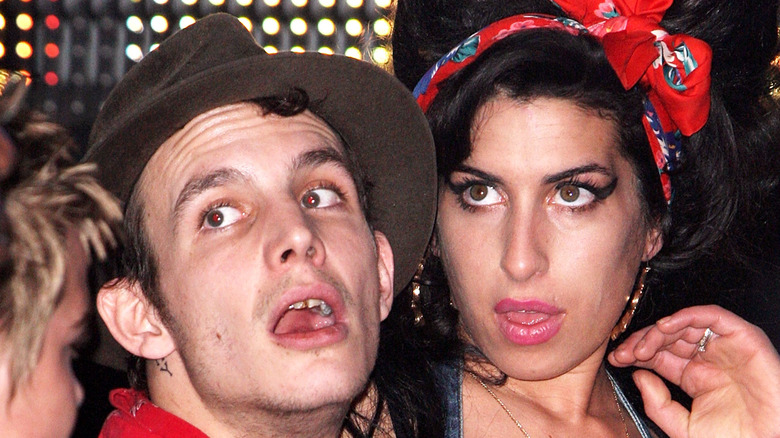 Dave Hogan/Getty Images
It became quickly apparent to the couple's respective families as well as Amy Winehouse's millions of fans that the relationship between the singer and Blake Fielder-Civil was destructive and underpinned by addiction issues that were spiraling out of control in the glare of the public eye.
"Our whole marriage was based on drugs," Winehouse later admitted (via The Famous People), but at the time of their marriage, it seemed that none of the couple's loved ones could make them address their shared addictions, which reportedly included the use of crack cocaine and heroin. Fielder-Civil later admitted he introduced his wife to the latter drug (via The Independent). 
Fielder-Civil's father called for fans to boycott Winehouse's music to "send a message." Winehouse's father, Mitch, argued against this but admitted that he felt powerless to help, according to the BBC. In August 2007, photos emerged of the couple bloodied and bruised after a violent episode in a hotel, images that Mitch described as "sickening."
Imprisonment and divorce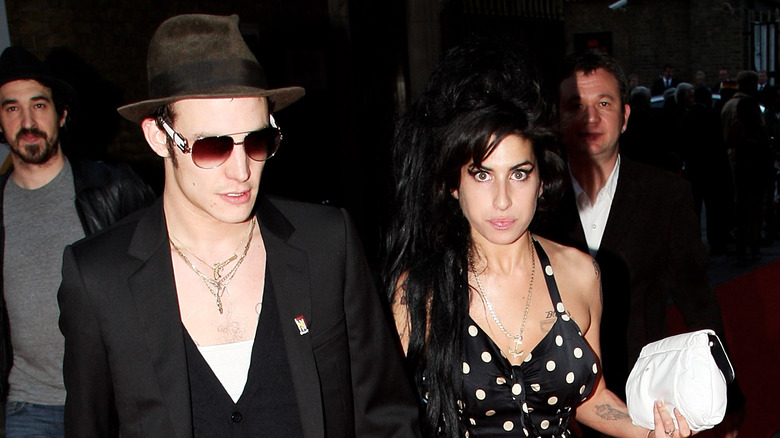 Dave Hogan/Getty Images
Amy Winehouse and Blake Fielder-Civil were dramatically torn apart within months of their marriage when Fielder-Civil was sent to prison after being convicted of having assaulted the manager of a London pub before attempting to pervert the course of justice by bribing the man in question with a reported $400,000, according to Die Welt.
During his sentence, Winehouse experienced the highpoint of her career: winning five awards at the 2008 Grammys, including best album and best song, according to Biography, with the singer dedicating her wins to "Blake, incarcerated." But even separated from her enabling husband, Winehouse continued to struggle with addiction. On the advice of her family, she soon escaped the London party scene for St. Lucia, where she had a brief affair that led to Fielder-Civil filing for divorce.
"I still love Blake and I want him to move into my new house with me. That was my plan all along ... I won't let him divorce me. He's the male version of me and we're perfect for each other," Winehouse said after news of her infidelity hit the headlines (via the Irish Examiner). Nevertheless, the divorce was granted. Fielder-Civil claimed after Winehouse's death that they had remained in contact and that they had admitted that they would always love each other (via The Independent).
If you or anyone you know is struggling with addiction issues, help is available. Visit the Substance Abuse and Mental Health Services Administration website or contact SAMHSA's National Helpline at 1-800-662-HELP (4357).