Disturbing Details Found In Karen Carpenter's Autopsy Report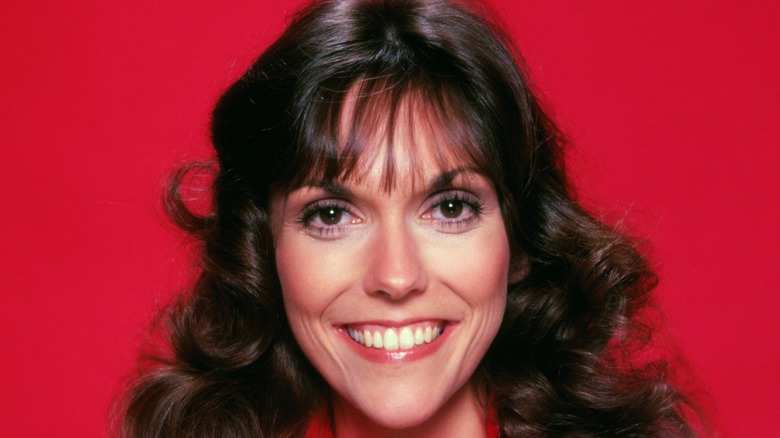 Harry Langdon/Getty Images
As one half of the brother and sister duo The Carpenters, The Guardian writes that Karen Carpenter, along with her brother Richard Carpenter, sold millions of records and had 17 top 20 hits throughout the 1970s and 80s. Per Closer Weekly, Carpenter was only 19 when she and her brother signed with A&M Records. Their first album failed to make waves. However, their second featured their hit single "(They Long to Be) Close to You," which shot The Carpenters into stardom and ultimately won them a Grammy (via Biography). As their fame and popularity increased, so did the pressure on Carpenter. She had always been a dieter but being in the public eye took it to another level. Carpenter began her quest for thinness after she graduated high school. Though she was never large, she did consider herself to be "chubby."
Carpenter later hired a personal trainer who put her on a high-carb diet that ultimately made her gain weight. She fired the trainer and took matters into her own hands. Carpenter began counting calories and restricting her food intake during meals. History reports that at the beginning of her career in 1970, the 5-foot-5-inch Carpenter was a "thin but healthy" 120 pounds. By 1975, she weighed just 90 pounds, and The Carpenters were forced to cancel tours due to Carpenter collapsing on stage. It became clear that she was not eating and was experiencing physical and nervous exhaustion (per People). Friends later described Carpenter as being "psychotic about her weight."
Karen Carpenter's battle with Anorexia contributed to her death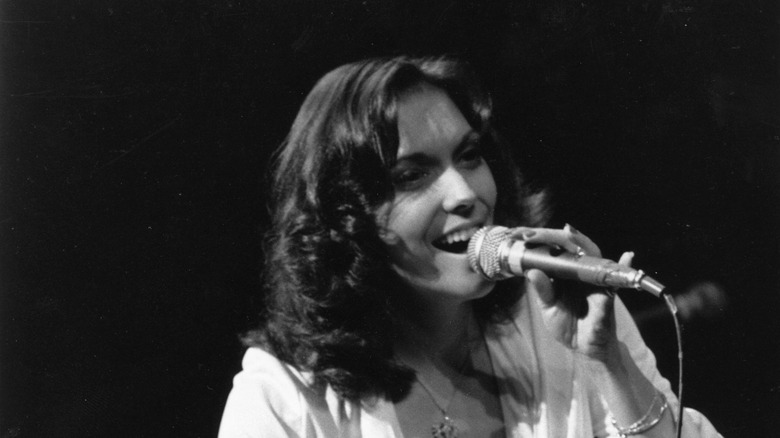 Tim Graham/Getty Images
Fans and critics were appalled by Carpenter's diminishing figure; they assumed she had cancer or another disease. What she was actually suffering from was Anorexia nervosa, something that Time reported was not widely understood at the time. 
According to The Guardian, Carpenter avoided eating at all costs and became skeletal. Her friends and family did not know how to help her and would "shove food" at her. By the early 1980s, her eating disorder was at an all-time high. Carpenter, who was reeling from a failed marriage and a grueling tour schedule, decided to seek help in New York. She would spend almost an entire year there (via Biography). Shortly after her arrival, Carpenter made some shocking confessions.
She told her therapist that she was taking 80 to 90 laxatives a night to lose weight. Additionally, Carpenter was abusing thyroid medication and was taking up to 10 pills a day to speed up her metabolism, despite her thyroid being normal. People reports that she did manage to gain around 23 pounds during this time. 
Much to the dismay of her therapist, Carpenter cut her treatment short and left New York to return to Los Angeles just in time for Thanksgiving. Although she was still weak, Carpenter was eating and making future tour plans. Months later, on February 4, 1983, Carpenter was found unresponsive on the floor at her parents' home. She was rushed to a hospital but doctors could not save her. Carpenter was only 32 years old.
Karen Carpenter's eating disorder damaged her heart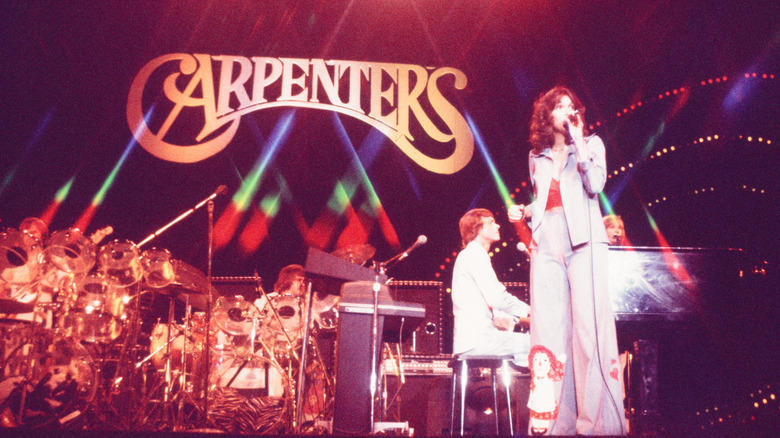 Koh Hasebe/shinko Music/Getty Images
Karen Carpenter's autopsy (via autopsy files) revealed that at the time of her death, she weighed 108 pounds. She had no solid material or food in her stomach; only a dark green material that had "the consistency of dried leaves." Both her stomach and bowel were swollen. No medications were detected. However, a bottle of Ativan was found in the pockets of the red jogging suit she had been wearing when she collapsed. 
Officially, Carpenter's death is listed as emetine cardiotoxicity due to Anorexia nervosa. In other words, Carpenter had suffered heart failure brought on by her eating disorder. This can be common for those with Anorexia, as gaining weight, as Carpenter had done, can put a strain on the heart.
It was also learned that she was taking ipecac syrup, a vomit-inducing drug that she thought would prevent her from gaining weight. Instead, it weakened her heart even more (per Time). The Guardian writes that ipecac affects the heart muscle severely. Over the counter sales of the drug were later banned after her death. 
It's believed that Carpenter's Anorexia partly stemmed from her strained relationship with her mother, Agnes (via Do You Remember?). By all accounts, Agnes doted more on Richard and lacked affection for Carpenter. Sadly, she failed to realize how ill her daughter really was. Per The Sun, Carpenter is considered to be the first publicized celebrity death from an eating disorder. It brought perception and recognition to Anorexia, a little known disease at the time.
If you are struggling with an eating disorder, or know someone who is, help is available. Visit the National Eating Disorders Association website or contact NEDA's Live Helpline at 1-800-931-2237. You can also receive 24/7 Crisis Support via text (send NEDA to 741-741).