Tragic Details Found In Elisa Lam's Autopsy Report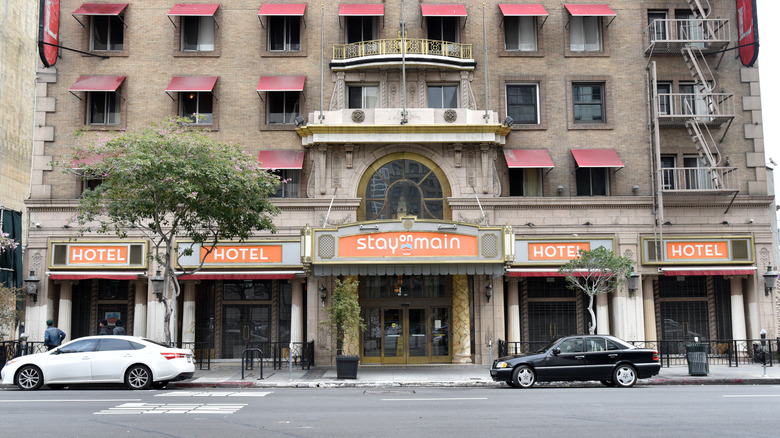 MSPhotographic/Shutterstock
In January 2013, Canadian tourist Elisa Lam went missing while she was staying at the infamous Cecil Hotel in downtown Los Angeles (per the BBC). According to A&E, the Cecil is known for its sordid reputation and its countless violent deaths. Lam, a college student, was traveling alone and had been contacting her parents daily about her trip. When she failed to check in, her concerned parents contacted the Los Angeles Police Department (via All That's Interesting).
Though the police searched the Cecil, no trace of Lam was found. Shortly after, they released security footage of Lam displaying bizarre behavior in the hotel's elevator; it was the last time she was seen. At the same time, the Cecil's guests were complaining about low water pressure and a weird odor coming from the sink taps. Per Biography, when a maintenance worker went to check on the roof's water tanks to solve the issue, he found Lam's lifeless and decomposing body. 
It had been 19 days since Lam went missing, and although the roof had been searched by police, they failed to open the water tanks. But how did Lam manage to get inside? The water tanks were 10 feet high and had a working alarm system. To get her body out, the Los Angeles Fire Department had to drain the tank and cut it open from the side. Lam was nude, and her clothes were floating beside her. No one knows how she was able to get inside the tank.
Elisa Lam's cause of death was changed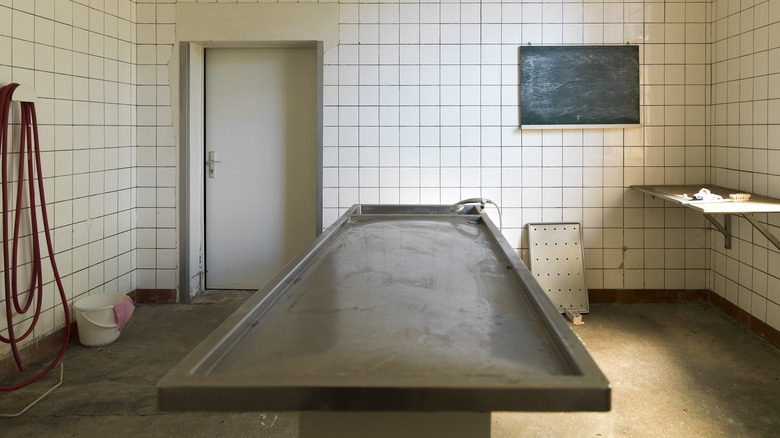 rage0815/Shutterstock
A&E reports that before her disappearance, Elisa Lam — who booked a shared hostel-style room — had been acting strangely. Her roommates complained about her odd behavior, and she was moved to a private room. Lam had a history of mental illness and was previously diagnosed with bipolar disorder and depression. Although the Los Angeles County coroner ruled her death undetermined, that quickly changed. According to Heavy, Lam's autopsy report now states that she died due to accidental drowning, and her bipolar disorder is listed as a contributing factor. She had no internal or external injuries and was not assaulted sexually or otherwise. In addition, there was no alcohol or illegal drugs in her system.
However, All That's Interesting points out that barely any medication for Lam's bipolar disorder was found in a limited sample of her blood. Thus, it's believed that Lam had not been taking her medication properly, which could have caused psychotic effects. It's theorized that this is what led Lam to head to the roof and into the water tank. Her own sister, Sara Lam, noted that she could sometimes become paranoid and believe someone was following her.
No trauma was found on Lam's body, and foul play was ruled out. Even with this conclusion, several questions still remain about Lam's mystifying death. What actually occurred when she made her way to the roof and into the water tank? It seems that those answers will forever remain unknown, as Biography states that the case is officially closed.
If you or someone you know is struggling with mental health, please contact the Crisis Text Line by texting HOME to 741741, call the National Alliance on Mental Illness helpline at 1-800-950-NAMI (6264), or visit the National Institute of Mental Health website.
The bizarre theories regarding Elisa Lam's death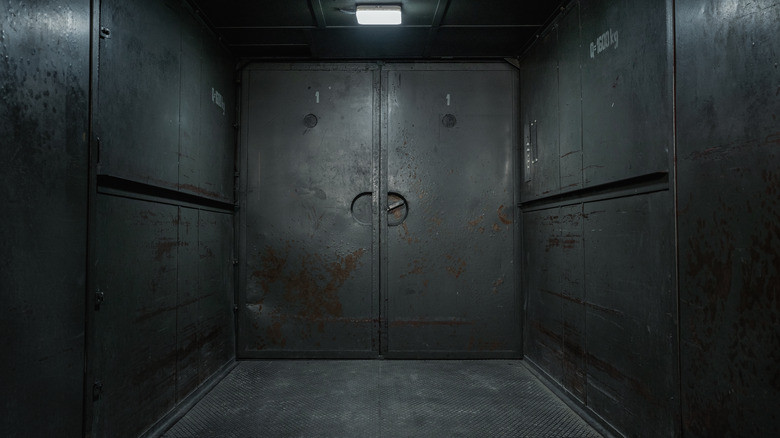 rangizzz/Shutterstock
According to Ranker, there are several theories around Lam's death, the most plausible being that she committed suicide. However, Oxygen points out that others surmise that Lam's death was related to the supernatural. Built in 1924, the Cecil is rumored to be haunted — A&E writes that there have been 18 documented deaths at the hotel, including murders and suicides. Many believe that Lam was possessed, and this caused the abnormal behavior seen in the elevator footage (via People).
Lam's behavior in the infamous video has led to theories that she played the Elevator Game. PopSugar reports that this game has origins in Asia and is a ritual that can purportedly transport you into a new dimension by pressing elevator buttons in a specific sequence. This theory took off thanks to the footage of Lam frantically pressing the buttons on the elevator while looking heavily distressed. If she was indeed playing this game, some believe she summoned a spirit or something else not from this world that ultimately caused her downfall.
Others have noticed the uncanny similarities between Lam's death and the 2005 horror movie "Dark Water." Marie Claire Australia explains that the film's plot, which involves the death of a girl in a water tower, is nearly identical to Lam's own death. Some even believe Lam's death is connected to a tuberculosis outbreak that occurred on Skid Row around the same time she disappeared. Oddly, the test given to determine if someone has tuberculosis is called a lipoarabinomannan enzyme-linked immunosorbent assay, or LAM-ELISA.
If you or anyone you know is having suicidal thoughts, please call the National Suicide Prevention Lifeline​ at​ 1-800-273-TALK (8255)​.