What Happened To Shirley Temple's Children?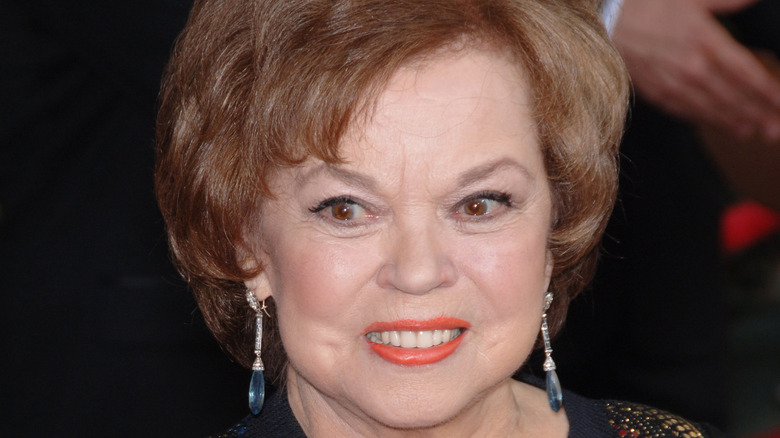 Featureflash Photo Agency/Shutterstock
For a few years in the early part of the 20th century, when the U.S. was reeling from the effects of the Great Depression, a young California girl brought some measure of relief to beleaguered and weary Americans via the silver screen. Shirley Temple was the biggest thing going in movies for a few years in the 1930s, as Republic World notes. Americans couldn't get enough of the curly-haired moppet's singing, dancing, and dramatic turns.
However, as Temple aged into an adolescent, her Hollywood star dimmed, and she found herself living the life of a normal Southern California teenager of her day, according to History Daily. From there, she kept her name in the public conversation — albeit to a considerably lower-profile degree — by forging a decades-long career in politics and diplomacy. She died in 2014 at the age of 85 of chronic obstructive pulmonary disease (COPD) and pneumonia, according to Biography.
Though she was known as a child star, Temple eventually grew into a mother with kids of her own. She had three children, according to Amomama, one with her first husband and two with her second. Though they have mostly kept out of the spotlight, when they were kids the three children appeared with their mom on a 1958 episode of "Shirley Temple Storybook," according to Intelligent Collector, and have been at their mother's side for other important life moments, such as her 1998 Kennedy Center Honors award.
Linda Susan Agar and Charles Black seem to prefer quiet lives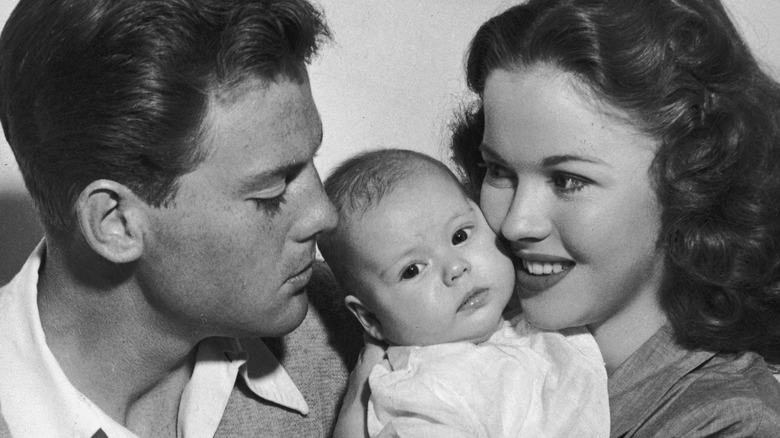 Hulton Archive/Getty Images
Shirley Temple's first marriage, according to Amomama, was to the actor John Agar, who married the former child star when he was 24 and she was 17. Though their marriage was brief, it produced a child: Linda Susan Agar was born to the couple in 1948. The daughter, who apparently went by Susan, would effectively spend the entirety of her life outside of the public eye, as she appears to only emerge from time to time to give interviews about her mother, such as the one she gave to Closer Weekly in 2015. 
"As a mother, she was devoted and generous, although she could be a little bit stern if we didn't behave," she said at the time. "But family was a really, really important part of her life. She was all about her children and her husband."
"She was a wonderful cook," Agar added. "She loved to invite people over. She would say, 'Come by my house and I'll make you leg of lamb.' She made a beautiful lamb and was famous for her mashed potatoes!"
Similarly, Temple's second-oldest child, Charles Black Jr., who was born from his mother's second marriage (to businessman Charles A. Black, via Britannica), also seems to have preferred a life of quiet anonymity. It appears as if he is, or was, a real estate agent, per his profile on Realtor.com. Like his half-sister, Black praised his mother in 2015: "She had good energy and a wonderful sense of humor. She was extraordinary," he said.
Lori Black played punk music, struggled with addiction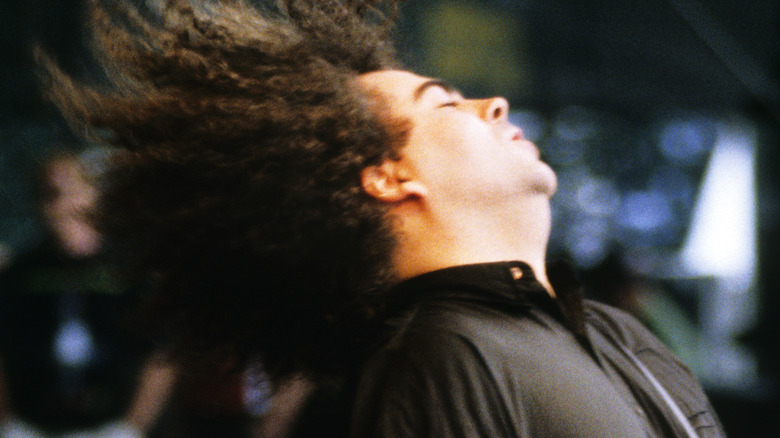 Gie Knaeps/Getty Images
Unlike her siblings, Lori Black, the youngest of Temple's children (born to Temple and Charles Black), followed her mother's footsteps into the public eye. Unfortunately, her life and career didn't follow the same squeaky-clean, wholesome path of her child-star mother.
As Metal Injection reports, by the 1980s Lori had taken on the name "Lorax" and had gotten into the punk rock scene. For a time in the latter part of the decade, she dated Buzz Osbourne of The Melvins, and even performed with the band as a bass player on a string of their albums starting in 1987; video of her performing with the group can be seen here, via YouTube. Osborne later talked about his relationship to the Temple-Black family in a hilariously obscene interview for the book "Everybody Loves Our Town," according to the Hollywood Reporter (apparently, Shirley Temple was a secretly talented drummer).
Lori shared Temple's musical talent. "Lori was a really solid bass player," said Melvins drummer Dale Crover, for the same book. "She had really good meter and would bust me for speeding up, which helped me become a more solid player. I really liked her."
Unfortunately, Black appears to have gotten caught up in a less-savory aspect of the rock 'n' roll lifestyle: drugs. By 1993, she'd been busted for heroin possession and was sent into rehab. According to The Daily Mail, by 2014 she'd gotten cleaned up, reportedly with the help of her mother, and was working as a photographer.