Who Was Buffalo Bill's Wife, Louisa Frederici?
William Cody, better known as Buffalo Bill, was one of the United States of America's first major celebrities, the head of the world-famous Wild West Show that brought sharpshooting and buffalo wrangling to all corners of the globe, a show so influential that much of how we remember the historical Wild West is shaped by Cody and his troupe. Though the woman behind the legendary sharpshooter wasn't as handy with a rifle, she was no less fierce.
According to Arnold Historical, Margaret Louisa Federici was born on a Missouri farm in 1844 and would have the Civil War to thank for meeting her future husband. Cody was stationed at a military headquarters, where the General's wife was a longtime friend of Cody's mother. She secured Cody with a cozy desk job at a barracks, where he met Federici and was impressed by her horse-riding abilities. After a brief courting period, Cody proposed to the daughter of French immigrants and the two would go on to be married for 51 years until Buffalo Bill's death — though their marriage had more than its fair share of problems.
Bill and Louisa's marriage inspired newspaper gossip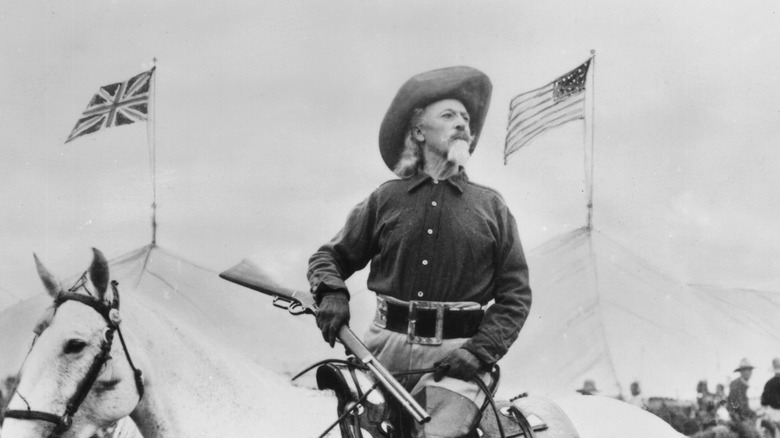 Hulton Archive/Getty Images
Buffalo Bill's immense popularity meant there was heightened scrutiny over the problems in his marriage –  decades before reality television and tabloid news (via Smithsonian Magazine) would become societal norms. The couple had four children, yet Cody would spend long stretches of time away from them as he toured the country and the world with his Wild West Show. In 1904, after nearly four decades of marriage, Cody filed for divorce. His claim? Louisa had tried to poison him.
Federici was made of tough stuff, however, and refused to grant a divorce. The matter was brought to court, sparking a huge frenzy over one of the most famous men in show business and his longtime partner. Tales of Cody's extramarital affairs and heavy drinking regularly accompanied updates on the trial, but with no evidence of the poisoning, the case was dismissed by a judge. Federici was able to reconcile the marriage, however, and the two remained married until Cody died in 1917.