Here's What The Formerly Classified JFK Assassination Documents Say
National Archives/Getty Images
It was the last presidential assassination in modern times, and it claimed the life of America's 35th president, John F. Kennedy, or JFK. It happened on November 22, 1963, in Dallas, Texas, and the man highly believed to be his killer, Lee Harvey Oswald, would die two days later. Since then, the case has been kept under wraps and seemingly closed. However, on December 15, President Biden released documents about the infamous assassination (via CNN).
The investigation into JFK's assassination was a multi-agency effort. Kennedy's successor, President Lyndon B. Johnson, immediately launched the Warren Commission (via History), and the FBI along with the CIA would probe into what led to the brazen killing. But over the years, a lot of conspiracy theories have been able to find footing because investigative documents were kept classified and not shared with the public. But public interest into the JFK assassination has always been a subject that continues to pique interest. So much so that even Congress got involved and passed a law in 1992, called the President John F. Kennedy Assassination Record Collections Act.
What new information does the JFK documents reveal?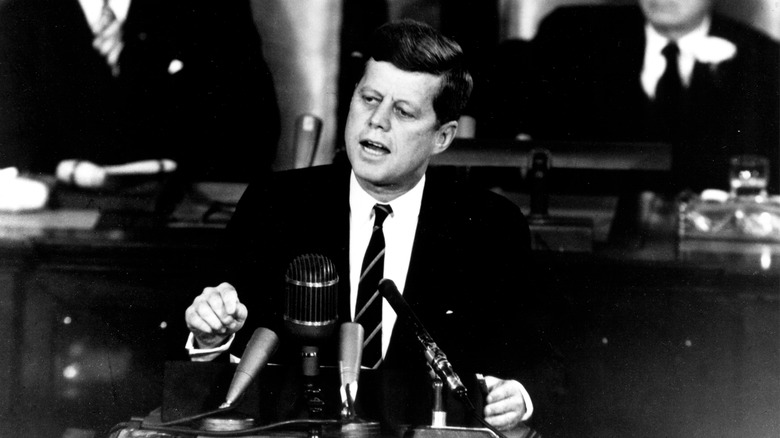 Heritage Images/Getty Images
The act was intended to ensure transparency of any and all documents relating to the assassination to the National Archives, by urging agencies to release their paperwork. And it came with a deadline requiring everything released within 25 years. Now four years passed that deadline, what do these years-old secret papers reveal? 
Per National Archives website, the once classified documents that explain the findings of the investigation into JFK's assassination are still censored. It shows multiple documents with redacted sections. In total, the Biden administration released a batch of 1,500 documents (via CNN). These reports show memos, interviews, examination of evidence like Lee Harvey Oswald's interaction with a KGB agent several weeks before the assassination, and details into phone calls. But long-time researchers and experts in the subject are not impressed with the release.
Apparently, there is not that much new information about the assassination. There is likely more that will come out sooner than later, but to date, currently 90% of the investigation reports have been released (per NPR).