Ronnie Wood's Life As A Preschooler Dad In His 70s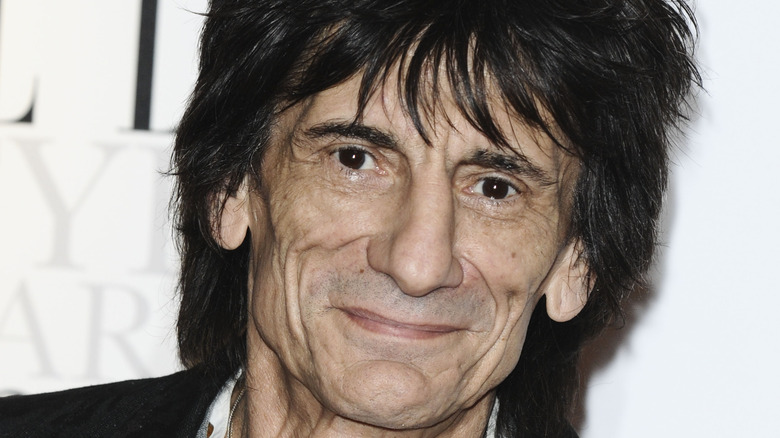 Featureflash Photo Agency/Shutterstock
According to Forbes in 2020, the average age of a first-time mother in the United States had increased from 21 to 26, and for first-time fathers, it was up to 31 from 27. Ronnie Wood of the legendary Rolling Stones has six children and was 68 on the birth of his youngest daughters, twins Alice Rose and Gracie Jane, in 2016 (per the BBC).
How is the now-septuagenarian coping with fatherhood? According to Wood, he's reveling in it all and is more energized than ever. 
Needless to say, the collective energy level of the Rolling Stones has been helped along by all manner of chemicals over the years. These days, though, the enigmatic Ronnie Wood prefers chasing a more natural high, much of which he draws from his adoring children. In 2018, he told Sky News about the twins, who were approaching 2 years old at the time of the interview. "They are fantastic," Wood said. "They are another energy source ... and a continued inspiration."
A couple of weeks after the girls' May 2016 birth, he told Hello Magazine that he would continue to be a hands-on father. Not only was he playing music for them, Wood described himself as a "burper, walker, [and a] nappy changer," adding, "I'm still trying to work out when I can get to sleep in between." He went on to gush, "I'm just soaking up every moment we have."
Ronnie Wood is enjoying his second chance at fatherhood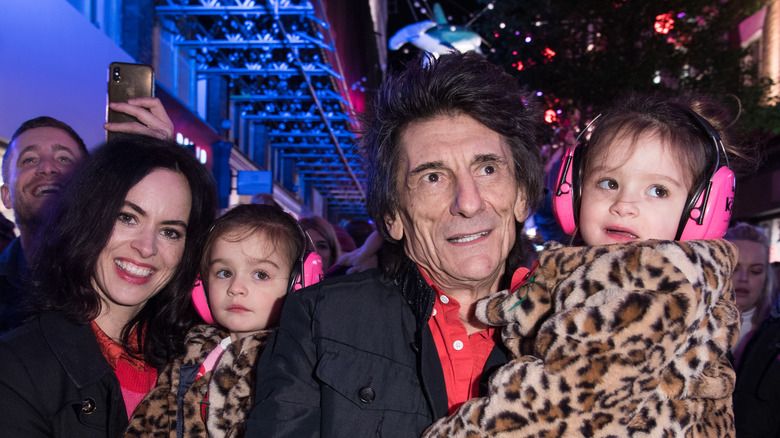 Jeff Spicer/Getty Images
Paul Rappaport, a close associate of the band, writes (via Classics Du Jour) that Wood has now started his second life, one that's a stark contrast to his wild days. In this new era of his life, "he wakes up, has to deal with cancer in his lungs, gets sober, and starts a brand new life with a brand new wife and fathers beautiful twin daughters."
According to Rappaport, Wood's elder children got caught up in the trappings of their father's rock 'n' roll lifestyle to their detriment, and the Stones star didn't want this to happen again. Rappaport writes of a parallel between Wood and David Gilmour (formerly of Pink Floyd): "... he messed up his first family being a rock star, and was extra careful making sure he was there for his new wife and family to ensure a better outcome the second time around."
Speaking to Sky News in 2018, Wood admitted that he finds parenting harder than it used to be, "but all my kids understand the rewards I'm getting — and that they're getting now — when they see [Gracie Jane and Alice Rose]. It's like: 'Wow, we forgot how fantastic little babies are.'" The girls may not be babies anymore, but their father surely continues to dote on them.