The Tragic Moment That Changed Lil Wayne Forever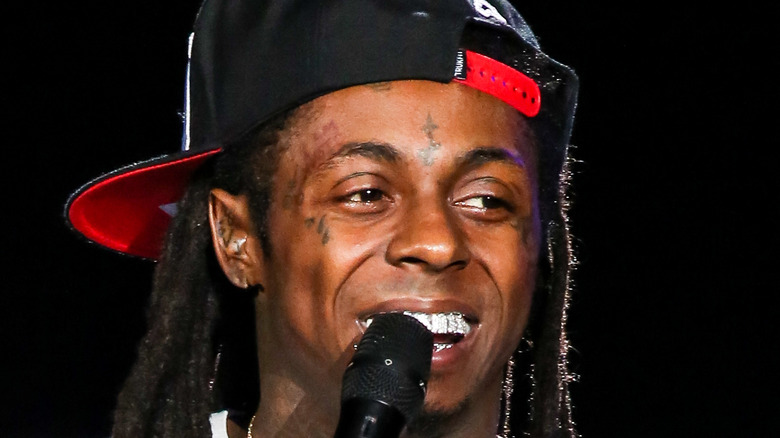 Kyle Besler/Shutterstock
Lil Wayne is widely considered by contemporaries and critics to be one of the best rappers alive (see Complex, XXL, Far Out Magazine). But his rise to the top wasn't without struggle. He nearly died in an impulsive suicide attempt at the age of 12, according to USA Today. He still has the scars on his chest from the incident.
For years, Lil Wayne told people that those scars came from playing with a gun when he was a kid, but after the suicides of Kate Spade and Anthony Bourdain in 2018, he decided it was time to address it. In his song "Let It All Work Out," the final track of the 2018 album "Tha Carter V," he raps (via Genius): "I found my mama's pistol where she always hide it/I cry, put it to my head and thought about it/Nobody was home to stop me, so I called my auntie/Hung up, then put the gun up to my heart and pondered/Too much was on my conscience to be smart about it/Too torn apart about it, I aim where my heart was pounding/I shot it, and I woke up with blood all around me/It's mine, I didn't die, but as I was dying/God came to my side and we talked about it/He sold me another life and he made a prophet."
"So that was a buildup."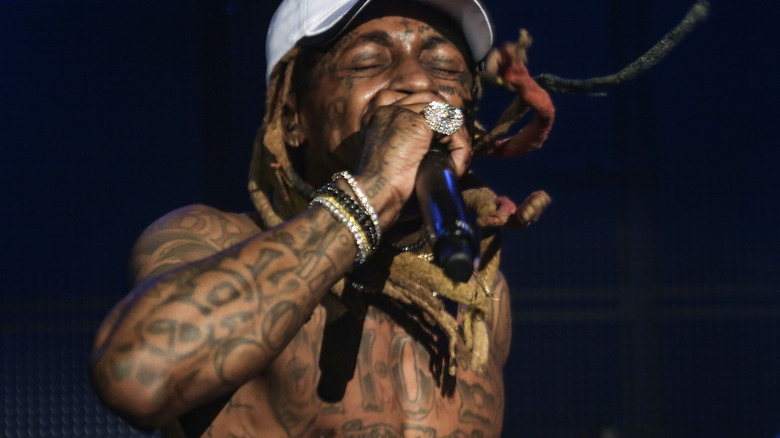 Thaddaeus Mcadams/Getty Images
In a later interview on Emmanuel Acho's show "Uncomfortable Conversations," Lil Wayne explained exactly what happened that day as a preteen, according to XXL Magazine.
He began struggling with his mental health at the age of 10, always driven by his obsessive love of rap music and the fear that, as Wayne put it, "he couldn't have what he wanted" — to be a rap star. One time, when his school gave him a half day, he didn't tell his mother and instead used the rest of the day to stay out.
"She found out," he said in the interview. "And so when I got home, on I think it was that Friday, whatever, got home, got a phone call from my aunt was like, 'She found out. Boy, you're about to get your a** kicked. And all that rapping and all that, she about to take that rap folder, she about to throw that s*** away. She about to ...' And I was like, 'Wow.' So all that had built up to me. So that was a buildup."
"I'm gonna show you."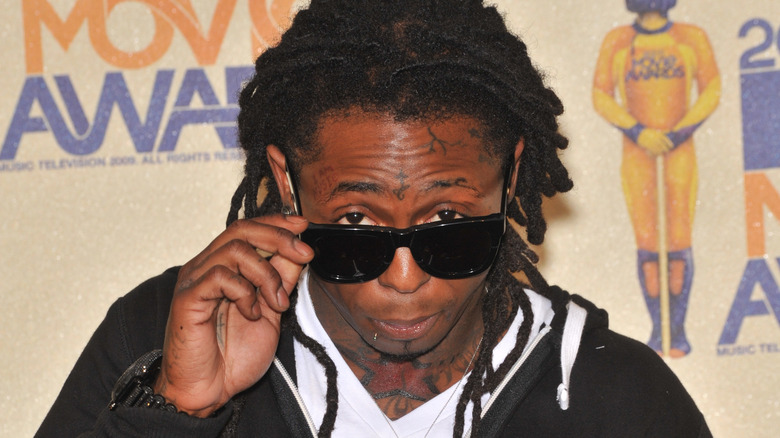 Jaguar PS/Shutterstock
"Hung up the phone, thoughts everywhere," he added in the "Uncomfortable Conversations" interview (via XXL Magazine). "Main thought was, I'm gonna show you."
He found his mother's gun, which she kept in her bedroom. First, he pointed it to the side of his temple, but then he got scared. He recalled that Biggie was playing, and had possibly died by then. He then pointed the gun towards his chest. "How I knew I had mental health problems was I pulled the trigger."
He didn't remember any pain, just the police bursting through the door. "It was the shock," he said. "I woke up to a boom, boom, boom to the police knocking. And that's what woke me up."
He was taken to the hospital, where he recovered. But, he said, his mother was never the same again. "The mom that I knew before that day ... I have never met or seen or heard that lady again in my life," he said, according to Yahoo! Entertainment. "So I didn't die that day, but somebody was gone."
If you or anyone you know is having suicidal thoughts, please call the National Suicide Prevention Lifeline​ at​ 1-800-273-TALK (8255)​.