How Crips Founder Stanley 'Tookie' Williams Died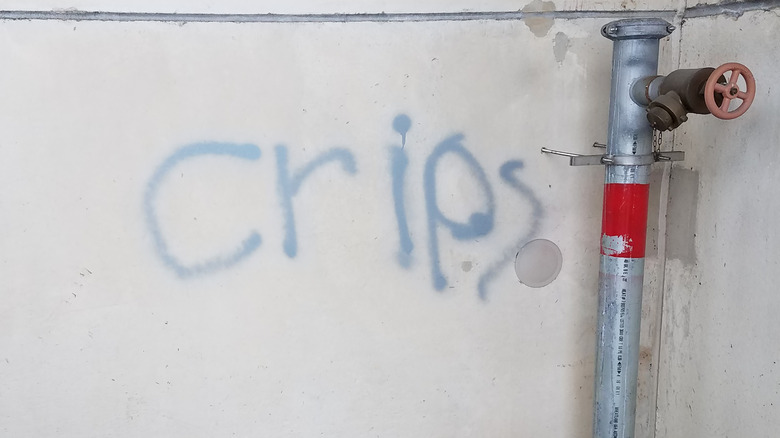 stockphotofan1/Shutterstock
For decades, the infamous alliance of street gangs knows as the Crips have haunted the neighborhoods of Southern California and have grown in numbers and notoriety. Today, the group hovers around 35,000 members spanning across 48 states in different factions that engage in perpetual conflict with rivaling gangs and local authorities (via Grinnell College). The Crips have essentially become a household name in communities throughout the U.S., but little is known about their origins or what became of their forefathers.
In 1969, Stanley "Tookie" Williams and Raymond Washington founded the Crips, per Black Past. The group was initially geared toward combating injustice leveled at African American communities and stood as a social movement. However, as years passed, their moral compass shifted toward a covenant of violence, crime, and chaos. In 1979, Stanley Williams was convicted by a jury after a series of murders that left four victims in its wake.
Blood of the Crips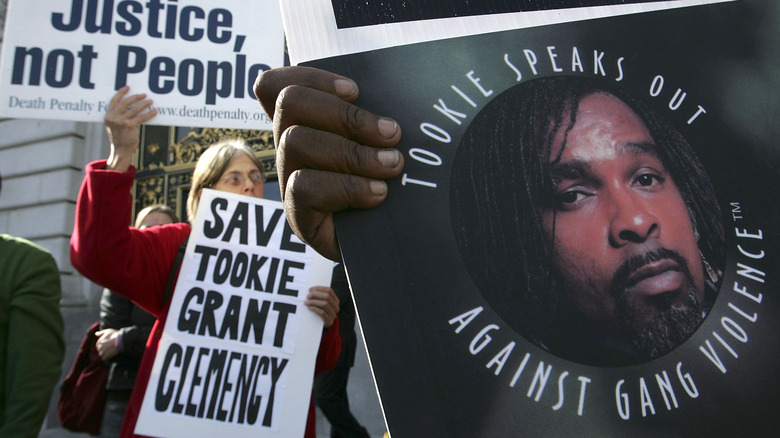 Justin Sullivan/Getty Images
The first murder took place on February 28, 1979. In the early hours of the same day, Tookie Williams and three of his gang's members were riding in a car that was low on gas. They stopped at a 7-Eleven in Whittier, California, and took the clerk on shift, Albert Lewis Owens, hostage. Williams took him into one of the back rooms and shot him twice in the back with a shotgun while one of his companions emptied the cash register, taking $120 (per CDCR).
The second took place less than two weeks later, when Williams and one of his associates entered the Brookhaven Motel in Los Angeles at 5:30 a.m. The hotel's personal on shift at the time were 67-year-old Tsai Shai Young, his wife Yen-I Yang (63), and their daughter Ye Chin Lin. The trio was shot to death before Williams and his accomplice took $50 from the register and fled (per CDCR).
Prior to his execution, Stanley Williams reflected upon his legacy's effects on the African American community and the world as a whole. He denounced the violence that resulted from his misguided vision and wrote a public letter of apology. He began to focus his efforts toward speaking out against gang violence. Williams also published children's books that prompted young readers toward a peaceful and quiet life untarnished by the horrors of gang violence (via Black Past).
Despite his personal redemption, Stanley Williams was put to death via lethal injection on December 13, 2005, after 26 years of incarceration (per CDCR).