Tragic Details Found In Vincent Jackson's Autopsy Report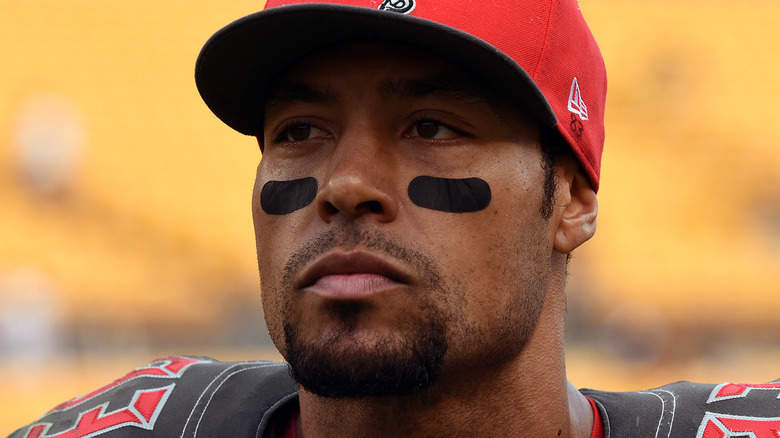 George Gojkovich/Getty Images
In February 2021, former NFL wide receiver Vincent Jackson was found dead in a hotel room in Florida after his family reported him missing. Jackson spent seven seasons in pro football, catching the pigskin for the Chargers and the Buccaneers until his retirement in 2016. Jackson sadly joins the likes of Junior Seau, Steve McNair, and so many others who have suffered from this terrible, mysterious, and ultimately preventable condition.
According to ESPN, the 38-year-old athlete was found to have suffered from stage 2 chronic traumatic encephalopathy, or CTE, a condition that causes brain degeneration. CTE has been found to affect a person's mood, behavior, and thought patterns, often not for years until after the events that cause the condition. CTE is caused by one of the most common injuries for NFL players: concussions, and it is unfortunately so prevalent among pro football players that researchers now expect to find it in the brains of former athletes who die as young as Jackson.
"That his brain showed stage 2 CTE should no longer surprise us; these results have become commonplace," said Dr. Ann McKee, who heads up the neuropathology department at the VA Boston Healthcare Systems. "What is surprising is that so many football players have died with CTE and so little is being done to make football, at all levels, safer by limiting the number of repetitive subconcussive hits. CTE will not disappear by ignoring it." 
Vincent Jackson's autopsy report revealed he suffered from 'chronic alcoholism'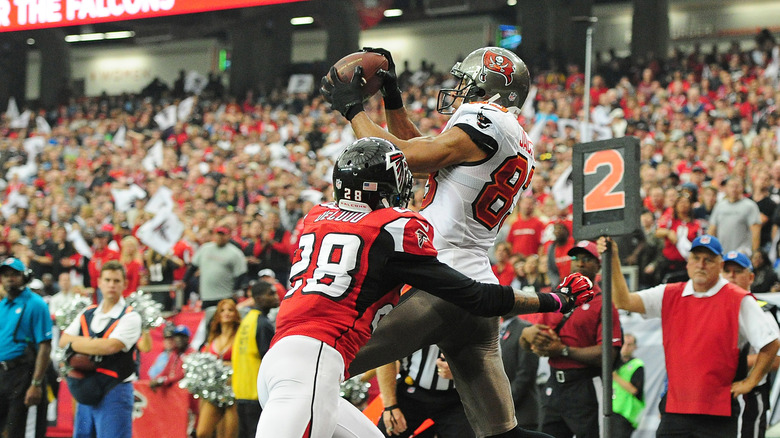 Scott Cunningham/Getty Images
Researchers have found that CTE causes a number of behavioral, emotional, and substance abuse problems, and Vincent Jackson's case is no exception. According to NBC Sports, "chronic alcoholism" was among a number of "longstanding health conditions" that afflicted Jackson as a result of the repeated traumatic head injuries he experienced during his time on the gridiron. He also suffered from depression, memory loss, paranoia, difficulty solving problems, and social isolation as a result of his CTE.
In a statement published by ESPN, Jackson's widow, Lindsey Jackson, said that "Vincent dedicated so much of his life to helping others. Even in his passing, I know he would want to continue that same legacy." So she donated her husband's brain to the VA-BU-CLF Brain Bank, the world's largest tissue repository working to understand the tragic effects of traumatic brain injury. She said that in doing so, she hoped to be able to help doctors better understand and ultimately lead to a means of diagnosing the condition while the sufferer is still alive. Currently, CTE can only be diagnosed via an autopsy.