The Sad Truth About Dita Von Teese's Marriage To Marilyn Manson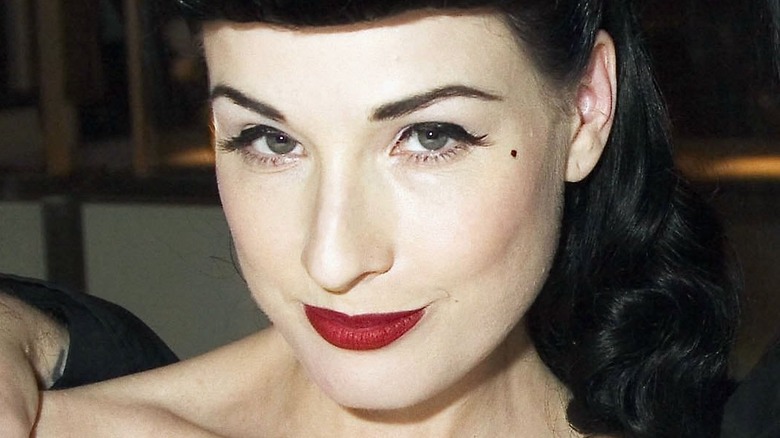 Astrid Stawiarz/Getty Images
To the world, Dita Von Teese is a burlesque queen and a sex symbol. A celebrity in her own right, she is perhaps also known for her short-lived marriage to infamous shock rocker, Marilyn Manson. According to Harper's Bazaar, the pair met at a vintage clothing show and became a couple after Manson invited her to one of his concerts back in 2001. The Mirror reports that after a few years of dating, the couple were engaged. They later married in a lavish gothic-style ceremony in Ireland in 2005. Von Teese wore a purple gown designed by famed designer Vivienne Westwood, and director Alejandro Jodorowsky officiated the ceremony (via Vogue).
However, the marital bliss did not last. Showbiz Cheatsheet writes that Von Teese filed for divorce soon after on December 29, 2006. Though she has never divulged specifics, Von Teese later said that a serious event occurred. This led her to move out of their home on Christmas Eve and, ultimately, end the marriage. Von Teese stated that she believed she had married the man of her dreams but felt like things had changed overnight. As for Manson, he was devastated and felt like Von Teese was trying to change his lifestyle (per People).
Partying and an alleged relationship
Presley Ann/Getty Images
In an interview with Harper's Bazaar, Von Teese stated that if she didn't think the marriage was going to work, she would have never married Manson. Moreover, she dispelled a rumor that their marriage was open. Why, then, did the marriage end? Per The Mirror, Von Teese did not approve of Manson's partying ways and his alleged relationship with an unnamed woman. She also compared the marriage to living with "Mommie Dearest." Though she wanted Manson to get help, he refused. In 2021, actress Evan Rachel Wood accused Manson of abusing her while they were in a relationship (via Sky News).
Showbiz Cheatsheet reports that Manson and Wood dated after his divorce. However, there were also rumors that Wood was the unnamed woman that had caused the split between Von Teese and Manson. When asked about it back in 2007, Von Teese simply said, "no comment." With the accusations from Wood and several other women coming to light, Von Teese made a statement on her Instagram page. In it, she detailed that during their seven years together, she did not experience any abuse from Manson and that she ultimately left because of drug abuse and infidelity. She also voiced her support for the women who were claiming they had been abused. According to AmoMama, Manson has denied any wrongdoing and was later dropped by his label.