How Historically Accurate Is The Movie The Alamo?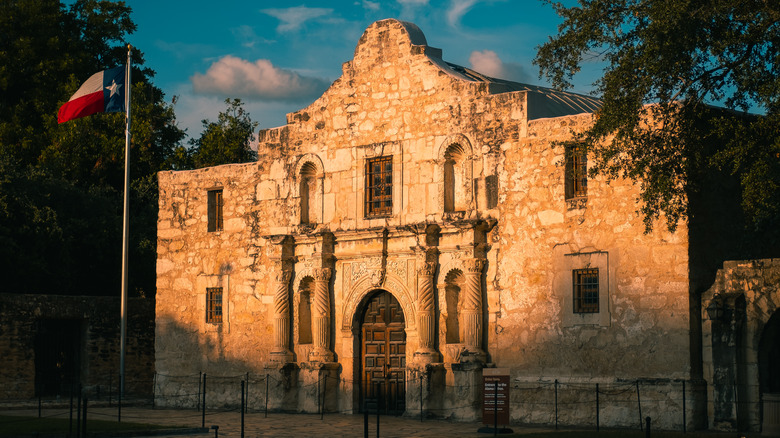 charlzalan/Shutterstock
While the Battle of the Alamo was itself a Mexican victory, it was a defining moment with an impact on the histories of the Republic of Texas, its incorporation into the United States, and the Mexican-American War 10 years later, which shaped U.S. westward expansion. "The Alamo," a 2004 film (not to be confused with 1960's "The Alamo," from John Wayne), starred Billy Bob Thornton as Davy Crockett. The movie is tasked with depicting the makeshift fortress and its occupants until Mexican general Santa Anna finally breaches its perimeter. (The walls of film's fort are much larger than those of the actual Alamo). The film had mixed efficacy when it came to accuracy, despite director John Lee Hancock's efforts, remaining faithful to certain elements while embracing artistic liberties with others (via CNN). 
For instance, Santa Anna, leading the Mexican forces, is accurately portrayed as a ruthless commander who was seldom merciful to his enemies and prisoners. Yet this is done within the framing of how a Hollywood villain would approach things, and so he is often seen making cheesy and cliched statements (via The Guardian). Crockett, on the other hand, is shown to be grappling with the reputation that became built around him, implying that he neither wanted nor pursued fame when the real man very much did. 
Cinematic framing aside, the film captures the battle's essence
Santa Anna made it clear from the outset that he would not take prisoners, and the accompanying despondence is shown to be as much of an antagonist for the defenders. Thornton plays Crockett as someone ultimately able to defy both despair and the enemy with romanticized confidence after arriving in Texas, attempting to live up to his public reputation as a hero of the wilderness. He, like many of the other characters, is portrayed as down on his luck, with his political career in tatters at the start of the film. 
Controversial elements of some historical characters — Jim Bowie's relationship with the slave trade, for instance — are given little to no attention (via History On Film). Another character, Juan Seguin, was a real figure and one of the few Mexicans to remain loyal to the Texans after most had been turned off by the latter's use of racist social hierarchies (via Teaching History), a situation ignored by the film.
"The Alamo" shows the deaths of Bowie and fellow commander William Barret Travis with probable accuracy. As for Crockett, his ultimate fate is still disputed; the film chooses to depict the account written a Mexican officer present at the time (via Den of Geek): that Crockett didn't die fighting, but rather surrendered and was executed.