What Humphrey Bogart's On-Set Behavior Was Really Like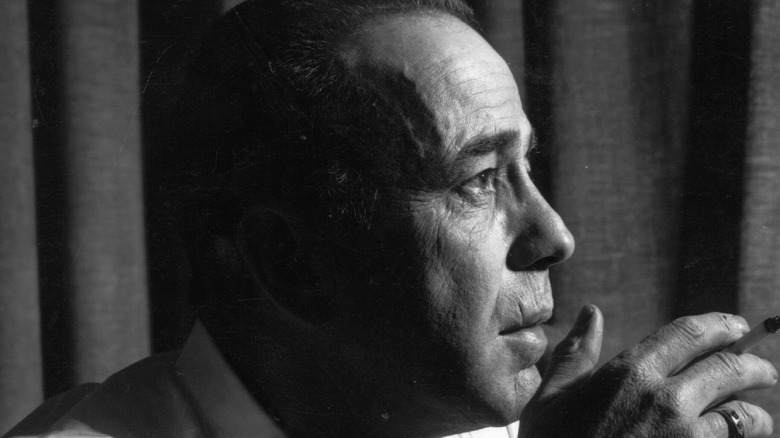 R. Mitchell/Getty Images
One of the biggest stars of Hollywood's golden age, Humphrey Bogart is known for playing gruff and brooding characters in movies like "The Maltese Falcon" and "The African Queen" (for which he won an Academy Award), among many others, per IMDb. Perhaps Bogart's most iconic role came in 1942, when he played Rick Blaine opposite Ingrid Bergman in "Casablanca." In this classic love story, Bogart fully explored his darker side, and the movie would go on to earn eight Academy Award nominations, winning three (via IMDb). How much of Bogart's portrayal of Blaine was acting, and how much was true to life for the star? Based on reports of his on-set behavior, he was a lot more like Blaine than you might expect.
Bogart aside, "Casablanca" was a troubled movie from the start. According to Aleteia, the script was based on a play that had never even been produced, and it needed a complete reworking. A series of writers were brought on the production, and it's even said that Bergman didn't know how the movie would end, or which leading man her character would end up with at the resolution, because the script remained unfinished, even as they were filming. All this combined, as well as a long list of personal issues, may have influenced Bogart all throughout the film's production.
He was deeply unhappy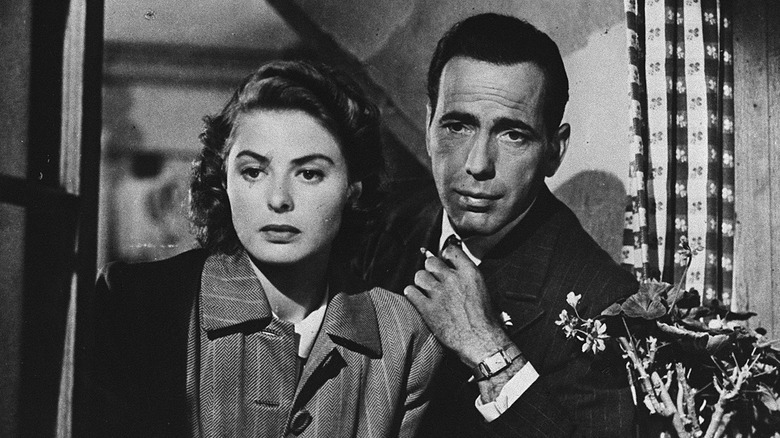 United Archives/Getty Images
Much like Blaine, Humphrey Bogart was troubled and in a very bad place in his personal life during the production of "Casablanca." Bergman tried to bond with the actor, inviting him for meals, but he generally declined, choosing instead to play chess by himself, per Aleteia. Bogart even ignored Bergman during the production whenever the cameras weren't rolling. The fact that he was shorter than Bergman and had to sit on extra cushions during certain scenes likely didn't help.
What really influenced Bogart's on-set behavior during the production of "Casablanca," though, were marital troubles with his third wife, Mayo Methot, who he would end up leaving for a later co-star, 19-year-old Lauren Bacall (he was 43). He also had a worsening drinking problem. Per Showbiz Cheat Sheet, he fought with the movie's director, Michael Curtiz. Nevertheless, Bogart managed real on-screen chemistry with his leading lady, Bergman, and the movie "Casablanca" would go on to be considered among the very best Hollywood films ever, despite all those production problems.
If you or anyone you know is struggling with addiction issues, help is available. Visit the Substance Abuse and Mental Health Services Administration website or contact SAMHSA's National Helpline at 1-800-662-HELP (4357).