What Happened To The Iconic Chinese Rhinoceros Horn Cups From Antiques Roadshow?
The popular PBS series "Antiques Roadshow" has a simple premise: People bring in random objects. Professionals appraise the items, and then most often the owners go home having learned that what they have is worthless junk. Of course, that doesn't make for compelling viewing, so the show is edited to give viewers many of the highlights, such as when a piece is shown to be worth thousands or even tens of thousands of dollars.
On certain occasions, however, someone will bring in a piece, oftentimes forgotten about in some trunk or box in a garage or attic, that turns out to be worth hundreds of thousands of dollars — even millions. For example, as Screen Rant reports, a pocket watch was appraised at over $1.5 million in 2016.
Something is only worth $1.5 million, or $1.50, or any amount in between, if someone else is willing to pay that. And in at least one case, an item was brought in to "Antiques Roadshow," appraised at hundreds of thousands of dollars, but failed to bring in that amount when it was actually put up for auction.
The Chinese rhinoceros horn cups failed to live up to their appraisal at auction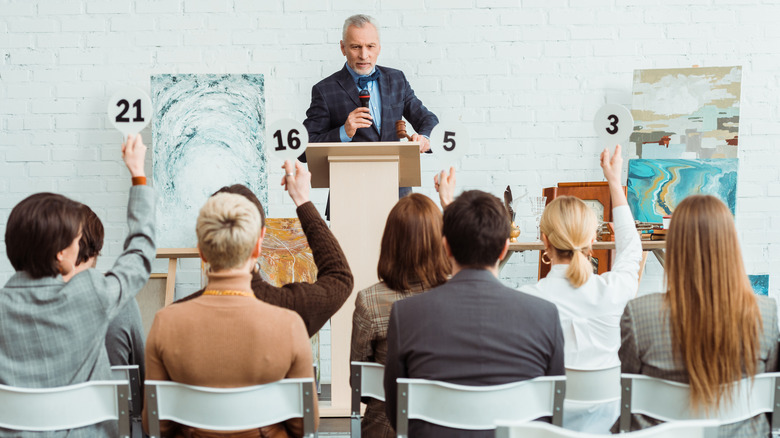 LightField Studios/Shutterstock
Back in 2011, as Christian Science Monitor reports, a collector brought in a set of ancient Chinese cups, carved from rhinoceros horns, to have them appraised. The man had purchased them for $5,000, only to learn that the set was likely worth $1.5 million, setting a record at the time for the most expensive item appraised on the show.
However, reality set in a few months later when the set was put up for auction. When the gavel finally banged, according to The New York Post, only two of the five pieces of the set sold at all, and the highest bid was nowhere near $1.5 million, but rather $146,500 for one and $182,500 for the other, or $329,000 between the two, according to a Sotheby's spokesperson. Still, that's a very hefty return on investment for the collector, so although he failed to get the million-dollar payday he was anticipating, he still managed to make a generous chunk of change on the sale.