Whatever Happened To Foxy Brown?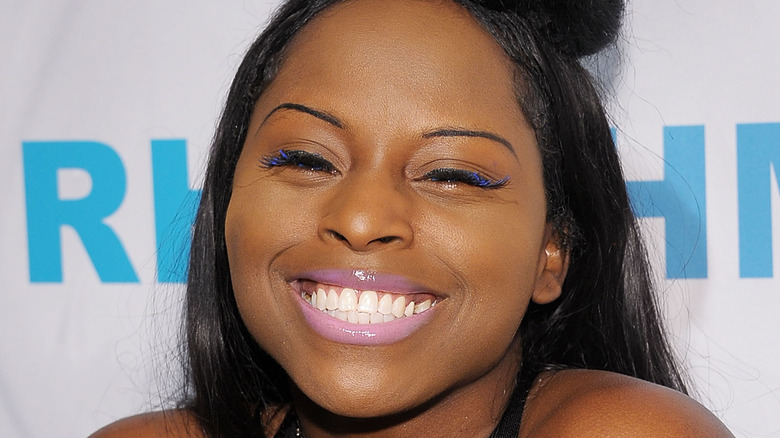 Michael Loccisano/Getty Images
For a time in the late 1990s and early 2000s, one of the biggest names in rap and hip-hop was Foxy Brown. The Brooklyn native, born Inga Marchand, went through several names and iterations while trying to break into the music industry, before settling on the stage name used by famous Blaxploitation actress Pam Grier and meeting Jay-Z. As Reality Gossip explains, she was eventually signed to Def Jam and her debut album, "Ill Na Na," went on to sell several million copies and make her a hip-hop superstar.
Unfortunately, Brown was bedeviled by a series of personal, legal, and health issues that derailed her career, and she effectively disappeared from the public eye for over a decade, save for her name coming up in the news due to repeated run-ins with the law. These days, she has a minimal presence on social media, but her career seems to be over.
A list of legal problems and devastating health condition
Johnny Nunez/Getty Images
Almost as soon as her career had begun, Foxy Brown was at risk of derailing it due to her behavior. For example, she reportedly acted like a "diva" as soon as she started making it big, according to Reality Gossip. Within months of her first album dropping, Foxy had the first of several skirmishes with the law. Specifically, she spent some time behind bars in North Carolina for assaulting hotel employees who supposedly didn't meet her needs and demands. That incident was followed by multiple others, including one on a Royal Caribbean cruise ship. 
Foxy had performed on the ship the night before, and purportedly assaulted spa technicians who couldn't accommodate her. After which, she was reportedly confined to her cabin and then forced off the vessel and told to go home. In the midst of her decade-and-a-half-long period of legal issues, her label dropped her and her albums either failed to get released or failed to perform.
Perhaps the most devastating thing to happen to Foxy's career came in 2005-2006, according to Medium, when Foxy lost most of her hearing — something few musicians can bounce back from. These days, it appears that Brown is lying low, apart from shooting down rumors that she's attached to Jay-Z (per AceShowbiz), and posting infrequently on Instagram.