What Suge Knight's Life In Prison Is Really Like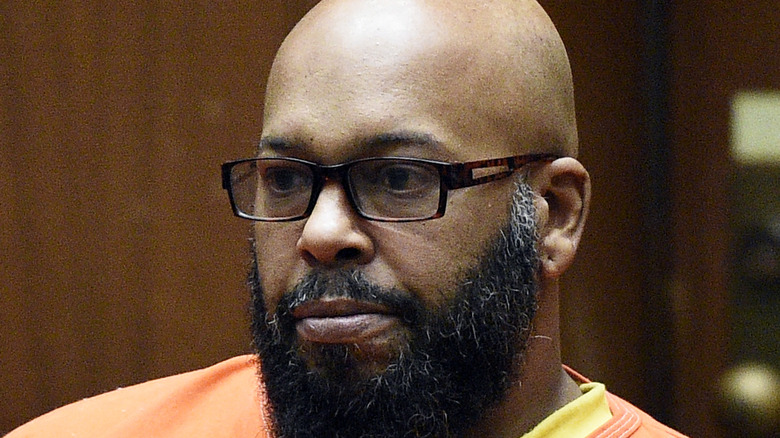 Kevork Djansezian/Getty Images
Infamous rap label executive Suge Knight was known as the Teflon Don of rap music. The co-founder of Death Row records has a notorious reputation in the music industry, and has carried that position for over two decades. Despite his rumored connections to a lot of crimes, Knight purportedly avoided authorities for years. He's been accused of hitting two men with a vehicle, and was even allegedly involved in the unsolved murders of both Tupac and Notorious B.I.G. (via The Guardian). However, in all the years of investigation into who killed the two rappers, nothing concrete has ever led to police arresting Knight.
Before becoming a music big shot, Suge Knight was an aspiring football player in the late '80s. He did not make the NFL drafts but did get lucky to play with the Los Angeles Rams for a short while in 1987. He never made it big in football, so he wound up becoming a bodyguard for singer Bobby Brown. Then in 1992, a friend of his named Michael Harris was in prison when he gave Knight $1.5 million to start a record label, per Rolling Stone. The label would jumpstart Dr. Dre's solo career and lead to the rise of Tupac and newcomer Snoop Dogg. Throughout his time as head of Death Row, Knight was supposedly a very feared man.
Suge Knight's feared reputation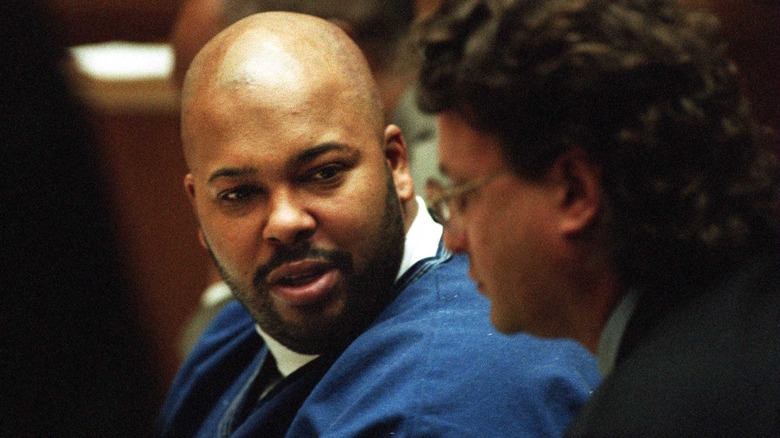 Pool/Getty Images
Reportedly a gang member with the Bloods, Suge Knight has been accused of assault, making threats, and kidnapping (via Page Six). Despite doing some short stints in prison, he was never sent away for a long time — earning him the name Teflon Don. That is, until he purportedly committed another crime in 2015.
In 2015, Knight arranged to meet two men that he supposedly had bad blood with. But the meeting reportedly went sour, and used his truck to run over the two men. One of them died, per Page Six. Knight would turn himself into police, and he was charged for a hit-and-run. His case went to trial in 2016, and he was sentenced to 28 years in prison in 2018 (via CNN). So what has life been like since? 
Suge Knight has been in prison since turning himself in to authorities. Ahead of his sentence, Knight gave his first jailhouse interview in October 2018, where he accused Dr. Dre of orchestrating a plot hit to kill him, per New Musical Express.
In 2016, life in prison for Knight was spent making a lot of phone calls and having legal visits. Before his trial, Knight changed lawyers multiple times, emphasizing that he was building a good defense for himself (via Corrections 1). During that time, he was not able to have any connection to his family.
Suge Knight's time behind bars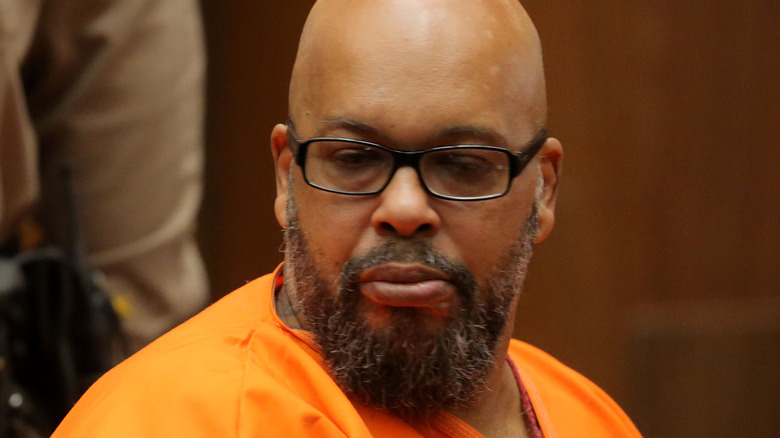 Pool/Getty Images
Suge Knight also faced another challenge behind bars in 2016. After experiencing severe pain, he received emergency surgery on his appendix. Knight said he spent weeks suffering before the discomfort rendered him unable to stand (via New York Daily News).
In 2019, he gave another interview to clear the air about his connections outside of prison. He named three people as main actors in charge of his projects. He designated Ray-J to manage his business dealings with Death Row (that is, before Snoop Dogg purchased the label, per TMZ) and left his fiancée in charge of all the rights related to any media deals, including film and TV releases about Knight. TV host Nick Cannon is reportedly working on a book about his life (via The Blast).
Yet, life in prison continues to be stressful for the former mogul. In March 2020, a judge agreed to a $107 million judgment against him (via NBC). Despite being in Richard J. Donovan Correctional Facility for years now, Knight remains extremely hopeful and optimistic about getting out and is reportedly looking forward to spending time with his family. He'll reportedly be eligible for parole in 2037 (via The Cinemaholic).