The Real Reason That Aretha Franklin Stopped Traveling By Plane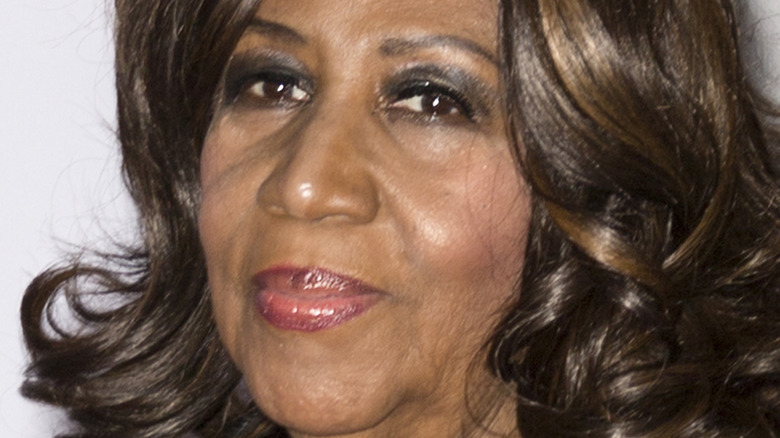 Ovidiu Hrubaru/Shutterstock
Iconic soul singer Aretha Franklin was an undisputed force in the music industry during her reign. She blew to fame in the late '60s with her hit song "I Never Loved a Man (The Way I Love You)." The song earned Franklin her first top 10 song on the music charts in 1967. But her first No. 1 would come several weeks after with her smash hit, "Respect." The song's timely release in the late '60s came at a poignant time during critical social movements in American history. Subsequently, "Respect" was considered an anthem of sorts for the Civil Rights and feminist movements, per The Washington Post. Franklin continued to rack up chart-topping hits and to date has over six dozen hit songs (via Billboard). In 2014, she scored a milestone in her career after landing 100 songs on Billboard's R&B and Rap chart, per Mic – the only female singer to do so.
Just four years later, on August 16, 2018, Franklin died of pancreatic cancer at the age of 76 (via Rolling Stone). Many people recognized her as a very successful and influential singer, but mid-way in her thriving career, Franklin experienced something that would forever change how she toured.
Aretha's great fear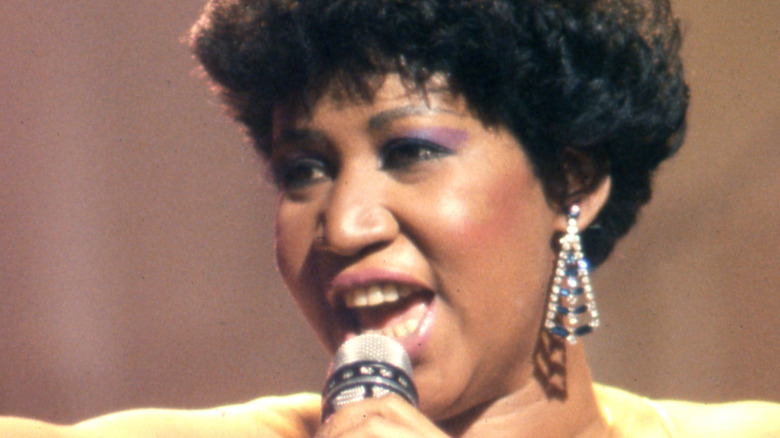 Icon And Image/Getty Images
It all started in the 1980s. After living in Los Angeles for a few years, she had moved back to Detroit in 1982 to care for her ailing father, according to Jillian Carroll's biography of Franklin. Though she was born in Memphis, Tennessee, Franklin's father would move the family to Detroit, Michigan when she was young and that is where she would be raised for most of her life, says Biography.
In 1984, Franklin and her crew were aboard a plane heading back to Detroit from Atlanta (via The Atlanta Journal-Constitution). During the flight, some aggressive turbulence would scar the soul singer for life. She later described the ordeal as life-changing, and it evidently altered the way she decided to tour for the remainder of her career. "It was a very bad flight. I'm very much a ground person now," said Franklin.
After the incident she never flew by plane again, instead opting to travel by bus. Even when mechanical failure stranded her one day in 2015, the singer stayed true to her decades-old decision of never flying again (via The Daily Beast). Franklin was highly aware of her great fear and even tried to find a solution for it by registering for a class for people with a fear of flying, says another Biography article. But after missing a few classes, the singer seemingly never made up for them and never took flight again.