The Real Meaning Of Bonnie Tyler's Total Eclipse Of The Heart
Gie Knaeps/Getty Images
If you were to try to guess the meaning of Bonnie Tyler's "Total Eclipse of the Heart" from the lyrics (via Genius), you might guess it's about doomed, desperate love. If you were to try to guess the meaning of "Total Eclipse of the Heart" from the music video (via YouTube), you might think the song is about... demonic boarding school kids? Weirdly, the second interpretation is closer to the truth than the first: it's about vampires (via Playbill). The song, then-titled "Vampires in Love," was originally written for a shelved "Nosferatu" musical.
All of this makes a lot more sense when you remember that the Bonnie Tyler megahit was written by Jim Steinman, who was then primarily known as the songwriter for Meat Loaf (via Rolling Stone). His other songs included "Bat Out of Hell," in which a motorcyclist escapes from literal demonic hell (per Genius). On the album of the same name, "Bat Out Of Hell" is followed up by a bizarre dialog that begins "​​on a hot summer night, would you offer your throat to the wolf with the red roses?" He later wrote Celine Dion's "It's All Coming Back to Me Now," inspired by the scene in the novel "Wuthering Heights" where Heathcliff dances with Cathy's corpse (via Jim Steinman's website). Steinman brought a baroque and gothic sensibility to pop. So yeah, it was gonna be about vampires.
'It's all about the darkness'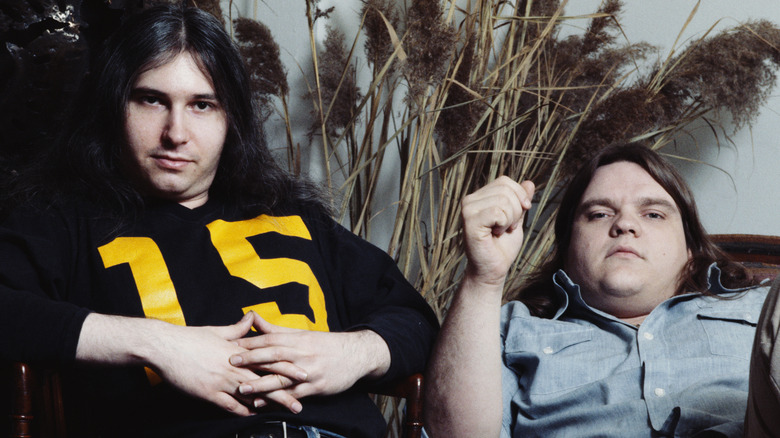 Michael Putland/Getty Images
On his website, Jim Steinman explains the song's inception as him imagining a "woman lying on the ground looking at the moon like a sacrifice." He was working then, according to a later interview with Playbill, on a "Nosferatu" musical. He also incorporated a line from "The Dream Engine," a previous musical he had written — "Turn around, bright eyes" (via Amherst).
Though Tyler thought of the ballad as "purely a love song," according to her remarks to Genius, for Steinman, the association with vampires continued. Years after the song became a hit, Steinman placed his song in a different vampire musical — his stage adaptation of the Roman Polanski movie "Dance of the Vampires." "If anyone listens to the lyrics, they're really like vampire lines," he said in the Playbill interview. "It's all about the darkness, the power of darkness and love's place in dark."