The Real Meaning Behind The Album Desperado By The Eagles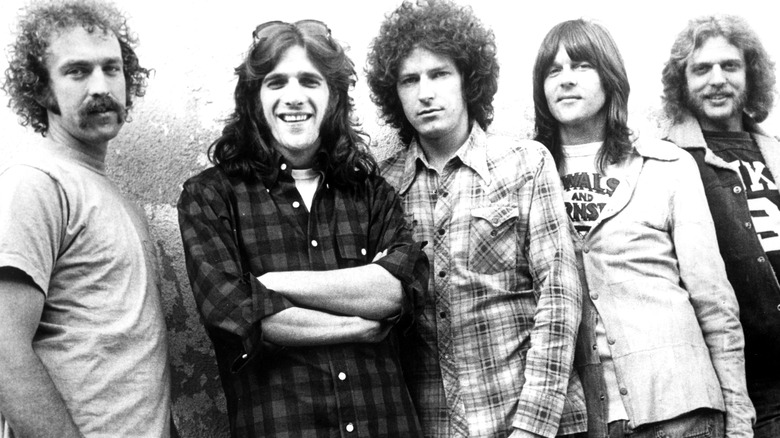 Michael Ochs Archives/Getty Images
If you were to tune into any classic rock radio station on your FM dial, it's a fair bet that you will hear a song by The Eagles within the hour. The band, composed of session musicians who either backed up bigger artists, such as Linda Rondstadt, or who performed in other bands that failed to make a splash, came together in 1971 to try to forge their own way. They were an instant success. As The New York Times notes, their self-titled first album established the band as a commercial success and as a new force in rock 'n roll. Further, the album and its singles promoted the band's image: that of car-loving, traveling highwaymen drawn to the allure of Southern California.
The band's second album, "Desperado," and its title single, marked something of a shift in the band's direction and image. On the one hand, the album and song marked the end of the band's era as a "Country-Rock group," according to New York Times writer Penelope Ross. On the other, the album was intended to present the Eagles themselves — the men playing the instruments and singing the lyrics — as outlaws, of a sort, and the record was itself inspired by an Old West criminal gang.
'Desperado' (the album) was inspired by the Doolin-Dalton gang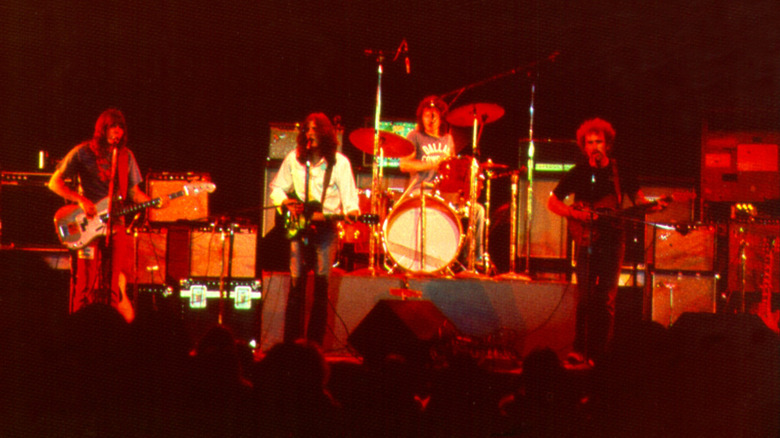 Michael Ochs Archives/Getty Images
When the men who made up The Eagles convened in the studio to record "Desperado" (the album), Glenn Frey was the driving force, according to Uncut. Frey considered himself and his bandmates colleagues at a job site rather than friends who worked together. "Okay, let's keep this simple. No Christmas cards," Frey reportedly said.
Meanwhile, Jackson Browne, a longtime friend and collaborator of the band, had been reading a book about Old West outlaws known as the Doolin-Dalton gang (also known as the Wild Bunch), a group of 19th-century Kansas bank robbers. Glenn Frey reportedly even began singing a line or two. The song failed to materialize, but it did inspire what would become the album "Desperado" and its title track. Specifically, Frey directed the band members to write songs about the individual gang members, or about the concept of an Old West Outlaw gang generally, and tie it in to The Eagles themselves. In other words, "Desperado" (the album), with its Old West and cowboy references throughout the songs it contained, was intended to solidify the image of the men who made up The Eagles as outlaws themselves; or as The New York Times' Penelope Ross put it, "a group of musicians, who by their choice of careers, also become outcasts from society."
Fellow Eagle Bernie Leadon was clear that Frey might have been reaching, but regardless, it worked. "It's a little bit of a thin premise, the outlaw gang compared to the modern rock 'n' roll band, but then so are most Hollywood movies," he said.