This Led Zeppelin Song Was Inspired By Joni Mitchell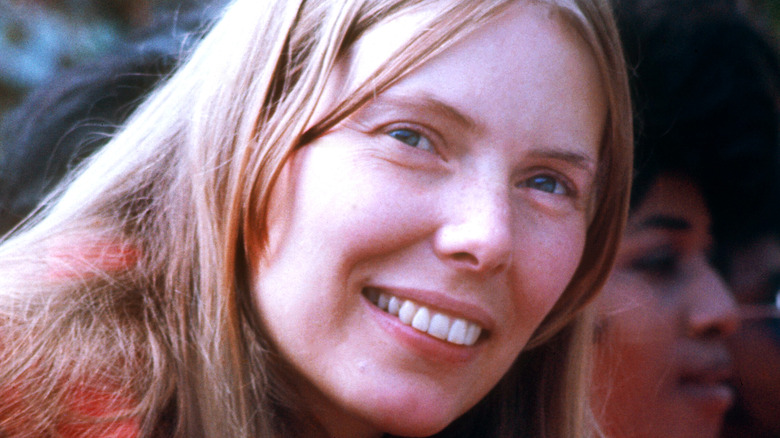 Robert Altman/Getty Images
Rolling Stone once called Led Zeppelin's 1971 song "Going To California" their "prettiest song," noting that "Page's gentle acoustic fingerpicking weaves together with Jones' mandolin, while Plant tries on some country twang." The magazine also mentioned the rumor that the song was written about singer-songwriter Joni Mitchell, for which there is much evidence that this rumor is true. 
Per "The Rough Guide To Led Zeppelin," Zeppelin frontman and songwriter Robert Plant once explained, "When you're in love with Joni Mitchell, you've got to write about it every now and again." 
The Guide also discusses that Plant may have been longing for sunshine and hippie love-fests while trapped in England's often gloomy West Midlands, reporting that when he introduced the song at a 1971 show in Berkeley, California, he said, "Here's to the days when things were nice and simple and everything was far out all the time." 
In addition to its lyrics about longing for "a girl out there with love in her eyes and flowers in her hair" and "a queen without a king, they say she plays guitar and cries and sings" (a possible reference to Joni Mitchell's 1968 song "I Had A King"), Plant's lyrics discussed a darker aspect of California life. He also wrote about the earthquakes that cause "mountains and the canyons start to tremble and shake." 
Coincidentally, Led Zeppelin guitarist Jimmy Page and manager Peter Grant went to Los Angeles to mix the album known as "Led Zeppelin IV," on which "Going To California appears, they actually experienced a minor earthquake. 
Led Zeppelin were proud Joni Mitchell fans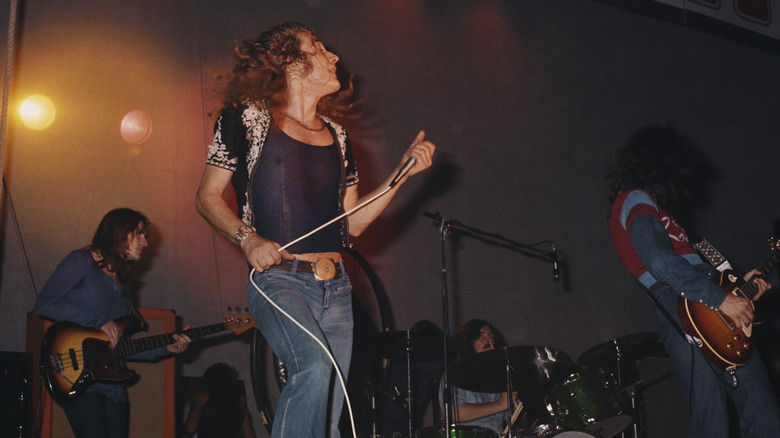 Michael Putland/Getty Images
Joni Mitchell has noted that as a band, Led Zeppelin was much more respectful of her music than many other men she encountered in the late 1960s and early 1970s. In a 2005 interview with Interview magazine, on Joni Mitchell's website, Mitchell remembered, "Led Zeppelin was very courageous and outspoken about liking my music, but others wouldn't admit it ... straight white males had a problem with my music. They would come up to me and say, 'My girlfriend really likes your music,' as if they were the wrong demographic."
In a 1975 interview with Rolling Stone, Jimmy Page said "I have to do a lot of hard work before I can get anywhere near those stages of consistent, total brilliance," and went on to say the only person he knew of who was capable of such brilliance was Joni Mitchell, whose music he played at home all the time, noting "But the main thing with Joni is that she's able to look at something that's happened to her, draw back and crystallize the whole situation, then write about it. She brings tears to my eyes, what more can I say?"