San Francisco Just Declared A Metallica Day. Here's Why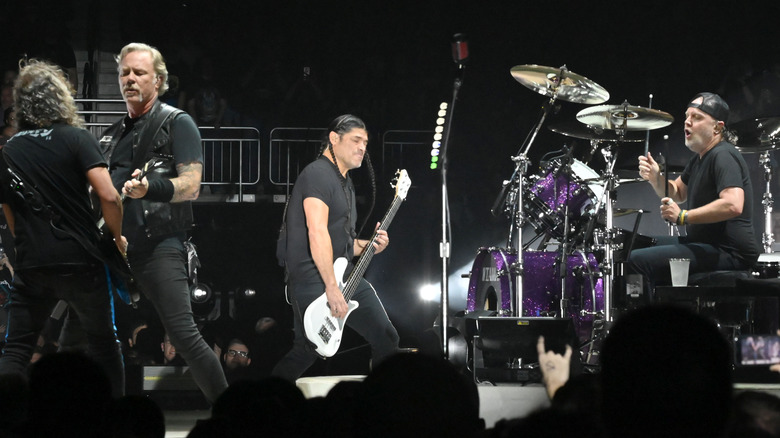 Stephen J. Cohen/Getty Images
When you think of San Francisco, what's the first thing you think about? If you said Silicon Valley, extortionary rent prices, gay pride, and metal legends Metallica: ding ding, you win! Yes, one of metal's longest standing acts might have dabbled in Los Angeles in the early 1980s, but they came up in San Francisco. And recently San Francisco Mayor London Breed officially announced December 16 as "Metallica Day" in honor of the band's 40-year anniversary, which also happened to be the 20-year anniversary of 1991's "Metallica" (The Black Album). Horns up.
"They're part of the fabric of the community," Breed said on Blabbermouth. "They have touched people's lives for generations ... And on behalf of the city and county of San Francisco, I want to officially declare today 'Metallica Day.'" Metallica drummer Lars Ulrich spoke up for the band, saying no matter their longevity and popularity across the world, "Our hearts and our souls and our sense of belonging will always be San Francisco. And Metallica and San Francisco will always be two words which are synonymous with each other."
To inaugurate the day, the city of San Francisco planned a full-blown Metallica "take-over," which included several events such as one-off shows on December 17 and 19 at the Chase Center. The Chase Center was where Metallica filmed its "S&M2" orchestral album in 2019, which served as the venue's opening act. Mayor Breed said that these events include "supporting small businesses and a clean-up at the beach."
Outsiders drawn to a home for outsiders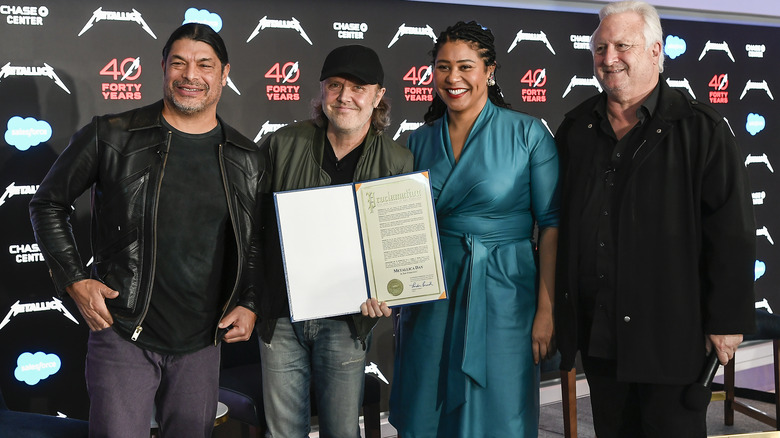 Steve Jennings/Getty Images
Metallica was formed in Los Angeles back in 1981 when frontman James Hetfield left his previous band, Leather Charm. As Ultimate Classic Rock explains, he put an ad in a local music magazine, The Recycler, looking for a drummer, and Lars Ulrich answered the call. Even though the two didn't hit it off at first (Hetfield thought Lars was a terrible player), they eventually connected on a personal level and have formed the backbone of Metallica ever since. That bond has been strong enough to satisfy the band's global fanbase through 120 million records sold, 2.5 billion streams, a 2009 Rock & Roll Hall of Fame induction, the tragic death of bassist Cliff Burton, and much more (figures per Blabbermouth).  
Back in the early days, Metallica started touring around Los Angeles, but as Lars says, "We absolutely did not fit into anything in Los Angeles, Sunset Strip, Hollywood — any of that. We felt like complete outsiders." He continued, "We came [to San Francisco] in September of 1982 and we started playing ... and we were embraced, and we were taken in, and we felt so welcomed and so loved up here. There was a sense of music community for people like ourselves who felt like outsiders, who liked things that were not in the mainstream, and that was has obviously been a significant part of San Francisco's history."
Or as Lars said on Instagram, "It's f***** METALLICA day!! How cool is that!!??"