Brian Johnson Of AC/DC's Hobby Is Seriously High Stakes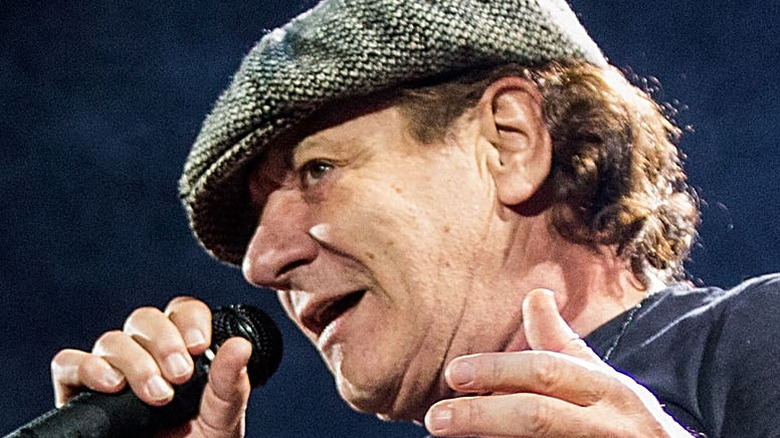 Suzi Pratt/Getty Images
Brian Johnson joined AC/DC as the band's lead vocalist in 1980, and remained so for 36 years, until in 2016 he was forced to leave. By this point Johnson had suffered severe hearing loss, and his doctor informed him that continuing to perform with the deafening noise of speakers and crowds would cost him dearly. However, Johnson does not attribute his hearing loss to being on stage, and instead blames it on forgoing earplugs while racing vintage cars.
Johnson has in fact been racing for years, with many of the vehicles he uses being from his own vintage collection (via HotCars). In 2012 he participated in a dedicated celebrity section of the Silverstone Classic race, where he and other celebrities, including Sir Patrick Stewart ("Picard") raced for charity (per AutoGuide). He has an immense love of the activity, but on one occasion it threatened far more than his hearing and his place in AC/DC.
Brian Johnson's love of cars nearly cost him his life and livelihood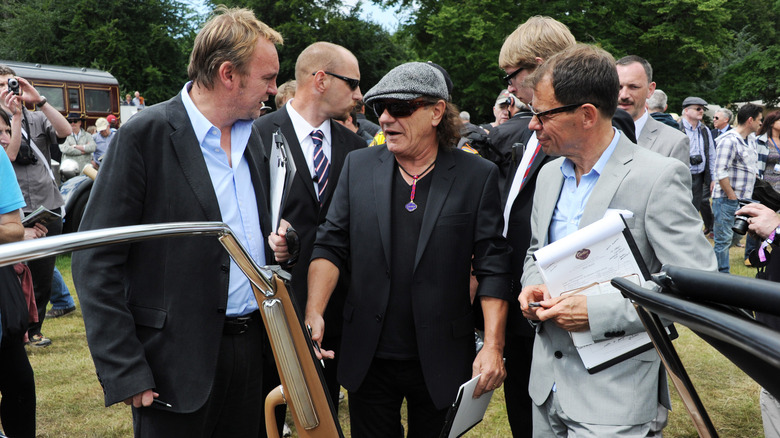 Dave M. Benett/Getty Images
According to Loudwire, in 2017 Johnson was in a qualifying race for another Silverstone charity race in his Austin A35 when the vehicle flipped. Given the violent nature of the roll and Johnson's age, it was feared that the singer may have suffered severe injury. Miraculously, he was found to have been almost completely unharmed (via Billboard). While this is his worst accident, the potential for more has long been present, given his distaste for the display screens of modern race cars (via Motorsport). 
He has stated his objection to these devices — how their use entails a mix of irrelevant (in the moment of driving) information, and the non-intuitive operation has distracted him to the point of fatigue (via Motorsport). Despite all this, he has scarcely been discouraged from continuing to take his cars to their limits. And his hearing? Johnson has made use of an experiential procedure to his ears in order to make a comeback to the stage (via Blabbermouth).