What Chris Watts' Life In Prison Is Really Like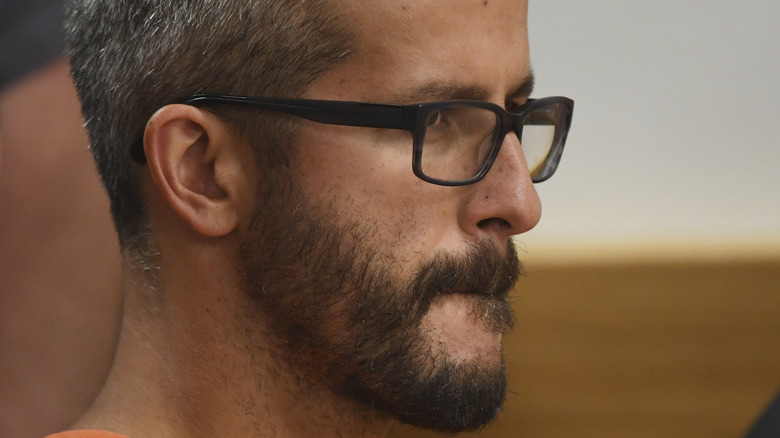 Pool/Getty Images
Colorado man Chris Watts murdered his pregnant wife Shanann and their two young daughters, Bella and Celeste, on August 13, 2018. After burying his wife in a shallow grave, he stashed the bodies of his children inside an oil tanker on a job site where he was employed (via Biography). At first, he denied any involvement in his young family's disappearance, but Watts confessed to the murders after being confronted with the mounting evidence against him, including footage from a neighbor's security camera that appeared to show him moving the bodies, per ABC News. He pled guilty to all three murders in a plea agreement that would allow him to avoid the death sentence. Watts was given five life terms without the possibility of parole.
Soon after Chris Watts's guilty plea was accepted by the court, he was sent to spend the remainder of his days in a maximum-security prison in Colorado. But his stay at this particular institution was short-lived. On December 3, 2018, Watts was transferred to the Dodge Correctional Institution in Waupun, Wisconsin. According to Colorado Department of Corrections spokesperson Mark Fairbairn, Watts was "moved out of Colorado for security concerns due to him being a high-profile offender" (via A&E).
The story of Watts' heinous crimes was chronicled in the 2020 Netflix documentary "American Murder: The Family Next Door," and true crime enthusiasts might recall that Dodge is the prison home of Steve Avery, the subject of another popular Netflix documentary "Making a Murderer." However, the lives of these two inmates are probably much different from one another.
Watts doesn't have any friends in prison
FOTOKITA/Shutterstock
There hasn't been a lot of detail as to how Watts is being held, though Larry Levine (a former federal inmate who advises inmates on how to live behind bars) told A&E that Watts probably isn't allowed to mix with the general population. With Watts being a high-profile inmate, and a person that is in prison in part for murdering his children, his safety would be severely compromised around other inmates.
"Colorado is a big state, but Watts' crime touched the community on a lot of levels," Levine said. "People who [commit crimes against] children ... are the most hated people on the inside. He couldn't just blend in. Everybody knows who he is. He was probably getting death threats."
This would mean that Watts is most likely being held in solitary confinement. A source inside the prison confirmed to People magazine that Watts is being held in protective custody. Watts is in a solitary cell for 23 hours of the day, with no interaction from other inmates and very limited interactions with correctional staff. The source went on to say that Watts is probably the most hated person inside the prison walls, and even despised by the corrections officers.
"No one wants anything to do with him," the anonymous source said. "He's on the lowest social tier of the entire prison. He's in protective custody because if he's around other inmates, he'd be in real danger. He's an outcast, even among criminals."
Wiling away the time that ticks by slowly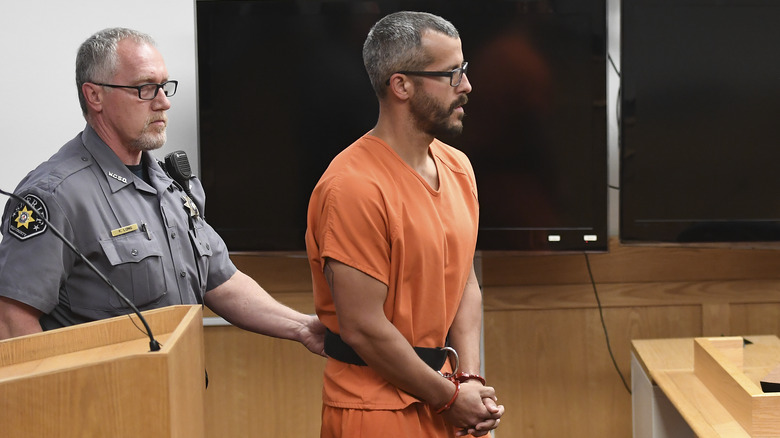 Pool/Getty Images
Being alone in a cell doesn't offer Watts much of a life, though it's more of a life than his wife and children have today. Being held for the remainder of his life in a small cell doesn't lend many recreational options, and finding ways to make the time go by is pretty limited. People's source stated that Watts spends most of his time reading and writing to pen pals.
Chris Watts' cell is sparsely decorated, with only a few photos of family members tacked to the walls. A born-again Evangelical Christian since his incarceration, Watts also has a bible in his cell.
It was reported that Watts, who used to enjoy the Christmas holidays, has grown to despise that time of year (via New York Post). Not one to willingly discuss his life before his imprisonment, Watts is perhaps reminded of the life he once had every time the holiday season rolls around. Considering he is still a relatively young man — he has yet to hit the age of 40 — Watts will be looking forward to a lot more holidays behind bars.
"He doesn't like talking about his life before prison," an anonymous source told People, "but he has said that he used to be a huge fan of Christmas: decorating the house, spending time with family. And he knows 100% that it'll never happen again and that it's his own fault. He's in a hell of his own making."