The Tragic Death Of Paul O'Neill
By any account, rock producer and manager Paul O'Neill, who founded the Trans-Siberian Orchestra (TSO) in 1996, died way too young. O'Neill, known for his long hair, leather jackets and sunglasses, was just 61 when he was found dead from an accidental drug overdose, alone in a hotel room in Tampa, Florida, in 2017. That might have been the end of the story, except it wasn't (via The New York Times). O'Neill's band, a blend of classical music and heavy metal performed in a rock theater setting replete with pyrotechnics, theatrics, and a laser light show, is world-famous for its spectacular holiday performances with hard-rock arrangements of Christmas classics. He envisioned the band as a kind of supergroup similar to ELO, Pink Floyd, and Yes, according to USA Today.
"The best description of a TSO show I ever saw came from a reporter who said the only way to describe TSO is 'The Who meets "Phantom of the Opera" with Pink Floyd's light show,'" O'Neill said during a 2012 interview with The Tampa Bay Times. "I would take any one of those alone as a compliment." The band filled arenas during the holidays with fans who craved the "light shows that will carve up the arena walls, pyrotechnics that will blacken a slice of frozen bread, and music that mixes Ole Saint Nick with the legends of arena rock from decades yore," as the Tampa Bay Times described a TSO concert.
TSO's Paul O'Neill was known as a caring philanthropist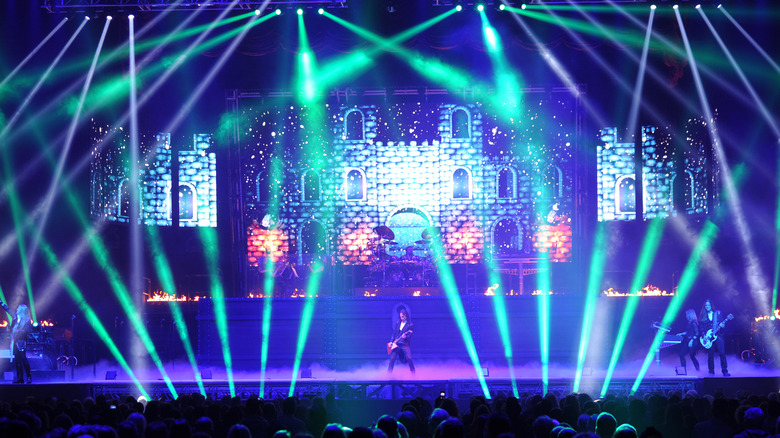 Larry Marano/Getty Images
A report by the Hillsborough County Medical Examiner a month after O'Neill's death concluded that the musician died from a combination of drugs in his system, including codeine, diazepam, and an antihistamine (via The New York Times). The real tragedy of O'Neill's death is that he actually died from a "chronic illness," the band wrote on their website after his death.
"Those who knew Paul were aware of his ongoing battles with his health and his propensity to overwork himself ... From the solitary weeks in the hotel while working in his Florida studio to jumping around on a pyro-filled stage, or flying around the country on no sleep aggravating his chronic spine problems after early life back surgery" (via the Trans-Siberian website). He also suffered for more than a decade with a painful and incurable case of Meniere's disease, a disorder of the inner ear.
Another reason O'Neill's death was such a tragedy? He was a kind-hearted, caring philanthropist, who donated millions of dollars to charity. According to his colleagues in TSO, he would literally give the shirt off his back to help a person in need, and in fact, they said, he was known to spot a homeless person and give them his jacket, with hundred dollar bills in the pocket.