The Sad Truth About Kurt Cobain And Courtney Love's Marriage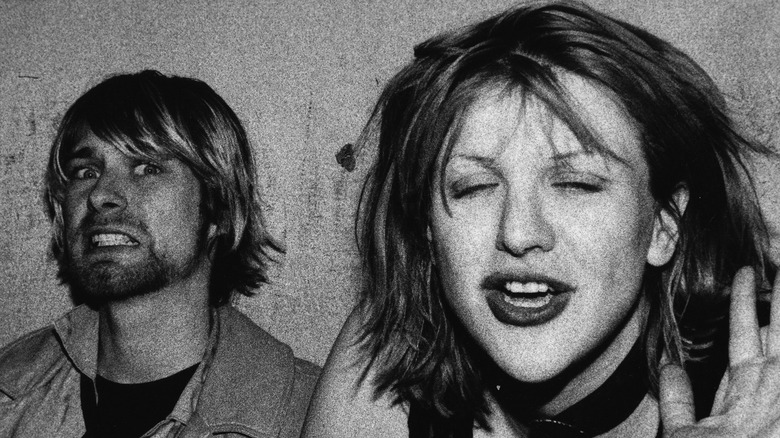 Lindsay Brice/Getty Images
Troubled rocker Kurt Cobain's death was a shocking, violent end to a life that had been punctuated by great success and great sadness. His marriage to Courtney Love proved an emotional rollercoaster, too.
Theirs was a tragic whirlwind romance. According to Radio X, the pair met in a Seattle club in January 1990. Cobain had reportedly stated that he was "determined to be a bachelor for a few months" during this period, but found Love just too beguiling to resist. She, meanwhile, had been attracted to him since seeing him perform at a gig at the close of the 1980s. Hello! reports that they became an item around a year after meeting and were married on February 24, 1992. Their marriage lasted just over two years, until Cobain's sad death on April 5, 1994, per History.
By this time, Nirvana's meteoric rise to fame had taken a toll on Cobain, and Love would go on to achieve fame as part of her band Hole, but possibly more so as Cobain's wife, as the punk rock power couple were very much in the media spotlight. Life in the public eye, as usual, proved to be both blessing and a curse for the troubled pair, and their tragically short-lived marriage was nothing if not tempestuous.
Marriage was intense for Kurt Cobain and Courtney Love
Kathy Hutchins/Shutterstock
In 1992, Lynn Hirschberg of Vanity Fair deemed the enigmatic Courtney Love "a train-wreck personality: she may be awful, but you can't take your eyes off her," stating that this was her reputation in the musical community at the time. Drug addiction certainly plagued her life with Cobain, and per Hirschberg, there were suggestions that Cobain's heroin use began because of his wife's own. This fact, it seems, led close friends to fear for the wellbeing of their child, Love already being pregnant when the pair married.
Biography reports that the troubled spouses became stuck in a cycle, attempting to conquer their addictions (such as signing up for separate detox in March of 1992) but soon relapsing back into their deadly habits. Life would always have been high-octane, hectic, and unpredictable for two prominent stars of their caliber, but they seemed to find ways to make it even harder for themselves.
Nevertheless, there's no doubt that their relationship, tormented and cut short as it was, had roots of intense love. In 2020, Hello! reported that Love shared a photograph of the couple's wedding to mark the 28th anniversary of that special day. To caption the shot, she wrote of her feelings at her wedding, "deeply delighted, dizzy, so in love," concluding that her husband was, and remains in her eyes, "an angel."